If there's one thing New Zealand isn't short on, it's adventure. Bungy jumping, skydiving, mountain biking, snowboarding… you can have it all (and then some). The best part? The heart-racing activities will put you in the thick of the country's breathtaking beauty. Think striking canyons, staggering mountain tops and picturesque lakes... swoon.
And everyone knows Air New Zealand is the way to get there! Flying to 21 ports across the country, our national carrier ensures you're never far from your next adrenaline fix. To give you some adventurespiration (it's totally a thing), they helped us round up ten New Zealand adventures to add to your 2018 bucket list.
New Plymouth
There's no denying it: New Plymouth is one of New Zealand's most spectacular spots. Breathtaking in beauty, the dramatic volcanic cone of Mt Taranaki is complemented with stunning surf beaches. Lace up your hiking boots and trek up and/or around the mountain. For something a lil less hard-core (but equally beautiful!), stroll along the popular Coastal Walkway. Double points if you get the perfect gram of Te Rewa Rewa Bridge with Mt Taranaki in the background! And trust us: you'll also want to check out New Plymouth's stunning Back Beach—bring your surfboard.
Queenstown
No list of New Zealand adventures would be complete without Queenstown. Here you'll find everything from white-water rafting and skydiving to snowboarding and jet boating. Bungy jump off the famous Kawarau Bridge (aka the World Home of Bungy) or see how brave you really are with the 134m-high Nevis Bungy. As New Zealand's highest bungy, you'll experience an 8.5-second freefall—eek! Visit over winter and Queenstown transforms into a snow playground with four ski areas to choose between. Hit the slopes by night up Coronet Peak or take things up a level (literally) with heli-skiing or snowboarding.
Dunedin
Beaches are not in short supply in and around Dunedin and most of these are prime surfing spots throughout the year. Swells aside, Dunedin also boasts a sheltered harbour perfect for the likes of windsurfing, kayaking and paddle boarding. Just a short drive into the Dunedin hinterland, you'll find the start of the Otago Central Rail Trail. Following the former railway line, the scenic and easy ride showcases back-country New Zealand in all its glory. The itineraries are endless with anything from a half-day trip to a five-day adventure of a lifetime.
Christchurch
Calling all mountain bikers! Christchurch is home to the largest mountain bike park in the Southern Hemisphere with more than 350 hectares to tackle. Better yet, a chairlift will transport you and your bike to the top—best invention ever! You can also kayak from the heart of the CBD to the sea as you meander down the Avon River with Christchurch Sea Kayaking. Then conquer your fears on Adrenalin Forest's aerial obstacle course, suspended up to 20 metres off the ground. And, if you're visiting Christchurch with bae, float over the stunning Canterbury Plains in a hot air balloon for two—ooh la la!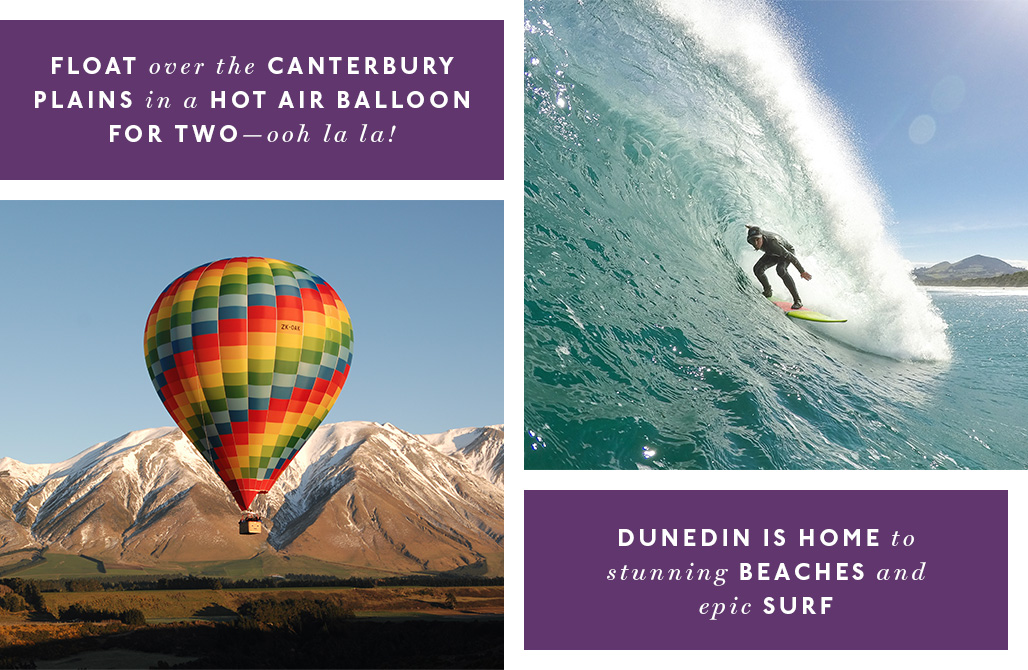 Kapiti Coast
If you like both a) adventure and b) wildlife, Kapiti Coast ticks both boxes in exceptional style. Venture across to the protected environment of Kapiti Island and walk to the top of Tuteremoana for views of the coastline with the top of the South Island in the distance. Stay overnight and catch a glimpse of kiwi at night before waking to the dawn chorus. The island's marine reserve is also a great spot for scuba diving. Back on the mainland, Kapiti Coast offers mountain biking, kiteboarding, rafting and an abundance of walking tracks, including the super steep Paekakariki Escarpment track.
Taupō
Taupō boasts the ultimate trifecta: nature, adventure and jaw-dropping beauty. Jump on a mountain bike to explore the 71km Great Lake Trail as it weaves through native forest surrounding the beautiful Lake Taupō. Then swap your bike for hiking shoes and conquer the summit of Mt Tauhara—the views from here are breathtaking! The region is also the gateway to Mt Ruapehu and its two epic ski fields. Visit during winter and ski your heart out at Whakapapa and Turoa. FYI no visit to Taupō is complete without trying the lake's famous hole in one challenge—good luck!
Rotorua
Another mountain biking haven, Rotorua's Whakarewarewa Forest has more than 130km of trails to explore. As a geothermal wonderland, you'll find yourself racing past steaming vents, bubbling mud and mind-blowing geysers. At the end of the day, soothe your sore muscles with a soak in a natural hot pool or spa retreat. Want more adventure? Buckle up for everything from zip-lining and zorbing to luging and rafting. The region is home to the world's highest commercially rafted waterfall—the 7m-high Tutea Falls.
Tauranga
If you're happiest when near (or on) the ocean, Tauranga is the destination for you. Showcasing the East Coast at its finest, the area is a hotspot for surfing, kayaking and stand-up paddle boarding. From here, you can jump aboard a boat to the smoking hot (literally) White Island. The once-in-a-lifetime experience will see you exploring the inner crater of New Zealand's most active volcano. Keeping with the volcanic theme, visit Mt Maunganui and walk around the base track or climb to the summit to take in 360-degree views of the Bay of Plenty and beyond.
Northland
Northland's beauty is easily accessible thanks to airports in both Whangarei and Kerikeri. There are more than 60 surfing spots along the East Coast alone. And, as New Zealand's narrowest region, if the waves aren't pumping on one coast, you can always jump across to the other side. Northland's ocean mecca also showcases world-class dive sites, including the famed Poor Knights Islands and marine reserve. Further up the coast, the Bay of Islands offers dolphin tours including the chance to swim with the wild mammals. Dream come true, amiright? Back on land, be sure to zoom down one of Northland's giant sand dunes!
Hamilton
Last but certainly not least, Hamilton—and surrounding Waikato region—has plenty of great activities for your next adventure. The Waitomo Caves are world famous for their starry glowworm displays, but the thrill-seekers amongst us will be keen to take things next level here. The heart-racing tours include black water rafting, zip-lining and abseiling (up to a casual 100m!) into the caves. While you're in the area, take a tour at Hobbiton Movie Set where you'll visit more than 44 Hobbit holes and check out the crystal clear waters of the Blue Spring at Te Waihou Walkway. Looking good, Waikato!
Up for some quality time with Mother Nature? Book your next adventure with Air New Zealand—there are 21 incredible destinations to explore.
Editor's note: This article is proudly sponsored by Air New Zealand and endorsed by The Urban List. Thank you for supporting the sponsors who make The Urban List possible. Click here for more information on our editorial policy.
Image credit: Rob Suisted, Destination Queenstown, Chris Stephenson, Dave Mitchell, Amit Kamble, David Kirkland, Shaun Jeffers.