For all us true Aucklanders, eating out seems to be a part of our DNA. And can you blame us? We are lucky enough to be living in a city that provides us with out-of-this-world eats, and with that, ample Instagram opportunities. Yes, we Aucklanders are very lucky but narrowing down where to eat isn't always easy. So, we've opted for considering the brightest and most colourful eateries in and around Auckland, because, atmosphere is everything.
Get your taste buds ready and your phones charged because at these joints, you'll not only be dining on Auckland's best eats, but you're pretty much promised an epic 'gram opportunity. Here are 11 crazy colourful eateries in Auckland.
Harlan Pepper
Kingsland
Sit down in a bright yellow seat and let the vibrant, relaxing atmosphere of Harlan Pepper Co sink in. This eatery is known for its funky décor, and quality cuisine. You'll find the likes of salted caramel mousse in mini glass jars and meals decorated with bright, beautiful flowers.

Happy Boy
Royal Oak
Escape day-to-day life and be transported to the mystical land that is Happy Boy Eatery. Colourful and wonderful are the easiest ways to describe this Asian-fusion restaurant. Get yourself a groovy Insta-story and be sure to try the pulled lamb steamed bun. Yum.
The Marina Catina
Half Moon Bay
This delightful eatery is home to not only incredible eats, but a stunning atmosphere. Walls decorated with creative painting, and bright, stylish furniture are features you can expect upon arriving at The Marina Cartina. As for the menu, expect decadent options including maple glazed pork ribs and seared duck breast with cherry jus.
White + Wong's
Auckland Viaduct
You can't beat soaking in the views of the stunning Waitemata Harbour with a plate full of dumplings. Whether you're in one of the colourful private dining rooms, or even faced with a tiger in the bathroom you can count on White + Wong's being an ultimate trifecta of breathtaking views, brilliant food, and wicked service.
The Mexican Café
Auckland Central
Looking for a colourful restaurant? Look no further. The Mexican Café, is nothing if not one of the most colourful places you have the option of eating at. The happy vibes provided by the bright décor will have you enjoying your guac just that little bit more.
Circus Circus
Mount Eden
Feelin' a trip to the circus? Well, forget that, because Circus Circus is an eatery, and it's a hell of a lot more fun. With stripy red walls and lions guarding the entrance, you know you've come to a cool place. Adding to the show, is, of course, a stellar menu. Breakfast, lunch and dinner, the options are endless! Feast on the likes of crispy fried chicken, a mouth-watering vanilla pancake stack or hand-made gnocchi. Mmm.
TOK TOK
Takapuna
This hotspot is truly enchanting, if not for their indescribably good lime chicken, then for their uniquely modern décor. Expect to be served scrumptious Asian-fusion dishes whilst sitting amongst the likes of pot plants and flowers, some of which will be hanging right above you. These eats are designed to be shared, so get the squad together and get yourself to Tok Tok.
Gypsy Caravan
Ponsonby
In keeping with its name, the Gypsy Caravan offers chill vibes. With a beautiful hand-painted caravan servin' up delish bevvies, fairy lights and colourful furnishings, this place is utterly epic. While you're there be sure to try the flower garden spritz cocktail! In fact, round up the squad and make a night of it—cheers!
Mexico
Ponsonby
Drawing inspo from Mexican culture, this restaurant is filled head to toe in decorations of the brightest of colours. The fried chicken has a special place in our hearts, and while you're at it be sure to grab a glass of sangria. A contagiously happy atmosphere is guaranteed at Mexico.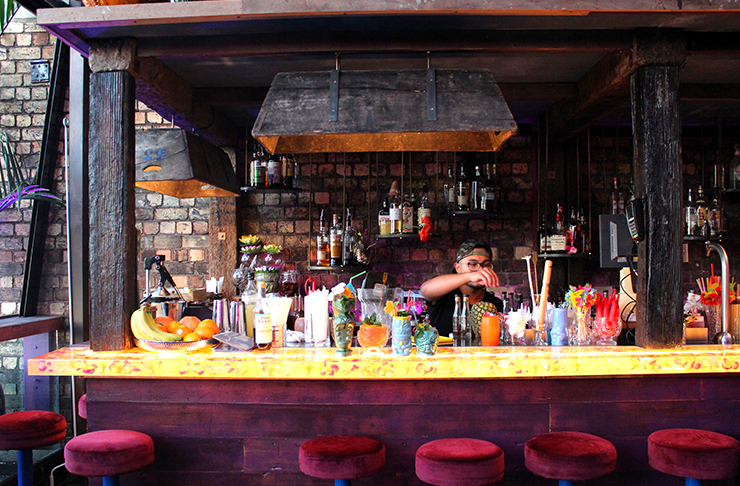 Talulah
Britomart
Escape to a tropical paradise at Talulah! With artwork painted on the walls, bright lights and the infamous neon sign (naturally we expect you to snap a gram), you would enjoy yourself even if they didn't have such an epic cocktail menu. Of course, this being said—the cocktails on offer are INCREDIBLE.
Kiss Kiss
Mount Eden
The warm burst of colour filling Kiss Kiss makes for the perfect setting whilst feasting on your pork belly bun. Thai food enthusiasts prepare yourself because you're about to fall in love. Moreish phat Thai Thamadaa, pulled beef vermicelli and sticky chicken wings are just some of the eats that are on offer.
Image Credit: Gypsy Caravan, Jaiden Bhaga, Lydia Arnold, Kiss Kiss
Want More?