If there is one single accessory every woman should invest in it's her handbag.
We all love a bargain fashion piece, whether it is that 80s style bum bag or the current tiny glasses trend. But there's just some things you can't gamble on, and one of those is your handbag, aka your life source. Our partners at Gem Visa totally get that, so together we're unlocking a list of curated faves and why you should hit 'add to cart' on them.
Buying fashion in 2018 is hard, right? As Heidi Klum says 'one day you're in and the next day you're out.' We have so much choice out there and ironically, it often makes the decision more difficult. When it comes to investment pieces, you should be super critical of what you buy. Shop smart and only click 'buy now' if it's something you absolutely love.
The secret to choosing a handbag lies in these age-old style mantras all of the 'ility' family.
Versatility
Could you wear this with anything, from boyfriend jeans on the beach to a silk slip on a ladies' night out?
Durability
Does this bag have good reviews, what's its origin story and how has it been crafted?
Practicality
Will this actually hold what you need it to and do so with ease?
Stickability
Could this bag have worked just as easily five years ago, and could it do so in another five?
Although these are great guides for how to pick your cherished piece, there are no hard and fast rules. It's different for everyone depending on their taste, style and lifestyle. Let's just say that for some of us who like lugging around the kitchen sink, that small crossbody ain't going to cut it.
Now to the fun part—shopping. We have done the hard yards and sought out the most well-crafted, stylish investment pieces Australian and New Zealand designers have to offer. Upgrade that tired old tote today with Gem Visa, who will hook you up with six months interest free when you sign up and spend $250 or more.
For The Festival Goer
3/4 Ch'lita Bag, Bottle Green, Yu Mei, $495 NZD
A just-the-essentials crossbody with a little bit of pop will serve you well in your gig-hopping endeavours. Bottle green is really having a fashion moment right now and we think it's here to stay. Local New Zealand designer Yu Mei is all about understated luxury that will last you well.
For The Animal Lover
Liaison Tote, Noir Coco, Sans Beast, $454 NZD
Good quality doesn't just mean leather. Melbourne-based label Sans Beast are all about ethical production, looking after animals and the environment. Constructed from vegan Eco PU, their products play on trendy accents like tortoiseshell acrylic and sporty straps without compromising the longevity of the design.
For The Minimalist
Mr Siamese, Nightshade, Deadly Ponies, $435 NZD
We commend you if you can survive on small bags alone. Live your best minimalist life with this multi-functional piece by New Zealand handbag icons, Deadly Ponies. Go crossbody in the day and clutch style at night with the detachable strap.
For The Boss Lady
The Evangelista Tote, Black and Silver, Dylan Kain, $529 NZD
This laptop-friendly number will go with every office outfit without sacrificing style. NYC and Australian-based label Dylan Kain always know how to keep it classy with personality. The Evangelista Tote will take you from coffee with colleagues to a client meeting with ease.
For The Mary Poppins
Force Of Being Bag, Tan, Status Anxiety, $365 NZD
We get it, we all have things to try and carry stylishly. This piece is the ultimate day bag without looking like you're about to burst into singing 'a spoonful of sugar'. Aussie label Status Anxiety has the craftsmanship nailed, so you just need to worry about choosing which colour to buy.
For The Weekend Wanderluster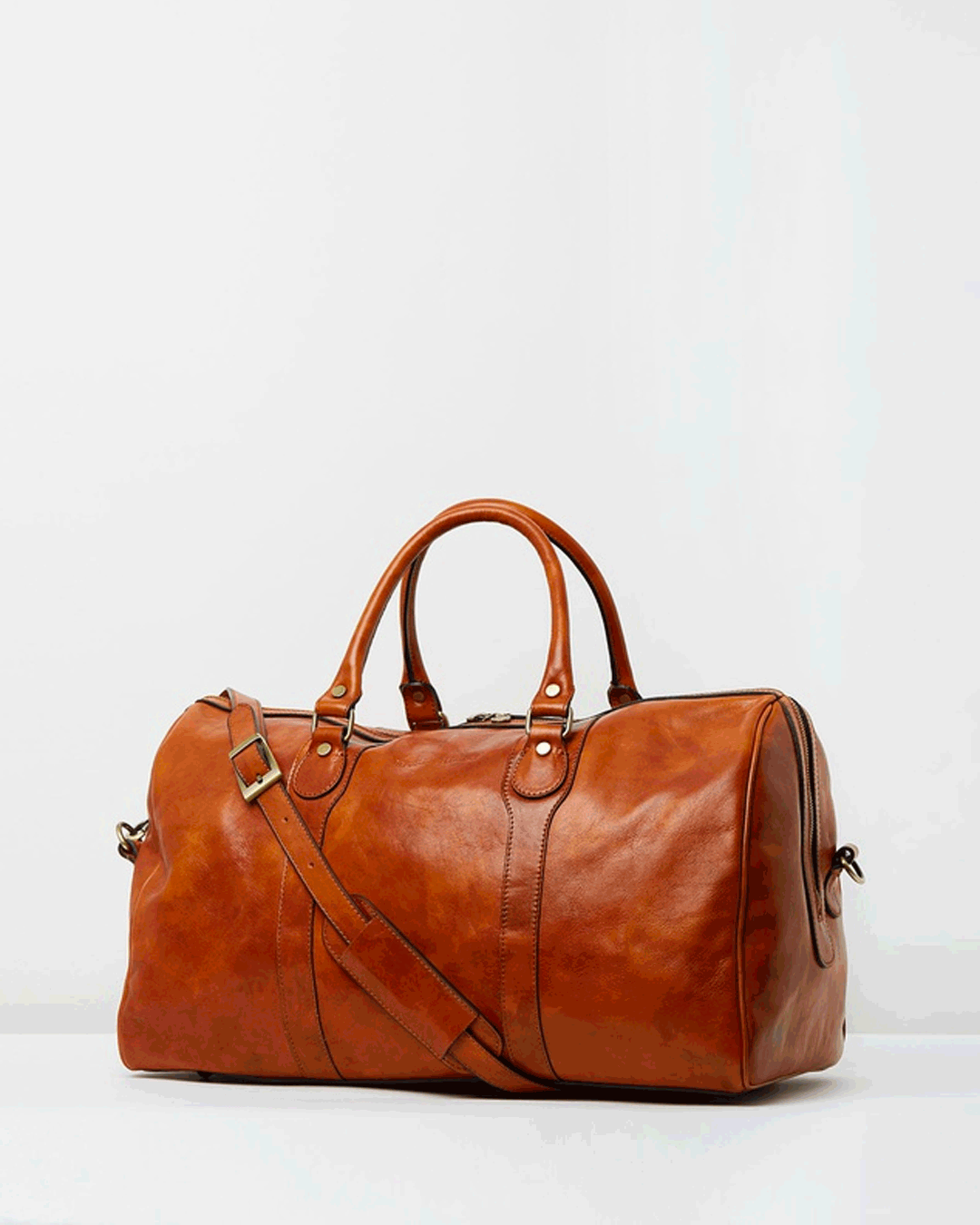 Beltrami Weekender, Tan, Republic of Florence, $399 NZD
Whether you're checking into a boutique hotel in Wellington or baching it at the Mount, this carry-all will do exactly that, carry it allllll. Republic of Florence is all about bringing that Italian craftsmanship Down Under with this timeless weekender.
Editor's Note: This article was produced in partnership with Gem Visa. To find out more about who we work with (and why!), read our editorial policy here.