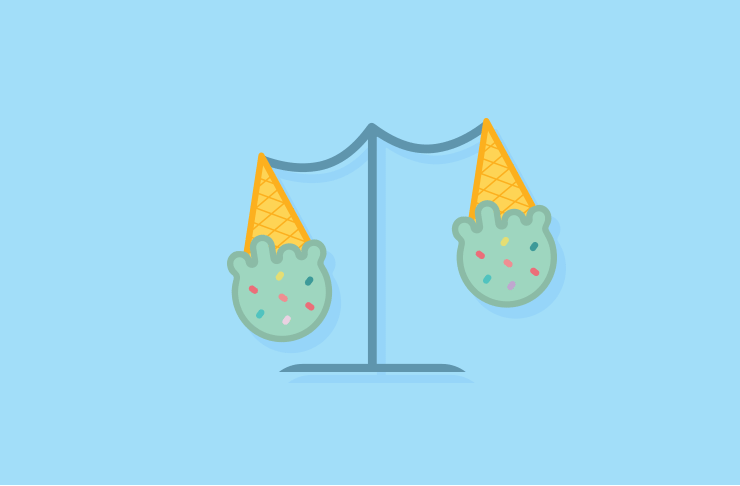 Does anybody else feel like the year is running away at an alarming rate? Yes? Maybe? Good, not just us then. We tried putting in an official request to reverse the earth's rotation and get some time back but apparently, that's not really how it works. Wow thanks a lot science. The best way to overcome this feeling is to face April head on with an inside tip about your star sign.
Pisces
This week escapism and daydreaming is going to become the norm. Your head is all over the map and basically happy to exist anywhere but here. Play a round of darts on a globe and let the universe be your guide. Everyday can be a new adventure if you use that imagination wisely.
Where you need to go this week: Get out of your head and onto a plane
Aries
Your whole life is becoming frizzier than Nicole Kidman's original hair this week. Mercury's movements are making you frustrated and frazzled all over. Lucky for you these kinks are just small enough to fix. Make like Nicole and take a straightening iron to your life.
Where you need to go this week: Let this place take you from frizzy to fabulous.
Taurus
Taurus born are rarely in a rush and it seems as if they live on Fiji time most of the day. Unlike the other signs this slow mentality is enhanced when Mercury goes retrograde. Take some time this week to step back, chill and sip some coconut water.
Where you need to go this week: There's more to coconuts than just water
Gemini
Usually Geminis are known to be the rulers of communication. Whether it's a text, email, emoji or actual conversation you are rarely misunderstood. But this week will be the opposite. With Mercury in retrograde you'll be unable to get across what you really mean and miscommunications are highly likely.
Where you need to go this week: Your fave emoji says more than you think
Cancer
You're a typical grass is always greener traveller but when you get back home you realise Auckland is pretty ace. Expect to feel annoyed by things at home thanks to Mercury going retrograde this week. Dreaming of greener grass in the Scottish Highlands should keep you from blowing up unnecessarily.
Where you need to go this week: The grass is green in Auckland too
Leo
Continue on with all that good work you did last week in putting others first. You're well placed this week to help out friends and family thanks to Mercury's influence.
Think about any special skills you have that others could use right now – from mediating fights to using chopsticks.
Where you need to go this week: Somewhere to show off those chopstick skills
Virgo
There are times when being a perfectionist is a good thing and people love you for it. And then there are times when Mercury goes retrograde and all those things people love you for suddenly become overbearing and nit-picky. Expect challenges in the workplace this week as your co-workers wish you would take a chill pill.
Where you need to go this week: Get your chill on here
Libra
Ah Libra, the balanced one. Sorry but we're throwing you overboard this week. If you want to make a formal complaint address it to Mercury's retrograde. Find your Zen again through meditation and some mind-body-spirit balance.
Where you need to go this week: This place is all about rejuvenation
Scorpio
Passion can be a good thing but too much is almost always a disaster. Case in point: there's being passionate about your fave colour and then there's that lady who only wears/owns/decorates in green. With Mercury in retrograde your emotions are ruling everything and you can't tell how much is too much passion.
Where you need to go this week: Get passionate about vegetarian food
Sagittarius
If you had the patience to make a bucket list it would have every country of the world on it. But, with Mercury in retrograde, now is not a great time to travel for you. We know it's hard but focus on local affairs instead. Try becoming a tourist across Auckland and enjoying everything your home city has to offer.
Where you need to go this week: Head to some of our fave Auckland spots
Capricorn
Saturn is your ruling planet and it's making some moves this week. Known as the Karma planet, we think you can guess what you're in for. Remember that Karma has both good and bad sides so be open to every possibility. A year's supply of Poke only counts as bad karma if you're allergic to raw fish.
Where you need to go this week: Thess places have super tasty poke
Aquarius
When Mercury goes into retrograde it's like pulling a big reverse lever on the zodiac. This means Aquarians usual ability to ace everything relationship related will be back-peddling all week. Friendships are at risk if you allow misunderstandings to rule the day.
Where you need to go this week: Where we love to share food
Feel like doing something else? Here's our guide to April in Auckland.
Image credit: Gabrielle Stjernqvist