Winter isn't coming; hell, it's here. In fact, we're already well and truly buried into the frosty arms of its cool embrace, which means leaving the house for anything other than to purchase an electric blanket has the appeal factor of slamming your hand in a car door. So, unless LBD stands for 'little black Daikin-split-system-heat-bump', we're not interested.
Staying in is officially the new going out. Why? Because we'd rather cosy up with our mates, wrapped in three blankets and a layer of Oreo crumbs in the warmth of the lounge than senselessly murder our sinuses on the streets.
And now, thanks to New World, staying in has never been so deliciously satisfying. Or rewarding. Not only do they sell all of the tastiest 'night in' treats, but your favourite supermarket is now giving homebodies all over the country the chance to win one of fifty $6000 prize packs to help you throw the ultimate Big Night In experience!
To get your toasty mitts on an assortment of goodies (think HD TV, PlayStation 4, VR Headset, pizza oven, pressure cooker and iconic board games), simply purchase three participating brands in one transaction at your local New World supermarket and scan your Clubcard (all the deets here). And for instructions on how to throw the perfect Big Night In this winter—keep reading.
#1 Arrange A Rugby Rendezvous
What better way to spend a toasty evening in than watching the All Blacks crush the Wallabies while you smash your weight in snacks?! In order to throw the perfect rugby rendezvous, you'll need to locate the biggest telly in the house. Next, you'll need to drape all of your team memorabilia over every available surface, and then have their supporter song ('Team Ball Player Thing') playing softly in the background. Until the All Blacks score and you crank it (sorry not sorry, neighbours).
And when it comes to feeding your own All Black army, you'll need three things: a big bowl of chips in arm's reach (if we don't see Eta sour cream & chives, we're leaving), some of Tegel's ripper tempura chicken nuggets served at halftime, and a mini fridge of sweet softies next to the couch to wash it all down (Coke No Sugar for those of you watching your waistline).
#2 Host The Most Delicious Movie Marathon
If chick flicks and gore-athons are more your thing, then this is how you host the ultimate movie night. First things first, choose your films. If you want to cry—The Notebook, if you want to laugh until you cry—Bridesmaids, if you want to spend most of the night with your eyes closed—Gerald's Game, and if want to yell at your TV in utter frustration—The Kissing Booth. Next, couches are for sports nights, floors are for movie nights. So, bring all of the available mattresses and blankets into your living room and assemble one giant bed. Comfort is critical. As is absolute darkness, so draw those curtains.
More importantly, you can't have a movie night without a food coma at the end of it. So, make sure you have all of your favourite movie snacks readily available. This includes chips, popcorn and—if you want to balance out that savoury goodness—create your own DIY sundae station. Simply grab a delicious tub of ice cream from the freezer aisle (our recommendation: Tip Top's classic hokey pokey), and your favourite sweet snacks (Oreo crumbs and Cadbury choc, obvs). Then settle in and let the good films roll.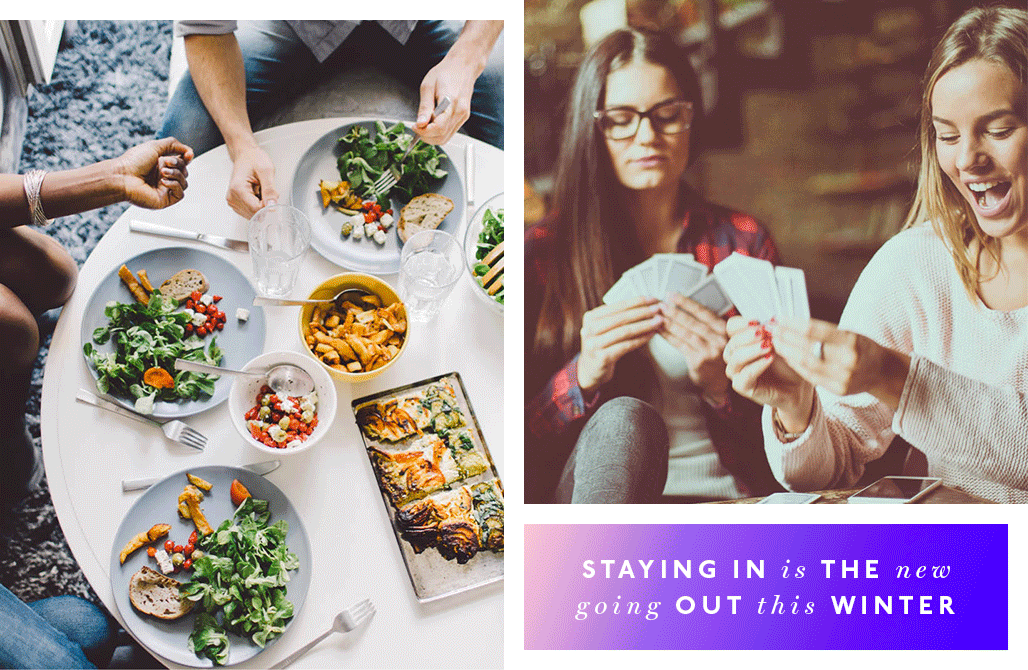 #3 Throw A Winner-Eats-All Games Night
Nothing gets your blood pumping quite like an ultra-competitive games night. The key to executing one is the games you choose. If you want to risk never talking to your friends again—Monopoly, if you want to catch the sillies fast—Balderdash, if you're looking to separate the Picassos from the Mr Squiggles—Pictionary, and if you're dying to channel your inner-DiCaprio—Ultimate Werewolves.
Once you've locked in your games, it's time to lock in your snacks. Obviously, you don't want anything that requires two hands to hold or will stain your carpet if it gets knocked over by a flying Monopoly board. For that reason, our catering recommendations are Tegel Super Tasty Chicken Bites (won't stain your underlay when it hits the carpet), Huntley & Palmers crackers topped with cheese, and a glass (or two) of Stoneleigh Marlborough savvy b to fuel the competition (strictly no reds if you're playing Monopoly).
#4 Plan A Potluck
Nothing will give you a healthy dose of cheap eats and social interaction quite like a potluck. Not only does it bring all of your favourite friends (and all of your favourite foods) under one roof, but it won't cost a bomb to organise. Simply set the table with your finest China (dessert spoons on the inside), hit play on your favourite Spotify playlist and dig in.
When it comes to organising who brings what, a good rule of thumb is to decide on a theme or cuisine and allocate each person a course. Craving a soft tortilla and some margaritas? Make it Mexican! Are you in charge of bringing a main? Take a One Night In Mexico taco kit! Dessert? Bring some homemade Mexican ice cream balls (it's as simple as coating Tip Top vanilla ice cream scoops in cornflakes, melted butter, ground cinnamon and honey). And, if you're looking to infuse your potluck with a touch of fun, treat the evening like your own MKR instant restaurant and critique each other's food.
None of these cosy and social nights in can be made a possible without a trip to your local New World. Click here for directions to your nearest store.
Editor's note: This article is proudly sponsored by New World and endorsed by The Urban List. Thank you for supporting the sponsors who make The Urban List possible. Click here for more information on our editorial policy.