2017 was going to be YOUR year, wasn't it? You were going to channel you inner Wonder Woman to run a marathon, squat 100kgs (goals) and conquer a forearm stand in yoga. The year is marching on (how is it February already?!) and those goals are still well out of reach—sigh.
Feeling somewhat in a slump ourselves, we asked our friends at NikeWomen for advice. Not only have they just released the Metcon DSX Flyknit (aka the best training shoe everrr), they've also created a super group of awesome female pro athletes—including Silver Fern Kayla Cullen.
Their advice? Holla on a workout buddy or—even better—a team! Not only will it be more fun, but you'll also be on the fast-track (pun intended) to becoming Wonder Woman. Want to get fighting fit? Here's how to smash your workout goals with your squad.
1. Choose Your Team
Workout bud/s can motivate you, keep you accountable, push you harder annnd save you from finding yourself pinned underneath the chest press (near-death experiences with Olympic bars are NOT fun). But you need to choose wisely. The best gym pals are positive, supportive and dependable. You'll need to count on them to show up rain, hail or shine… and do so with a smiling face!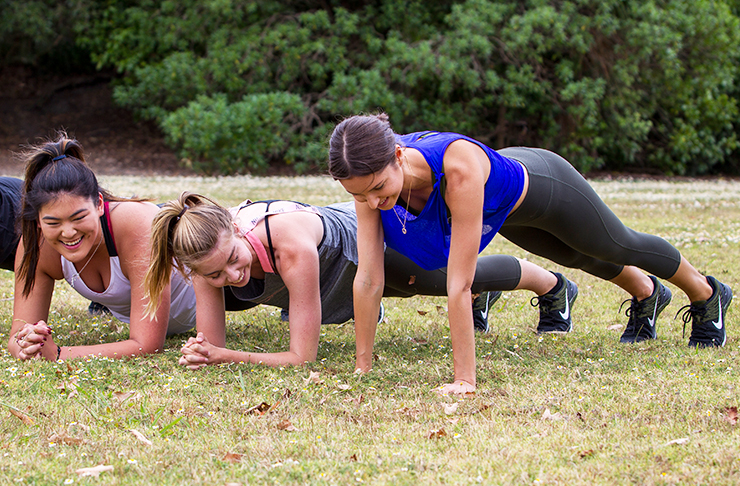 2. Set Goals… And Make A Plan!
Identify what you and your team want to achieve… But don't try to run before you can walk! Training is all about small—yet impactful—baby steps. Break bigger goals down into smaller, more manageable goals. Why? Because nothing breeds success like success! That buzz you get from owning a 5km (or even a 1km!) will motivate you to your next step…and your next. Marathon, here you come!
3. Mix It Up!
There's no room for boredom when it comes to training. Keep things interesting by mixing up your exercises, your workout environment and keep your playlists fresh and diverse! Do different kinds of workouts throughout the week—Mondays are for outdoor hill sprints, Wednesdays are all about boxing at the gym and Fridays are for at-home yoga! Get each member of your team to have a turn at putting together the day's workout and tackle things together.
4. Make Use Of Technology
That phone in your pocket is a serious gem when it comes to reaching your fitness goals. We're particularly fond of the Nike+ Training Club app that allows you to pick and choose from their extensive workouts—they range in length, intensity and fitness level—and will talk you through each movement. This nifty app can also put together a personalised plan to help you smash your goals.
5. Keep It Competitive AND Supportive
Training as a team drives and motivates you to train harder, better, faster and stronger—just ask Daft Punk. Whether it's a sports team or group of friends, your team will bring out your inner-competitiveness. Fueled by determination, you'll find yourself hustling to kick your friends' butt! And, the more you hustle, the sooner you'll achieve those goals. Create a WOD (that's workout of the day) and see who can get through the exercises in the shortest time. Finished first? It's on you to cheer the rest of your team on!
6. Get The Tunes Crankin'
Last but in no way least, you're gonna want a pumpin' playlist. Create a shared playlist that everyone can contribute to. Speaking from experience, 'Come Alive' by Netsky and 'Moment 4 Life' by Nicki Minaj are a good place to start! A decent, high tempo soundtrack will encourage everyone to push that little bit harder when the going gets tough.
Editor's note: This article is proudly sponsored by NikeWomen and endorsed by The Urban List. Thank you for supporting the sponsors who make The Urban List possible. Click here for more information on our editorial policy.