The countdown to the weekend is officially on. We all know what that means: time to get brunching! If you're anything like us, one of your weekend faves is the wonderful waffle. From chocolate-loaded stacks to fried chicken monstrosities, we want it all and we want it now.
And, if you love both a) waffles and b) discounts, then you'll want to get amongst ASB's epic Brunch On Us. Devour brunch this weekend (or any weekend until the end of the year) and you'll score 15% off your meal. Simply pay with your personal ASB Visa credit card between 8am and 12pm and the discount is all yours—eat ALL the waffles! For the full terms and exclusions, head to the bottom of the page.
To put you on your brunch-eating way, we've rounded up eight of our fave local cafes. These Auckland delights know a thing or two about whipping up the best waffles in town. Dig in, Auckland!

Beam Cafe
Milford
New kid on the block, Beam Cafe, is shaking up Auckland's café scene with its mouth-watering fare. And, at the heart of the deliciousness, you'll find their signature bubble waffles. Served as a piece of art, the soon-to-be-Instagram-famous dish features fresh fruit and caramel sauce. For added measure (and extra Instagramability), it's then lovingly adorned with candy floss—how delightful!
Dear Jervois
Herne Bay
When it comes to places to brunch in Auckland, Dear Jervois is the ultimate crowd-fave. Showcasing something for everyone and every taste bud, it's the reason why we return time and time again. They've got two (equally delish) waffles up for grabs. The gluten-free number is served with bacon and caramelised banana, while the matcha waffles come with vegan 'nice cream'.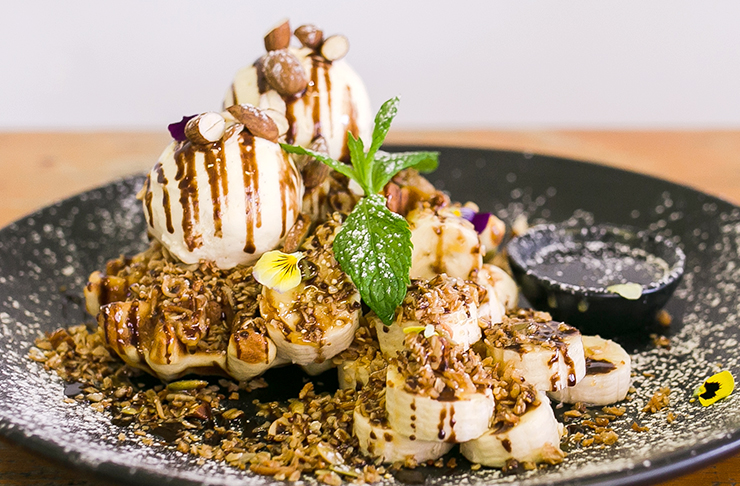 Geeks On Sainsbury
Morningside
We're total suckers for Geeks On Sainsbury's egg bene and their waffles are equally impressive. Choose between two options: preserved fruit or banana with granola. The latter also features Kapiti ice cream, caramel sauce and maple peanut butter. That's right, guys. Maple peanut butter. Talk about heaven on a plate, amiright?!
Orleans
Britomart
If you don't have much of sweet tooth on you, Orleans has your back with savoury waffles. Their Auckland-famous dish stars finger-licking fried chicken and maple chipotle with crispy sage and herb butter. But wait, there's more—Orleans also serve a waffle tower. Think fluffy waffles stacked high with fried chicken, pork belly, cheese and tater tots. Go hard or go home, right?
The Glasshouse Cafe
Northcote
The Glasshouse Cafe is all about eggs bene, smashed avo and—you guessed it—waffles! Topped with blueberries, Kapiti ice-cream and a whooole lot of chocolate, this bad boy is not to be missed. A word of warning: brace yourself for the impending chocolate coma coming your way. Wash down with a glass of house-made kombucha because, balance.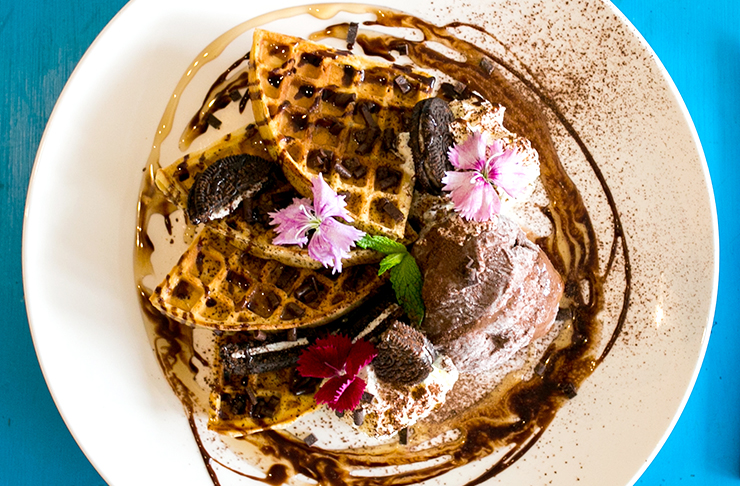 Little King
Milford
Auckland's reigning waffle king (aka Little King) serve not one, not two but FOUR mouth-watering waffles. You'll be tearing your hair out as you choose between banana bacon, banana walnut or seasonal. Personally, we can't go past their double chocolate creation topped with rich chocolate gelato and lashing of chocolate sauce. Our advice? Round up three friends and devour 'em all!
Charlie & George
Stonefields
Sometimes you can't go wrong with a classic and no one knows this better than Charlie & George. Simple but oh-so delicious, their stack of waffles is topped with mascarpone and blueberries—the perfect pairing. If you're more of a savoury guy/girl, they also whip up corn and chicken waffles layered with avocado. We'll have one of both, thanks!
The Collins Cafe & Bar
Greenhithe
Last and in no ways least, The Collins also has a strong waffle game. Here you'll find Belgian waffles stacked high and topped with seasonal fruit, mascarpone, lemon curd and the all-important maple. Get Instagram at the ready because they're garnished with pink candy floss. Pretty and delicious… what's not to love?! FYI the French toast is also equally impressive!
So, what are you waiting for? This weekend totally calls for waffles. And remember, pay with your personal ASB Visa credit card to score 15% off.
The Deets
What: ASB Brunch On Us. Pay for your weekend brunch with your personal ASB Visa credit card and you'll enjoy 15% off—amazing! The discount will be applied up to the first $200 spent in any single transaction and ASB will credit the 15% 'on us' discount back to your credit card account.
Where: Local cafes across New Zealand. Offer excludes fast food outlets, hotels restaurants/cafes and petrol stations.
When: Weekends in November and December, between 8am and 12pm.
Check out the full terms and exclusions here.
Editor's note: This article is proudly sponsored by ASB and endorsed by The Urban List. Thank you for supporting the sponsors who make The Urban List possible. Click here for more information on our editorial policy.
Image credit: Lydia Arnold