No matter how many times you've been to Bali, the cheap airfares, luxe accommodation and incredible bars and restaurants will draw you back again and again. While Seminyak has been getting busier over the past few years, it's still home to some of the best eats and drinks in Bali, so divide your time between the hot spots in Seminyak and the quieter Canggu and you'll be in for a seriously lavish weekend.
Here's how to spend 48 hours in Seminyak and Canggu.

7am
As the spiritual home of Eat, Pray, Love, yoga is almost as prolific in Bali as its warungs and, depending on where you're staying, you might already have snagged a complimentary yoga class each morning with your accommodation—like The Leggian's yoga on the grass at 7am. If not, there are so many world class studios to choose from, including Yoga 108 and the Seminyak Yoga Shala, so you won't have to travel far to salute the sun.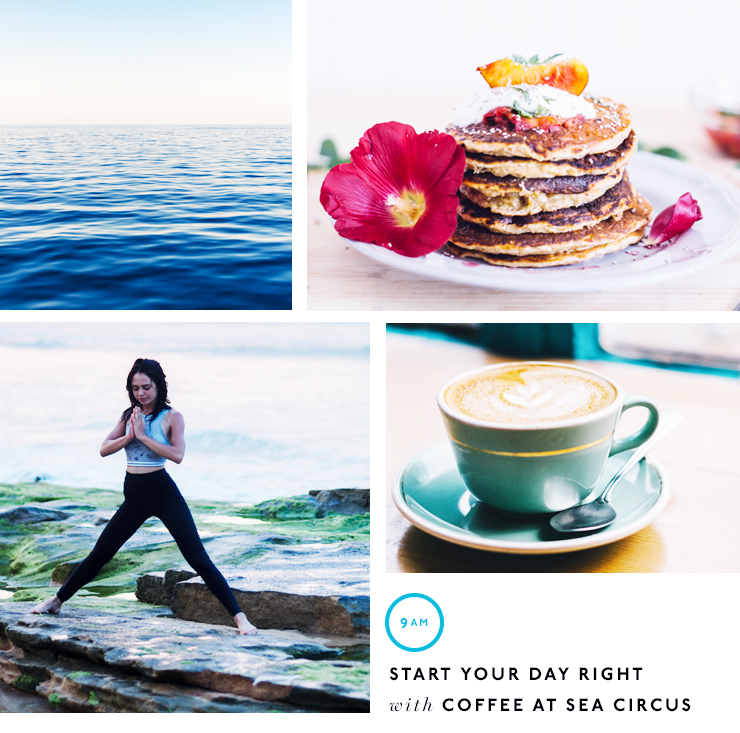 9am
Start your day on the good foot with a trip to Sea Circus. Its vibrant circus themed interiors will put a smile on your face and you'll have even more to smile about when you see the menu. The tofu scramble, dragon fruit bowl and pesto eggs with wild rocket are tried and true breakfast options and their mango and guava kombucha and a 'coco cup' coffee are nothing short of delicious.
11am
Another Seminyak ritual for long-time visitors of Bali, Bodyworks is a two minute walk from Sea Circus and it's an absolute must visit. The blue marbled mosaic heaven is laid out a little like a Turkish bath with a 1950s twist. With a full list of pampering treatments on the menu, we recommend spending an hour and a half lapping up a Balinese massage before hopping into a bathtub filled with rose petals—all for the friendly price of $50! You'll walk out of there feeling like a brand new person.
1pm
After floating out of Bodyworks in a blissful haze, all that hard work will surely have you in need of a midday snack and there are SO many options. We recommend Earth Cafe for the vegans and vegos out there, Sisterfields for its great design (both on the menu and the interiors) and Revolver for its world-class pour over coffee.
3pm
The afternoon is the perfect time of day for a gander along Seminyak's shopping strip after the sun has eased off. With everything from KIOSK, Auguste The Label and Shakuhachi, you can start at either end of the street and shop 'til your heart's content. To fuel your journey, stop by the outrageously colourful Motel Mexicola for a cold beer or tequila cocktail and some guac and chips.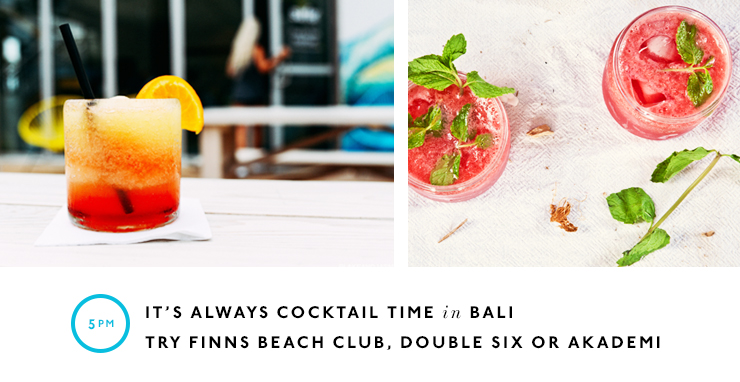 5pm
After a drink at Motel Mexicola, it's time for more drinks. You're in Bali after all. Head to Finns Beach Club (the Uluwatu hot spot relocated to Canggu last year), Double Six Rooftop or Akademi for a roasted pineapple mojito. Yum.
7pm
There are so many options when it comes to dinner, but our number one recommendation would have to be La Favela for dinner. Any attempts to describe this place will pale in comparison to the real experience of actually being there but think never-ending-fairy-garden-come-jungle-paradise and you're on the right track. Its cavernous dark interiors are lit by hundreds of vintage lamps, candles and trails of incense smoke everywhere. Treat yourself to a nightcap here before bed and it'll inspire some pretty sweet dreams. If you can't get a spot at La Favela, MoVida, Saigon Street and Kuam are all good picks, as well as old favourites like Mama San and Sarong.
10pm
You could go back to your room, or you could go and get another cocktail... We'll leave that one up to you.

7am
It's day two and Canggu awaits! Jump in a taxi and head straight to The Seminyak Yoga Shala for your 7.30am morning practice to sweat out those extra cocktails you had after dinner (we know you too well). Only five minutes away from the beach, you can head in for a quick dip after yoga before making a beelining for Crate Cafe for breakfast. Everything at Crate Cafe is as Instagram-worthy as it is delicious, from exotic fruit bowls and acai bowls to towering plates of smashed avo and poached eggs. They've even got multi coloured smoothies—you can't go wrong.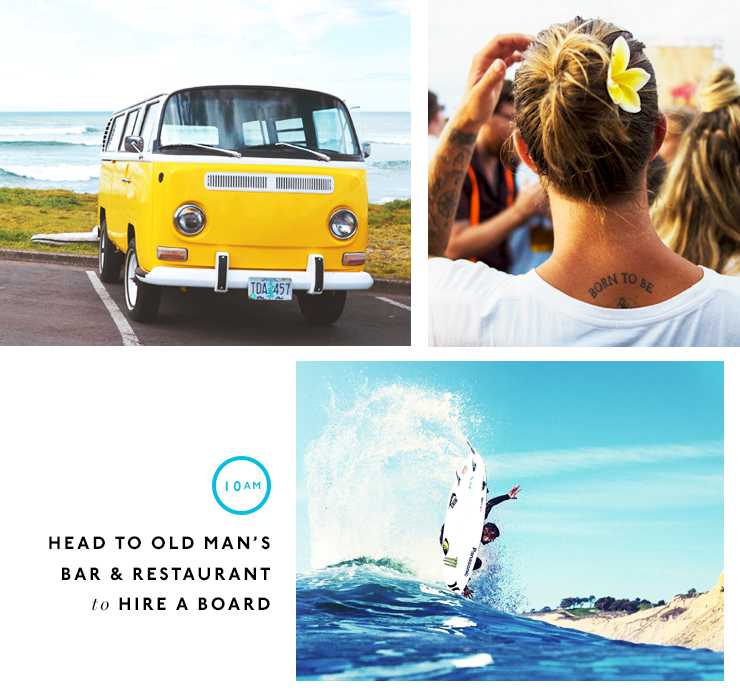 10am
Depending on what the swell is doing, it's either time for a surf or time for another massage. If you can surf, head out the front of Old Man's Bar and Restaurant; because if it's not pumping, at least you have a backup plan—hanging out with a beer until it's ripe enough to head out for a longboard sesh. You're also spoilt for choice when it comes to hiring a board out the front of Old Man's, plus they offer lessons and will give you a rashy to keep you covered in the Bali sun.
1pm
Congratulations, you've made it to the pinnacle of this little 48-hour rendezvous, because The Shady Shack might just be the best thing that ever happened to you all week. The nori bowl and tempeh bowl are highly recommended—words can't quite describe how delicious these are! You'll just have to see for yourself. Adding to that mouth watering goodness, the oasis-like white weatherboard shack is shaded by trees and next to a rice patty field, making it a picturesque and downright lovely place to be.
3pm
Grab a dragonfruit or avocado paleta from Paletas Wey on your way to your afternoon tour of Green School—a not for profit international school that's famous for its mind-blowing architecture made entirely out of bamboo. Book a guided tour here and thank us later. You can get there in a cab, or, if you're up for it, get yourself a scooter—there's nothing more fun than zipping around a small town like Canggu.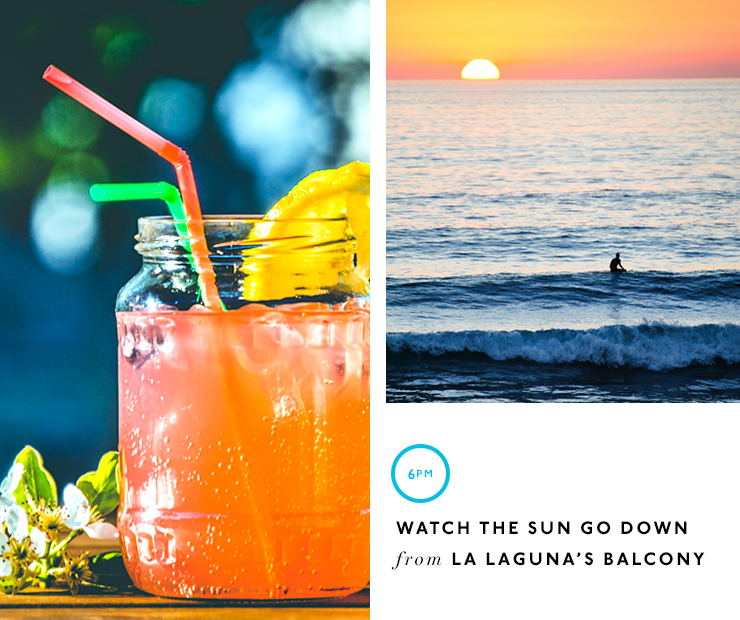 6pm
There's no better vantage point for sunset than La Laguna's long stretching balcony that reaches right out onto the beach. Owned by the same masterminds responsible for La Favela in Seminyak, the attention to detail at La Laguna is just as impressive. The carefully curated gypsy-themed clutter will transport you somewhere else completely, with old tarot reading cards and opulent interiors, there's plenty to gawk at for the rest of the evening. You can't go wrong with dinner here either, with plenty of fresh seafood on the menu and a signature cocktail list including their famous Secret Garden cocktail of lemongrass gin and cucumber, La Laguna will have your eyes and taste buds preoccupied for hours into the evening.
Click here for more awesome travel destination recommendations.