At Urban List, we strongly believe in working together to make small, sustainable changes towards a greener, more socially conscious planet. We believe in the women grabbing these opportunities with both hands and driving change within our communities and beyond to reduce the gap between intention and action.
We want to celebrate these women, so we've teamed up with The Body Shop to help shed some light on the hands-on hustlers helping to drive positive change towards a more socially conscious life. Here are seven leading ladies you need to get behind.
Shannon Martinez, Foodie Trailblazer
With a mission to bring vegan food to the masses, Shannon Martinez, owner and Head Chef of vegan restaurant Smith & Daughters and face of The Body Shop's new hemp campaign is taking over the male-dominated profession. Running a hardworking kitchen where everyone is supported and given a safe place to grow, thrive, and be inspired, Shannon's entrepreneurship and hustle mentality is something to shout about. In addition to spreading the sustainably conscious message of plant-based eating, Shannon is also changing the game for female Chefs —making a conscious effort to ensure all staff are equal and women have an even playing field and opportunities to lead. As one of our hands-on hustlers, Shannon's livelihood lies in the work of her hands, so naturally, Shannon places great importance on taking care of them.
"Working in kitchens every day definitely takes its toll on your body, especially your hands. I've learned to wear my burns and scars with pride. That's not to say that I don't take care of them. Being on camera quite often, it's important to me that my hands look as nice as possible,
"I have regular manicures and use hand scrubs and moisturiser often. They may not be the prettiest hands in the world, but they are responsible for everything I have. And I wouldn't change them for anything," Shannon says.
Ellyse Perry, Australian Cricketer
It's no secret we're big advocates of women in sport. Not only do they defy stereotypes and challenge thousands of years of social construct, but they also remind us that we have incredibly strong, powerful and capable bodies. And the woman who deserves a massive spotlight is the seriously-talented cricketer, Ellyse Perry. Since making her international debut aged 16 in 2007, this hustler has gone on to dominate the cricket world, winning endless accolades, and becoming the youngest person to ever play international cricket for Australia. She also conquered a football career that in 2011 saw her become the first female to represent Australia at World Cups in two different sports. No big deal. But what we love most about Ellyse is her commitment to fighting for equal representation in women's cricket. And she's certainly making some noise, with the ICC last year announcing a 360% increase in overall prize money for the Women's T20 World Cup in Australia. One small step for Ellyse, one huge step for womankind.
Regina Jones, Ginny's Girl Gang
As a proud Gomeroi/Gamilaraay woman, Regina Jones (otherwise known as Ginny), is an artist and an advocate for her people, their rights and preserving their culture. Most of all, Ginny's favourite role in life is being an Aunt, with her and her three nieces calling themselves 'Ginny's Girl Gang', birthing the name of her revolutionary clothing line. What started out as making jackets with a voice by way of hand-painted art, her range is quickly expanded to include sweatshirts, tees, and overalls too. Ginny's Girl Gang is all about culture, positivity, respect, and love, paving the way for future generations by sharing their knowledge stories and journey. Her outwear is more than just a nice piece of clothing, with each item bringing awareness to indigenous culture and issues through her incredible use of storytelling through acrylic paint.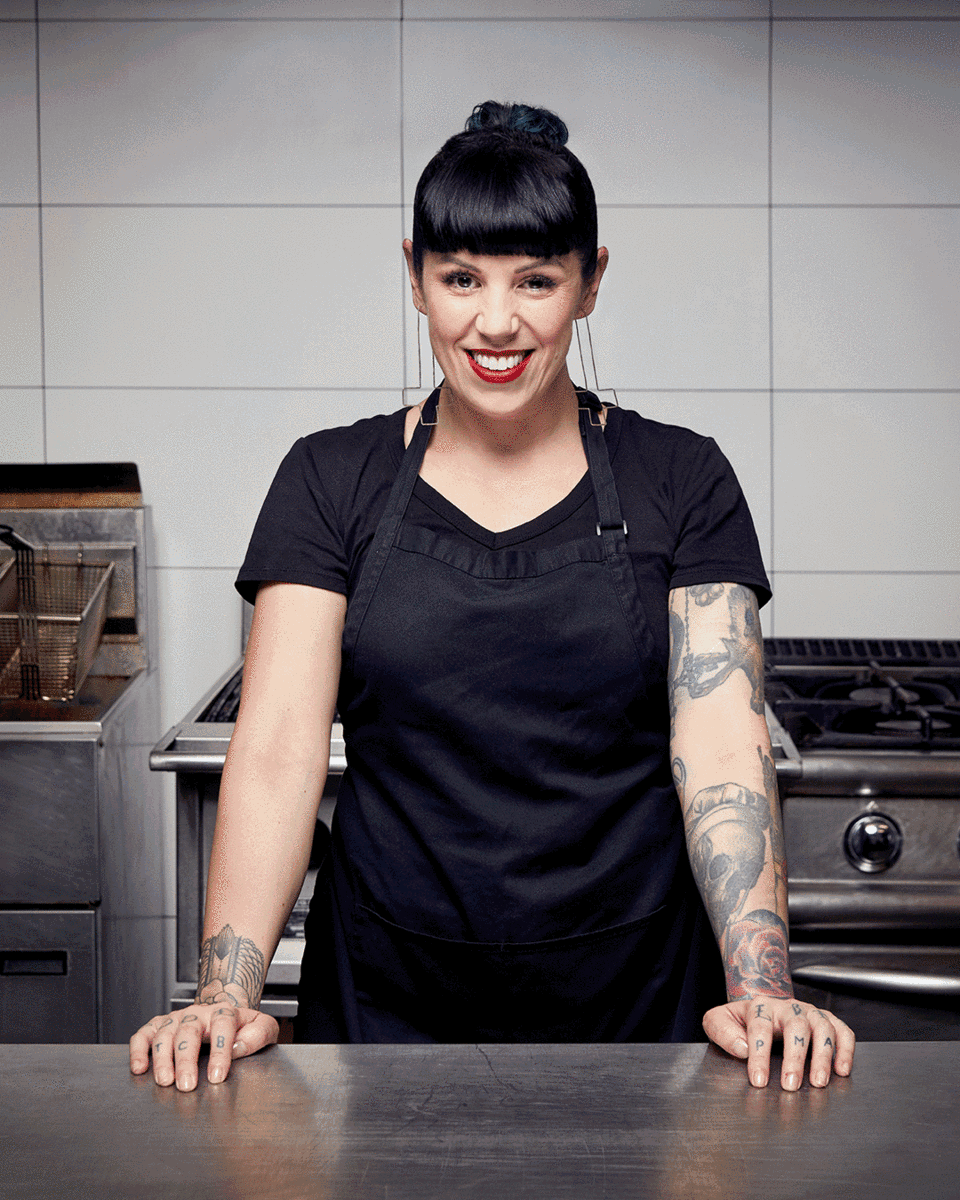 Macinley Butson, Scientist And Inventor
Selected as the 2018 NSW Young Australian of the year at just 17 years of age, teenage Inventor and Scientist Macinley Butson is paving the way for a better future. She is hot in the pursuit of projects and inventions that aim to help society and improve outcomes in life for those in need, having already invented a solar-power system that filters dirty water to make it drinkable and SMART Armour. If you're wondering what SMART Armour is, it stands for Scale Maille Armour for Radiation Therapy, a high-density copper that works to shield breast cancer patients from excess radiation when having treatment. Having already been extensively tested and gaining approval from the Therapeutic Goods Administration for practice, there's no guessing what else this young woman will be capable of achieving and where her hands will take her in the next 19 years of her life.
Dr. Nikki Stamp, Surgeon
When it comes to hand-on professions, it doesn't get more dexterous than a surgeon, which is why we're shouting this leading lady from our proverbial rooftops. With only 12% of surgeons being female and even less (5-6%) consisting of heart and lung surgeons, it's no wonder, cardiothoracic surgeon, Dr. Nikki Stamp is leading the crusade to change those stats for the better. Dr. Stamp has tirelessly fought to break down barriers in this male-dominated field, speaking at women empowerment events, spending endless hours researching women's health, and being a prominent participant in social media campaigns #ILookLikeASurgeon (a movement that works to break down imposed gender roles in the medical profession). Dr. Stamp is a proud mentor and supporter of women in surgery and of women in all careers, paving the way for a stronger, more diverse future where everyone gets a level playing field.
Tessa Carroll, Ahimsa Collective
We all know that the fashion industry is constantly evolving at a rapid pace, and while we're still faced with fast fashion at every turn, there's mounting social pressures to shy away from global giants and turn towards more ethical and sustainably-produced clothing. Tessa Carroll saw a gap in the market for sustainable accessories and grabbed the opportunity with both hands, creating Ahimsa Collective—a contemporary accessories range using sustainable leather alternatives like Pinatex pineapple leaves and washable paper. Not only does Ahimsa Collective aim to reduce the footprint made by the fashion industry, but they're also reversing it, donating $5 from every sale to environmental charities. So here's to powerhouse Tessa for creating accessories that look as good as they feel to buy.
Jamie-Lee Kay, The Other Straw
With Australians using around 10 million plastic straws each day, it's no wonder that this single-use plastic is one of the main polluters in our oceans. Not ready to sit back and cop this grim statistic, Jamie-Lee Kay decided to take on plastic pollution one bamboo straw at a time. Together with her partner Lennart, the passionate duo decided to tackle the problem with both hands, creating their own range of reusable, ethical, sustainable and environmentally-friendly bamboo straws. Named The Other Straw, their mission is to eliminate plastic pollution and educate people on the power of bamboo as a sustainable resource is also garnering attention. They also recently expanded its line to offer 'The Other Essentials'—a range of bamboo cutlery set to be the latest addition to your handbag and new sustainable obsession. From growing their own bamboo to composting the office coffee, offsetting their transport emissions, and sending out their products, there's no denying The Other Straw is leading the way with their hand-on commitment to reducing their carbon footprint.
So whether you're leading the charge or simply reading this article, we're in this together. For all you other hands-on hustlers, check out The Body Shop's new Hemp range online here—they'll leave your hands soft, supple and ready to take on the world.
Image credit: Ginny's Girl Gang
Editor's note: This article is sponsored by The Body Shop and proudly endorsed by Urban List. Thank you for supporting the sponsors who make Urban List possible. Click here for more information on our editorial policy.