If you've been talking about starting, re-starting or just kicking your yoga practice up a notch, now is the time thanks to the jaw-droppingly beautiful new Horizon Yoga Wellness Hub in Cottesloe.
Sitting pretty on Railway Road, you'll be forgiven for not realising the bright, open space is a yoga studio at first. You'll enter the studio through a door at the back of the store (which stocks beautiful clothes you'll want to spend all your money on) and be greeted by a huge open space teeming with plants, crystals and all of the calming vibes.
Towards the back is a stunning meditation room filled with more crystals and cushions where we are dying to clock some mindful minutes, but for now, let's talk about the yoga.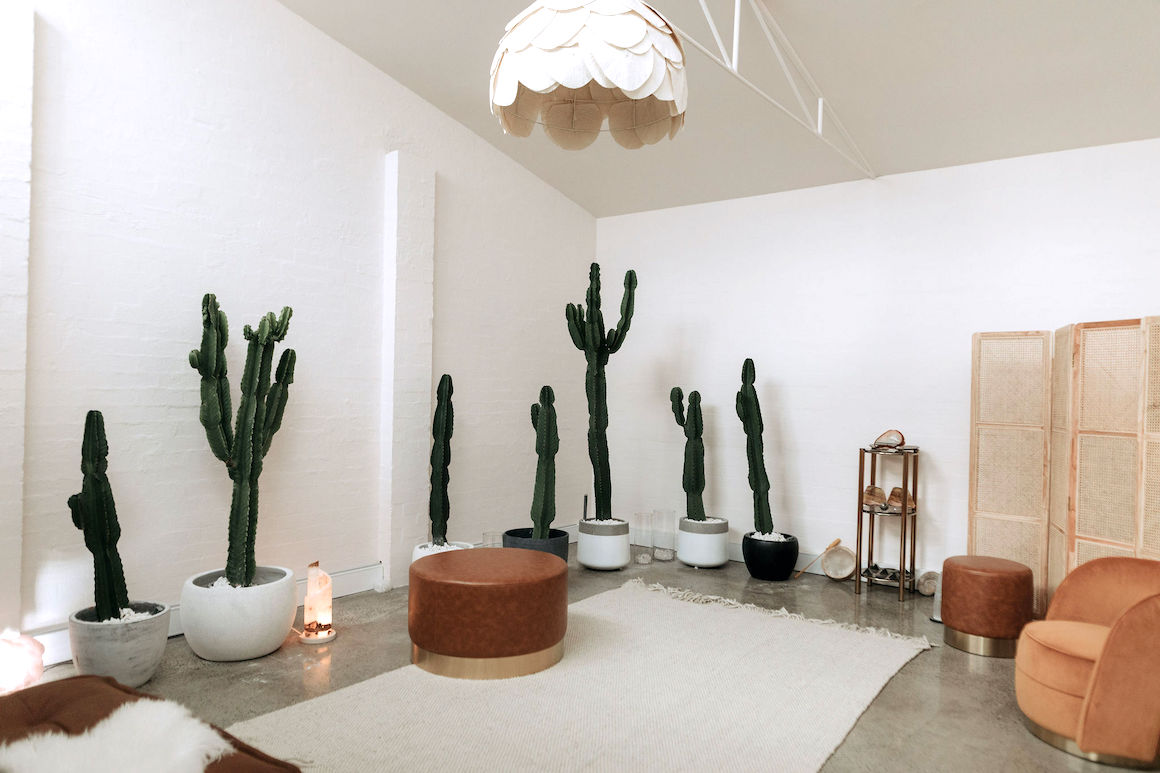 There are classes to suit everyone here—from Slow Flow and Yin to Empowered Vinyasa and Open Style—and there are over 30 classes a week, so you'll find something to suit your schedule. Founder Katrina Thompson has also managed to track down some yoga rock stars to teach the classes so if you're picky about your instructors, you'll definitely be able to find at least a couple who you just can't get enough of.
Whichever class you end up in, the focus is always on doing what's right for your own mind and body, rather than being the most flexible person in the room, which is why we love Horizon.
If you're looking to spice up your yoga practice, you'll want to book yourself into one of the Soul Shine Sunday classes. Kicking off on Sunday 15 November, Rise + Shine is set to be a spiritual dance party with DJ Yogadelique, while the following Sunday, 22 November, is a two-hour live music and guided yoga session that will showcase genres from gospel to guitar while you bliss out.
You'll have to keep an eye out to see what's up next for Soul Shine Sundays after the first two, but no matter what it is, they are always focused on fundraising for the community with funds currently going towards Trillion Trees and Charity Water.
Once you're completely zenned out, slip outside to the store and homewares paradise and have a look around. The space is beautiful enough to have you weak at the knees and is filled with goodies from L'urv yoga wear, Sarah Zel Chescoe jewellery, Anjel Ms, sustainable swimwear from Thaikila, Sundaise, Once Was Lost, ceramics from Miss Willow Designs, Bare Botanicals, Life with Magnesium, plus so many more, not to mention the indoor plants and rare home decor collections.
If you're saving your pennies, make your way to the vitality bar—which is in the spot that used to be Welleco—and check out the menu mural painted by one of the gorgeous yoga teachers, Bonnie Farrell and grab yourself a coffee, cold-pressed juice, kombucha or super smoothie. They also stock the entire collection from Orchard St—the naturopath formulated teas, tonics and tinctures—which will have you feeling like a million bucks, and the Margaret River Hemp collection because at Katrina says, hemp is the future!
Whatever you're up for, we'd recommend making the most of the intro offer which gives newbies access to all classes for 14 days for just $30—a total bargain.
Once you're done there, check out where to get the best facial in Perth.
Image credit: Supplied