Ever wanted to go to the cinema but were too lazy to get out of your comfy bed? Well, this year you'll be able to watch a movie under the stars in a giant bed, courtesy of the Mov'in Bed outdoor cinema.
Instead of just the usual picnic rug and bean bag spiel, Mov'in Bed cinema brings in a whopping 150 queen size beds with LED-lit bedside tables, comfy pillows and even a blanket in case it gets chilly. The beds range from $40 for a single person to $74 for a couple and can fit up to three people each, but if you're strapped for space or cash, you can BYO picnic rug and sit on the grass in the designated picnic area.
And if you're one of those degenerates who likes to eat in bed, there's also a 'Dine-In Bed' option that'll let you spread crumbs without actually having to clean them up. Your favourite pop-up restaurants will deliver your favourite food straight to your bed and you can, of course, also sip on wine or beer while livin' it up.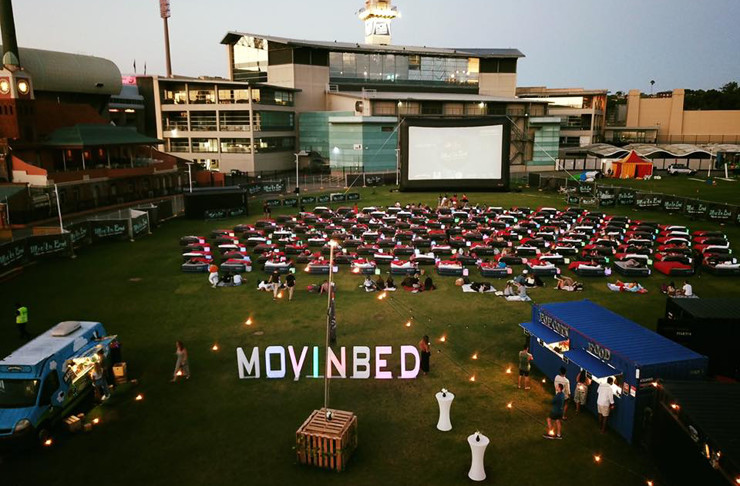 Mov'in Bed Season 1 launched in 2016 in Sydney and sold out in two weeks. The event has since been a Sydney favourite for four seasons but has finally landed in Perth just this month and will also make its debut in Melbourne come January 2020, and Brisbane in March 2020. And while tickets for all have yet to be released, you can expect the same experience across all cities: same number of beds, a lineup featuring 30-50 screenings and unconfirmed rumblings of possible themed nights.
In the meantime, you can keep refreshing the Mov'in bed website for details here.
The Details
What: Mov'in Bed Outdoor Cinema
When: Perth 18 October–8 December 2019, Melbourne 3 January—23 February 2020 and Brisbane March to May 2020.
Where: Ozone Reserve in Perth, St KIida Beach in Melbourne, Victoria Park in Brisbane
For more info, click here.
Image credit: Mov'in Bed