If you're thinking about cleaning your car this weekend, think again. There's a whole world of dirt and dust for you to explore in regional Western Australia before you clean your windscreen.
Since launching in 2015 in Northam, the FORM PUBLIC Silo Trail has grown to include artworks from local and international artists in Merredin, Katanning, Albany and more. Whether you decide to scout out one or two locations at a time or the whole lot in one go, there's over 1000 kilometres of WA's beautiful countryside for you to explore.
Because we don't do things by halves, we've compiled the ultimate PUBLIC Silo Trail road trip that'll take you all the way from Perth to Albany, including the best spots to stop for sustenance while you're on the road.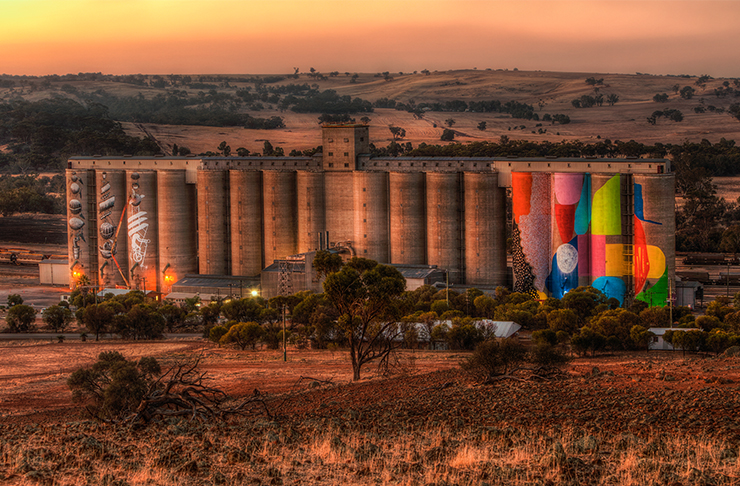 Perth—Northam
96kms | 1 Hour 25 Minutes
This leg of the journey will see you at your first PUBLIC Silo stop in a little under 1.5 hours. Here you'll find artworks by Phlegm and HENSE just off Toodyay Road, and they couldn't be more different from one another. Phlegm's work is darker and gives off plenty of steampunk vibes, whereas HENSE's are geometric, colourful and what you'd expect to see in a Gorman collection. If long drives make you weary, Northam is a good place to stop and take in the sights. There's lots to see here including historical buildings, the Northam Heritage Trail, Morby Cottage and plenty of migrant history at the Visitor's Centre. Hungry? Check out Duke's Inn for a good feed of pub grub.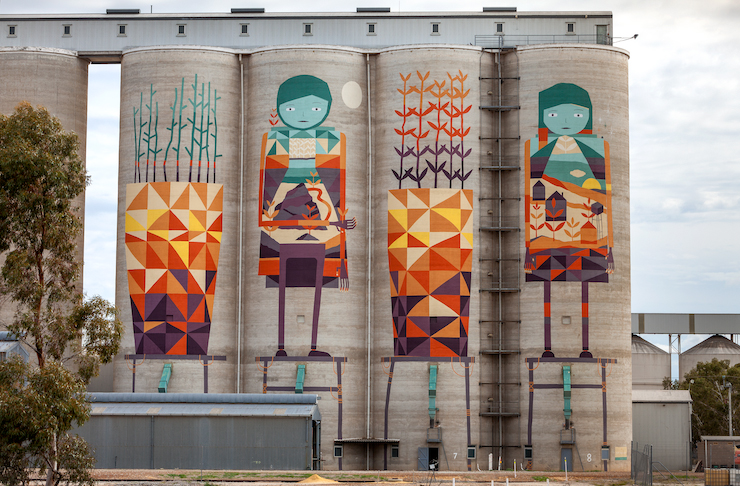 Northam—Merredin
163kms | 1 Hour 45 Minutes
Another fairly short (for WA standards) drive will take you to Merredin, which also happens to be the central Wheatbelt's biggest town. Here you'll find WA street artist Kyle Hughes-Odgers incredible work which took 168 hours to produce. If you're planning to rest your head for the night, this is the place to do it because your next drive is the longest of the road trip. Head to Cafe 56 for a good cup of joe, sweet potato fries and a muffin to go. While you're in the hood check out the cute-as-a-button Cummins Theatre, the Merredin Railway Museum and Merredin Peak.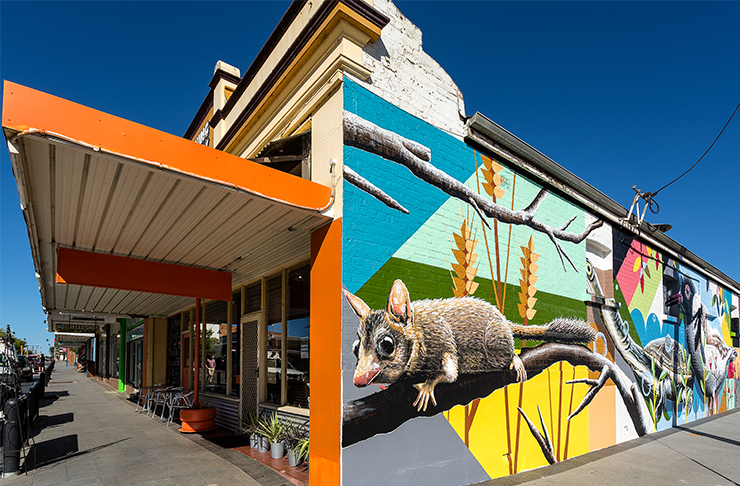 Merredin—Katanning
332kms | 3 Hours 40 Minutes
The road to Katanning might be long, but you certainly won't grow tired of the view out your window. And if you do, the Premier Mill Hotel has you covered with the most comfy bed to rest your head for the night. Dotted around town you'll find murals on walls and decorated Western Power electrical transformer boxes by WA artists Darren Hutchens, Mel McVee, Chris Nixon and Brenton See, as well as international artist Karim Jabbari. Stop by the Premier Mill's Cordial Bar for a drink and some tapas and The Daily Grind for coffee, rendang curry and a whole lot of AFL memorabilia. The Kodja Place in nearby Kojonup is also worth a visit to find out more about the voices, art and objects of the town's Noongar-Aboriginal and settler cultures.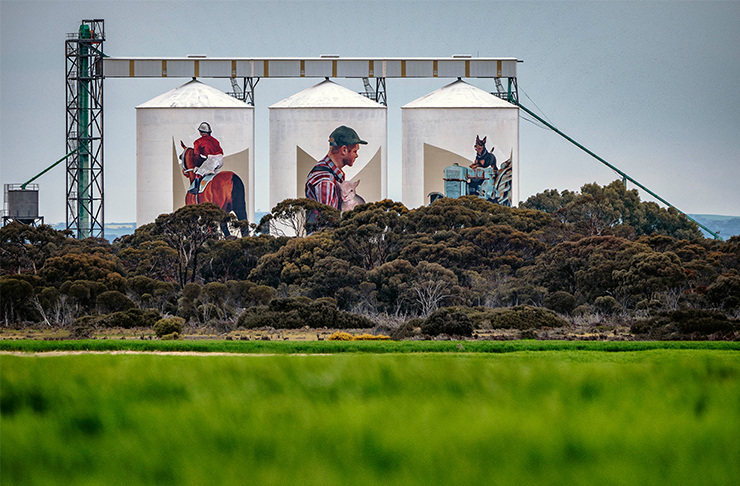 Katanning—Pingrup
99.3kms | 1 Hour 20 Minutes
And we're back on the "quick" jaunts, this time headed for the tiny blink-and-you'll-miss-it town of Pingrup in search of more silo art. Evoca1 completed his works in 2018 and though we shouldn't have favourites, this is ours. Spend some time taking happy snaps of the silos and then make a beeline for The Store Cafe 6343. This cute little spot is run by an incredible group of women from the Community Resource Centre and their homemade sausage rolls and coffee are the best you'll have on the trip. On the winding road into and out of town be sure to keep your eyes peeled for some pink lake action out the window.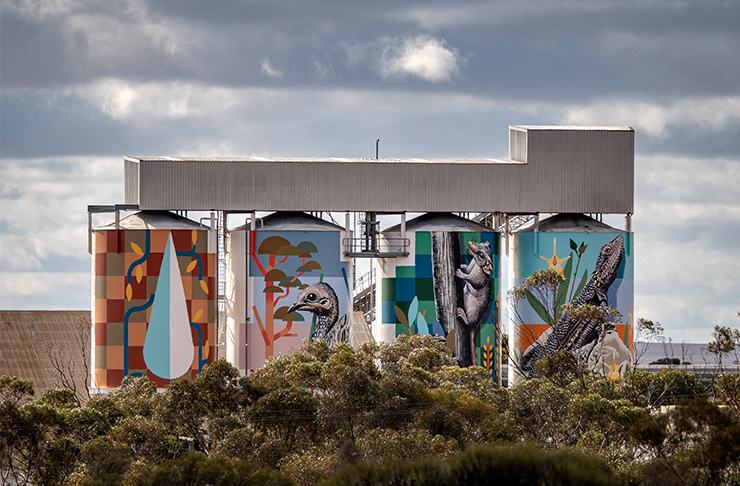 Pingrup—Newdegate
79kms | 1 Hour 5 Minutes
Ok we lied, Brenton See's silo art at Newdegate is our favourite. Actually, let's just scratch the idea of favourites, they're all amazing. Another teeny tiny town, Newdegate isn't just fun to pronounce. Home to The Hainsworth Building—a restored tearoom and general store—here you'll also find the Newdegate Pioneer Museum. If you're looking to stretch your legs, check out Lake King Heritage Trail (which is particularly beautiful during wildflower season). Don't miss Walkers Hill Vineyard in nearby Lake Grace.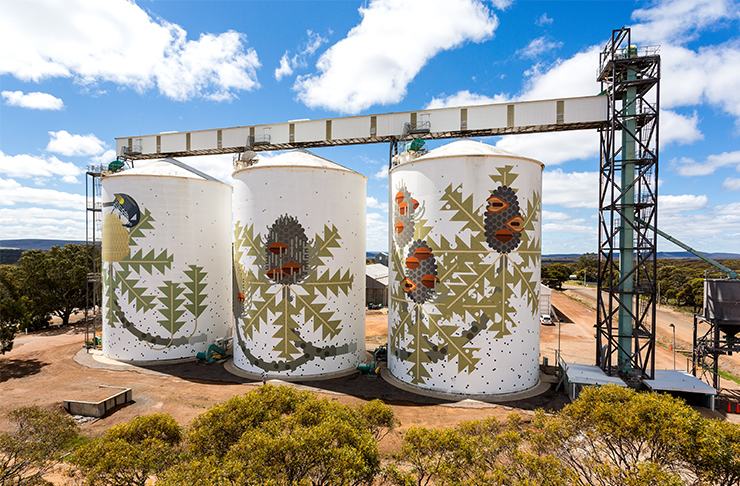 Newdegate—Ravensthorpe
134kms | 1 Hour 25 Minutes
Hop back in the car, you're on your way to see Amok Island's stunning representation of Banksias in PUBLIC Silo form. The 25 metre mural took 31 days and 338 litres of paint to complete. A scenic drive through the Fitzgerald River National Park is not to be missed, and if you're out and about between July and October you may even catch southern right whales.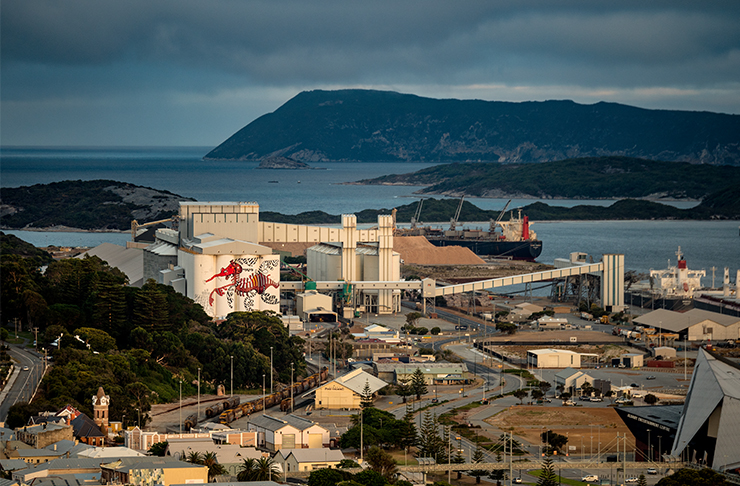 Ravensthorpe—Albany
295kms | 3 Hours 20 Minutes
It's been a long day, and unless you were a clever cookie and found a spot to camp between Katanning and Ravensthorpe, you're probably pretty keen to get to Albany, so turn up the tunes and get back on the road. Once you've had a good night's rest you'll be ready to get out and take in your final PUBLIC Silo stop by Brooklyn-based artists Yok and Sheryo. Then get to the National Anzac Centre, The Gap, Natural Bridge and the Blow Holes before digging into a feast at Liberte or The Garrison. And no trip to Albany is complete without visiting Doralane Pastries for a good old pie.
For more wonderful (and a few weird) tourist attractions in WA, click here.
Image credit: FORM