Face it, you'll never be able to afford any of these. Especially since a one night stay is equivalent to your annual salary (and you have an online shopping addiction that is barely under control at the best of times).
I die. this is basically just a bittersweet list to get your mind off the fact you have several meetings today and a passive aggressive email from Sharon that you need to get around to responding to, while some lucky gazillionaire is showering in gold champagne and living it up in one of these bad boys.
Take a solid look mere mortals, because you'll probably never, ever stay in these. Here are the world's most over the top hotel rooms.
Presidential Suite | Mandarin Oriental Pudong
China
This presidential suite is an interior designer's dream. Think high ceilings, a massive wine bar, a 65 inch TV and a seriously OTT marble bathroom featuring a steam room, TV and literally a pool-sized bathtub. To top it all off, there are two rooftop gardens when you feel like laughing at all the peasants across the city who can't afford this treat.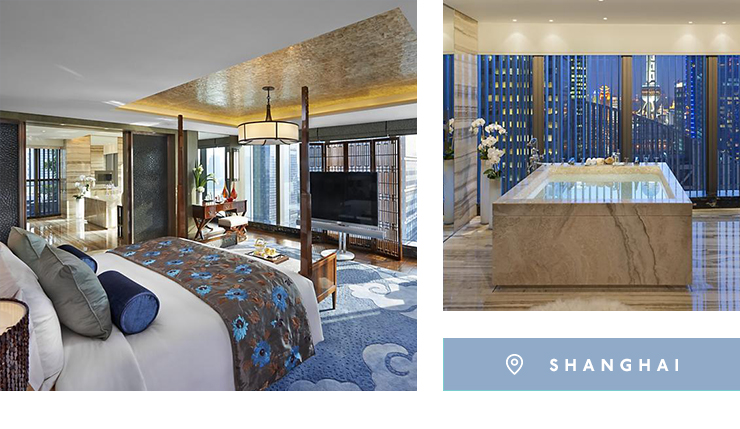 Delana Hilltop Estate | Laucala Island
Fiji
Situated on an island owned by Red-Bull co-founder Dietrick Mateschitz, Delana Hilltop Estate is only on offer when the business champ himself isn't staying there. There's an almost 120,000 square feet of bedroom, access to a private air strip, cook, and chauffeur. Unfortunately, you'll only score total seclusion and a large private pool with a waterfall and side hot tub here. Talk about average.
Maharajah Pavilion | Raj Palace Hotel Jaipur
India
This four-floor suite has its very own private elevator and walls are specked with gold leaf and mirror work (because, no chill). The rooftop terrace has the best views of Jaipur along with a gigantic AF private hot tub. Plus, all the furniture is made out of gold and silver. Yeah, start saving.
Penthouse Suite | Hotel Cala di Volpe, Costa Smeralda
Sardinia
This three-bedroom suite offers up just plain unbelievable views of the Costa Smeralda (you'll see bright blue vistas of the Mediterranean) which can be enjoyed from the private pool, cabana and wrap around terrace. To make things better, it's constant wine o'clock because the penthouse has its own wine cellar.
Neptune Suite | Atlantis The Palm
Dubai
Two words: underwater suite. Oh yes, here at the Atlantis, fully submerged accommodation stays are totally a thing for the high rollers (like Kimmy K) with some serious cash money to spend. Think camping out in an aquarium but fifty billion times more fancy, because a three-storey suite, floor-to-ceiling windows, gold-laced bath amenities and 24-hour butler service is where it's at.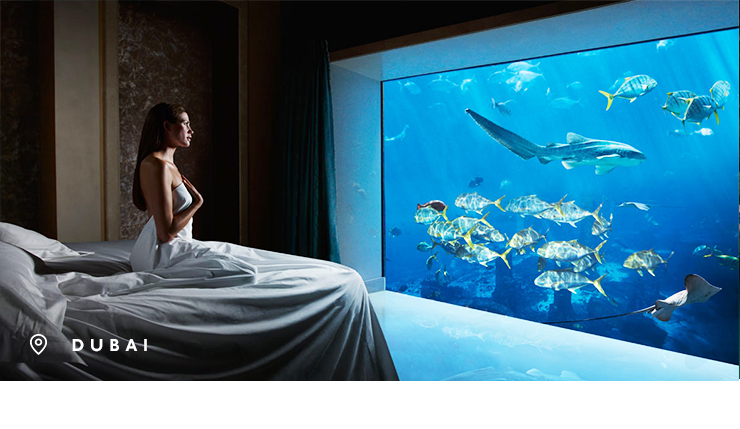 Sky Villa | The Palms Resort
Las Vegas
Shock horror, there's an OTT hotel room in Vegas town. And it wouldn't be a true Sky Villa without completely blowing your mind. Stay in this two-storey villa and score a personal glass lift (sharing is so budget), jacuzzi, massage room, gym and in very modest form the glass pool and terrace area basically turned into a nightclub whenever you please.
St Regis Villa | St. Regis
Mauritius
When you think ultra-glam and tropical vibes, you're no doubt thinking of the St Regis Villa. It's the biggest hotel room on the island and includes four mega suites which all open out onto the ocean. It's pretty much the most exclusive beachfront villa ever, and every gram here would be undeniably a #nofilter situation.
Royal Suite | The Hotel Plaza Athenee
Paris
It's luxe, it's romantic and it's totally out of your financial reach (sorry guys). The Royal Suite has its own private courtyards, and two master bedrooms each with a dressing room, balconies overlooking Avenue Montaigne and a sneaky view of the Eiffel Tower, plus two marble bathrooms with remote-controlled steam showers. Oh, and a jacuzzi (because it didn't already have enough wow-factor).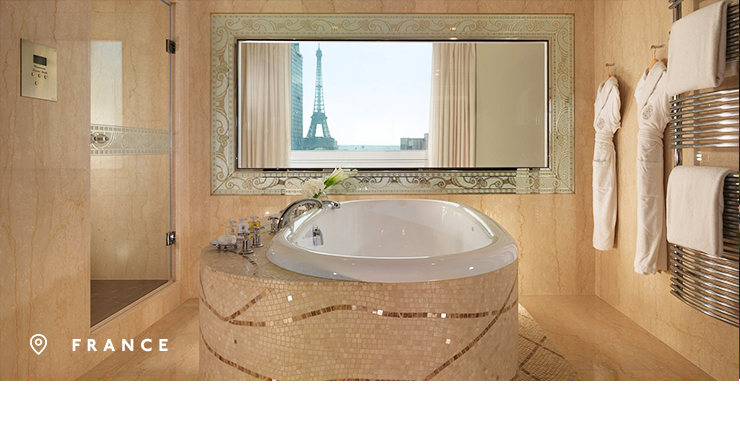 Penthouse Suite | Grand Hyatt Cannes (Hotel Martinez)
France
If heaven was a place on earth, we think we managed to stumble across it. Covering an expanse of almost 18,000 ft, this penthouse on the French Riviera has a panoramic terrace, one helluva Turkish bath (that we don't see anyone escaping) and a few casual pieces by some well-ish known artists by the name of Picasso and Matisse.
Royal Penthouse Suite | Hotel President Wilson
Geneva
No stress, the Royal Penthouse suites only coins in at around $100,000 per night. In other words, your weekly salary would let you stay a full 10 minutes in this baby. The suite takes up an entire floor with 12 rooms, 12 bathrooms, a library, jacuzzi, Steinway grand piano and of course, a private chef and butler at your disposal.
Presidential Suite | The Oyster Box
South Africa
With a private lift, two marble bathrooms, an infinity pool and private bar, this hotel is more than #travelgoals. This suite (honestly, the word suite doesn't even do it justice) has uninterrupted views over the crystal clear South African waters and we know where we're taking the crew for our next holiday.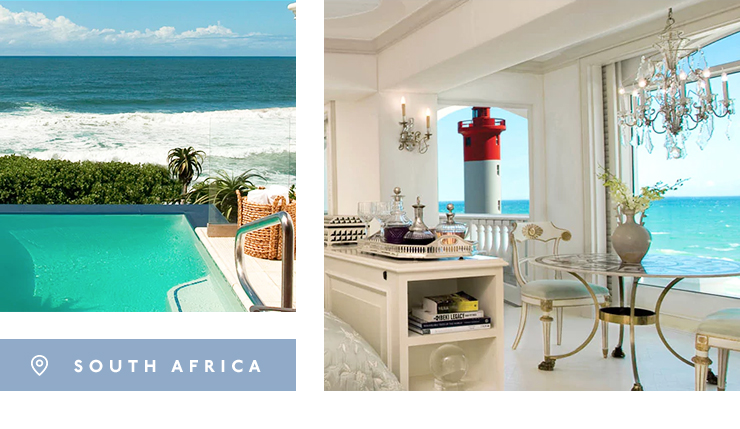 Here are 10 travel hacks every millennial should know.
Image credit: St Regis, Mauritious