If you constantly find yourself lusting over dream homes and the latest style trends on Pinterest—same. Whether you're in the market for a few small changes, a full renovation, or even ready to build your own dream home, we've teamed up with GO Homes to bring you three glamourous design hacks that will transform your pad into total luxury.
#1 Uber-Chic Bathroom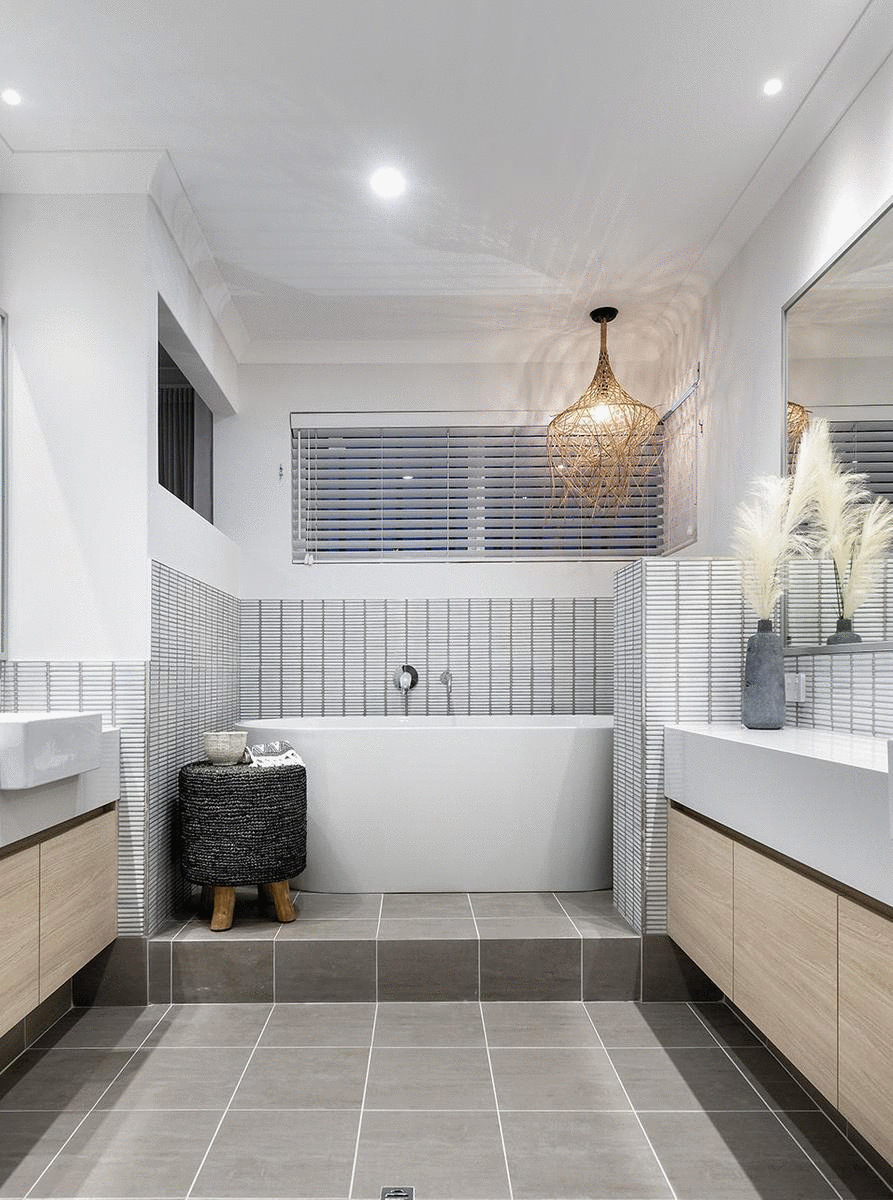 Perhaps it's the rise of the selfie, or even the 'shelfie', but having a totally 'grammable bathroom is a big trend right now. For minimal effort that makes a big impact, place scented candles and potted plants around your bathroom to add a pop of colour. Whether your towels are hanging on the back of your door or folded over a rail, they make a big visual impact, and investing in a fresh set will up the luxury vibe in your pamper room. Bonus points for sticking to a matching colour set at all times: not just when guests come over.
But let's face it, we know what we're all longing for. Think free-standing bathtubs, statement vanities, art deco tiles, and a great mirror. Your selfie game just reached a whole other level with this brand new setup.
#2 Striking Kitchen
The kitchen is the heart of the home and should always be a top priority when it comes to building and renovating. From functionality to aesthetics, there's a myriad of ways to give your kitchen the facelift it deserves. Start by switching out your handles and fixtures for shiny new ones—and if you're game, repaint your cabinets entirely. Think of your appliances as small, decorative pieces, and replace any outdated gadgets that are always on show to immediately elevate the space (like your toaster and microwave).
Is it time to up the ante in a big way? Go glam and invest in timeless Essastone benchtops and attach a scullery to your kitchen, or start from scratch and build these key features into your dream home. With these changes your kitchen will become a functional and stylish space where you'll want to spend more time than just for your meals.
#3 Opulent Bedroom
There's a reason why the coveted staycation is trending among millennials and A-listers alike. When you think of those memorable hotel stays, it's always the thoughtful touches that make the biggest impact. From quality metal hangers swinging in the closet to fresh flowers and scented candles sitting pretty on the bedside table—the finer details will make your bedroom feel like a boutique hotel. For another easy win, invest in a stylish linen bedspread and vibrant framed print.
For the glamorous and restful sanctuary you deserve, building your ideal home with a huge Kardashian-inspired walk-in-robe and free-standing dresser is your answer to luxury on another level. With style and elegance like this at home, there's no need to check into a boutique hotel ever again.
Ready to bring these design hacks into your own home? GO Homes can help you build your own glamourous pad without the stress and any of the guesswork. Designing your dream home just became a reality.
Editor's note: This article is sponsored by GO Homes and proudly endorsed by Urban List. Thank you for supporting the sponsors who make Urban List possible. Click here for more information on our editorial policy.