If you're currently in a state of negative annual leave stop reading now. But, if you have leave to burn or just like to live life on the edge—welcome to Aruba.
This island paradise in the heart of the Caribbean is basked in sunshine all year round, with temperatures hovering around 30 degrees Celsius, and famed for light coastal breezes and turquoise waters.
April to August are the most popular months to visit, although there's little to no threat of tropical storms at all because Aruba sits just outside of hurricane alley. That's just one of the many reasons we're obsessed with Aruba, consistent balmy temperatures and postcard views all year round, meaning for Aussies looking to make the most of their summer holidays the weather is perfect, you'll just need to fork out a bit more for accommodation.
Aruba is home to an impressive 90 nationalities and ethnic groups and is one of the safest islands in the world, as well as the perfect spot for both adventure travellers and those keen to do absolutely nothing at all.
No matter your flavour, we've rounded up 5 reasons the happiest island in the Caribbean is exactly where you're going to next.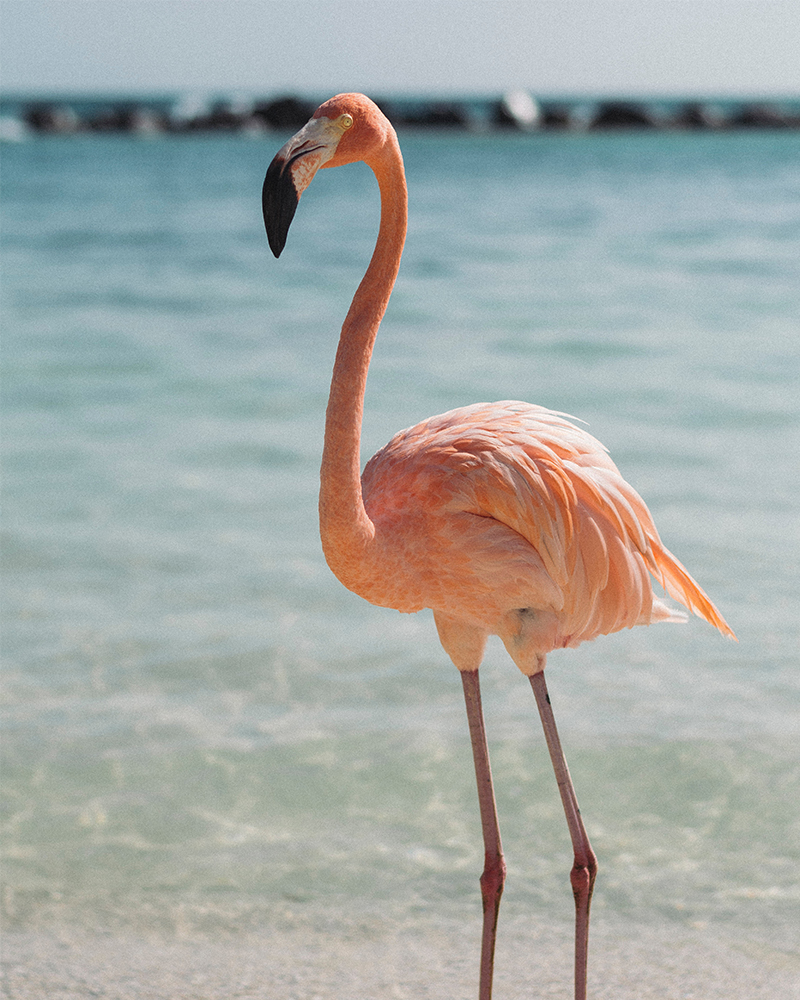 Beaches, Beaches, Beaches
Aruba is famed for having some of the best beaches in the world, making it an absolute must visit if a key criterion for your next trip is living your best life on the 'Gram. Start by visiting Flamingo Beach on Renaissance Island. Exactly as the name suggests, there are Flamingos frolicking up and down this beach. A privately-owned island only accessible via ferry, you can either choose to splurge on accommodation at their swanky resort or pay $99 for a day pass which includes lunch and a drink. Hot tip: contact the resort ahead of time to organise your day pass, as you can only get your mits on one if the hotel is at 80% capacity or under.
Palm Beach is the most well-known on the island. Boasting two miles of holiday resorts, white sand and water spots, this is definitely the place to spend a long afternoon. The other beach on everyone's agenda is Eagle Beach with its famed divi divi trees, you'll want to pencil that one in too.
Aruba is filled with great snorkelling spots; from Arashi Beach (don't miss the raspao ice truck on Sundays), to the stunning Tres Trapi or 'three steps'—it's a literal rock staircase into the ocean—as well as Boca Catalina, Catalina Cove and Mangel Haito—this is one of the island's most stunning vistas, just be careful in the strong current. In addition to snorkelling, Aruba is an amazing spot for diving. Malmok Bay is home to one of the largest shipwrecks in the Caribbean, the SS Antilla, and internet legend has it that you can even pose for a photograph in the captain's bathtub. Other spots worth a mention include Vera, Pet Cemetery and Serito Pinnacle.
For experienced surfers, head to the likes of Wariruri Beach on the north shore, it's also a great spot for fishing but be warned this isn't exactly the place for some holiday doggy paddle. Also located on the northern tip of the island is Boca Grandi, the go-to spot for windsurfing. If doggy paddle is your stroke of choice head to Baby Beach, a small shallow bay that's definitely good for the 'Gram located in San Nicolas. For body boarding, Andicuri Beach is a popular choice for locals, and quieter than the famed Palm and Eagle Beaches. Hot tip: take the dirt road from Andicuri to Black Stone Beach to check out the natural limestone bridge.
This Island Is Made For Adventure Seekers
If you're keen to add a side of adventure to those holiday margaritas, then Aruba has options aplenty. Sunrise and sunset are the best times of day to strap on your boots, and coincidentally also the best time for snaps.
When it comes to spots you can't miss, Arikok National Park is one of them. Best explored in a 4x4, this 29-mile-long park is essentially one-fifth of Aruba in size, with everything from mountains to ocean pools. For the hikers, you'll find Jamanota Hill which at 188 metres is the highest point on the island. Its peak is visible across the entire island, meaning you're guaranteed out of this world views when you reach the top—they say on a clear day you can see as far as Venezuela. The mountain's sub top is accessible via car, but the top is only accessible on foot. Hooiberg Mountain, that's haystack in Dutch, was formed by ancient volcanoes and is the third highest peak and another popular hike at 168m or 562 concrete stairs up to the top.
Arikok National Park is also the place to visit the Conchi, or natural pool, which is a literal pool formed out of lava stone and surrounded by crashing ocean.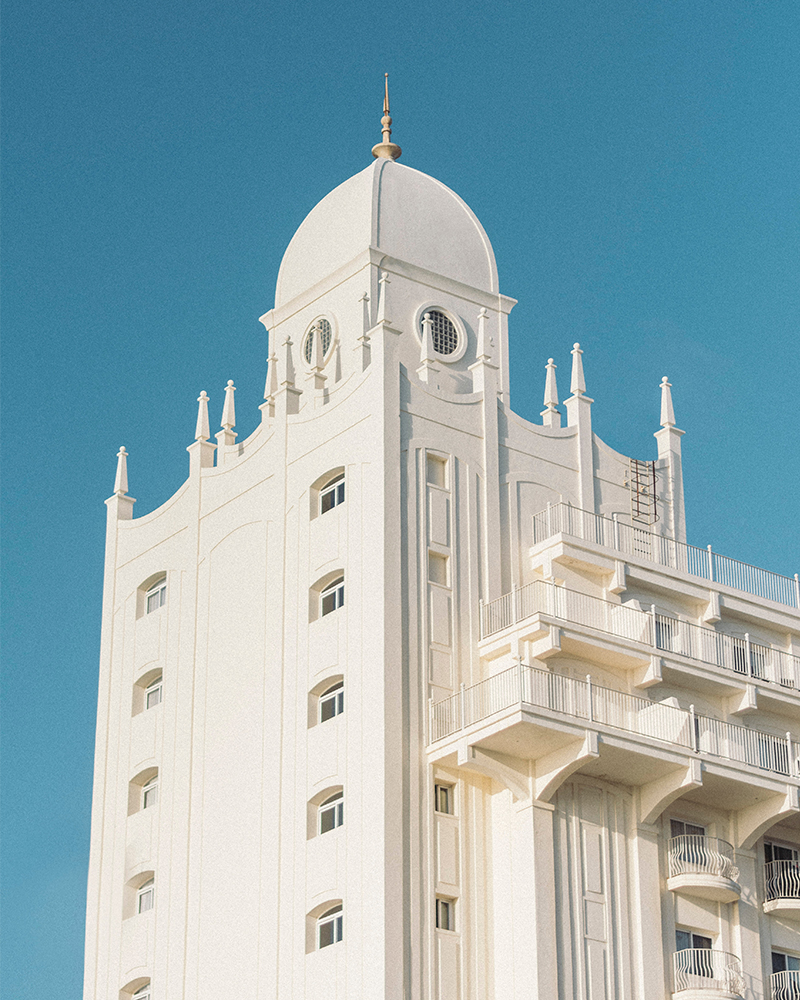 Wander The Colourful Streets Of Historic Cities
The first thing you'll notice when you hit the streets of Oranjestad is the colours. The European influence is strong here, from the Spanish to the Dutch, and it's felt right across the city. Known for its malls and designer boutiques, there are also a handful of museums worth a peruse, and Wilhelmina Park is a great spot to chill in the afternoon heat. If you're after an added dose of Aruban culture, pencil in a visit to Fort Zourtman on a Tuesday evening, the city's original fortification and also oldest building, they host a traditional bon bini festival which although touristy still manages to feel authentic.
On the opposite end of the spectrum, San Nicolas or the 'Sunrise City' is the second largest on the island. Set on the coast, it has its own share of galleries and street art, but it's the Carnival culture that really differentiates San Nicolas from the capital. Charlie's Bar is a popular haunt, and Thursday is the best day to visit and soak up the weekly Carubbian Festival, a true taste of Aruban Carnival with steel bands, calypso music and of course, traditional homemade food.
Eat Food Inspired By World Flavours
A big part of travel is done through your stomach, and in Aruba your stomach is in for a treat. With cuisine inspired by African, Spanish, French, Dutch, Indian, and Chinese flavours, you'll want to bring those stretchy pants and pack your fanciest flowing kaftan. Local favourites include the pan bati, a flatbread that's a little bit sweet but still very much a savoury treat. Think of it like a pancake, but also kind of like naan or roti in terms of how you eat it. Being an island, seafood is king here, especially seafood chowder, but you'll also want to wrap your laughing gear around the cabrito stoba (goat stew), keshi yena (a ball of cheese stuffed with meat), pan bollo (bread pudding) and the pastechi (a fried cheese pastry).
To sample some of these traditional eats, book yourself a table at Barefoot, and stuff yourself silly on their extensive seafood menu right on the beach (ideally barefoot as the name suggests). Driftwood is another favourite, with seafood chowder, pan fried fish Aruban style, and a whole lot of shrimp. Papiamento Restaurant, located in a former manor, is your chance to give the island's famed keshi yana a try, theirs is a family recipe. Finally, Westdeck is the perfect spot to avoid food envy, with a menu consisting of small Caribbean bites—think fried cheese, shrimp, plantains—we wouldn't blame you for ordering one of everything then kicking back on their large wooden deck overlooking the ocean. If street food eats are what you're after, head to the parking lots near Yacht Basin, they start serving at sunset.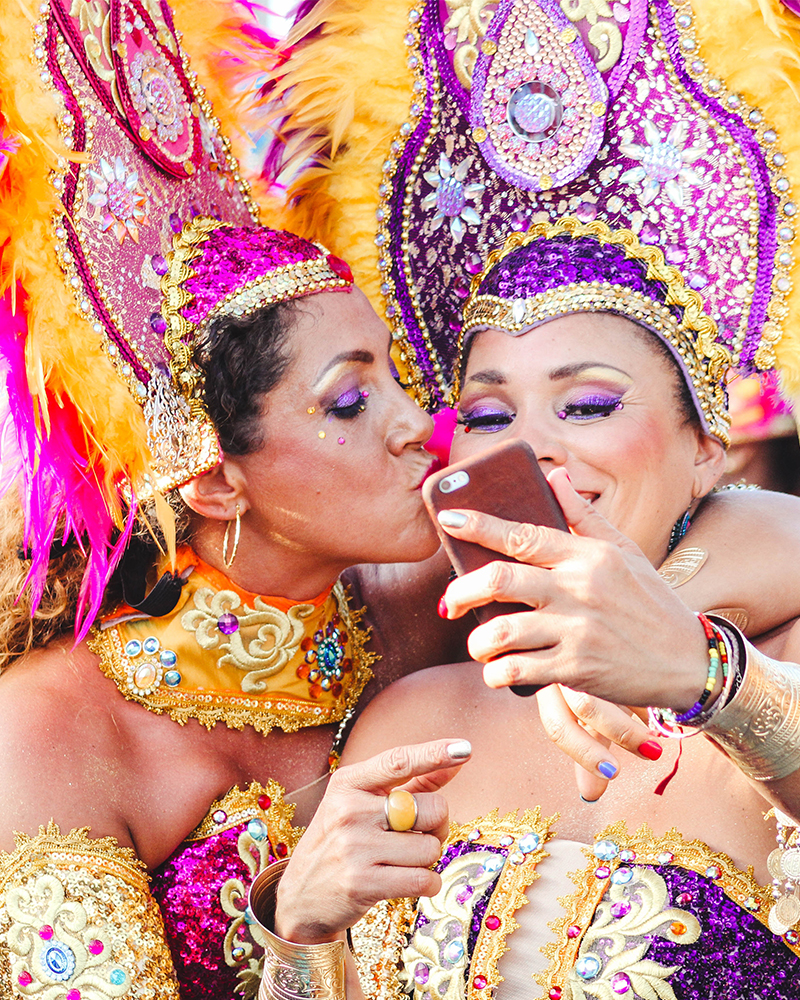 World Famous Carnival
Ask a local, and they'll say you haven't lived unless you've experienced Aruban Carnival at least once. Coined as the biggest party of the year, and lasting up to two months, this is everything you're thinking if your mind has gone straight to glitter, beads, sequins and calypso tunes.
Gracing the streets of Oranjestad since 1954, the Grand Parade is held every Sunday before Ash Wednesday and is the largest in the Carnival line up. It all culminates in the burning of King Momo at midnight, picture a life-sized effigy of Aruba's Carnival spirit, which brings the Carnival season to a close.
Getting There
The best way to get to Aruba from Australia and New Zealand is via Los Angeles, then on to Aruba via Miami. It is going to take you roughly 24 hours to land in paradise, but you don't need a visa and it's only a 20-minute drive to your beachside cabana from the airport. Hot tip: hire a car from the airport and make your stay a choose your own adventure type of situation.
Image credit: Martin Passchier, Raoul Croes and Quinten de Graaf