Anyone who says they don't look for Insta-opps when booking their holiday is (quite frankly) having a laugh—or is that just us? We like to think we're in good company seeing as you've landed here, on our review of Waikiki's (you guessed it) most Instagrammable boutique hotel. Scrolling fingers at the ready team, because you're about to meet The Laylow.
When I arrived, it was off the back of one of those great-idea-at-the-time overnight flights (direct, and oh-so cheap), you know the drill. So, let's just say when I was greeted by palms, aloha, chilled pineapple bites (can someone take me back please?) and a glistening saltwater pool—and told they could get my room ready for me early—I wasn't going anywhere in a hurry.
Combining mid-century modern aesthetics and design inspiration, the Laylow reopened its doors a little over a year ago and has been going great guns ever since. With custom made and (our favourite) salvaged furniture placed throughout the hotel, you're guaranteed unique charm (and most importantly, content) at every corner. Hot tip: you can spring for Makai (ocean) or Mauka (mountain) view rooms if you really want to take things up a notch, but we had a pool view room and it was on point. Speaking of photo ops, we'll forgive you for taking snap after snap of the Laylow's signature monster leaf wallpaper. The pastel hues are really a no brainer when it comes to providing the perfect backdrop for every room.

But First, Coffee
Now, if you, like us, have a slight (read: strong) coffee addiction, listen up. What we're about to share with you is no average coffee joint. With an exclusive blend courtesy of Stumptown Coffee Roasters from Portland, you can start each day with a quality cup of Joe. And we all know that can sometimes be a bit of struggle in the US of A. We think you'll agree there's nothing better than sauntering down to the lobby, being greeted by aloha, and picking up a cold brew to go.
Don't Miss Waikiki's Hidden Rooftop Bar
PSA guys, there's a hidden rooftop cocktail bar hiding in plain sight along Waikiki's Kuhio Avenue. The Hideout (geddit?) is the Laylow's onsite restaurant, but what they don't tell you, is that along with incredible eats, there are some of the best cocktails on the island of Oahu. A tranquil escape from the crowds of tourists below, order yourself a Butterfly Effect—combining Botanist Gin, Lillet, Luxardo, butterfly pea syrup and lime, as well as their Hawaiian-style Mai Tai, with Old Lahaina silver & dark, dry curacao, lime, orgeat, pineapple and lilikoi (and make sure you nab a seat near one of their open-air fire pits), then settle on back for nightly live music.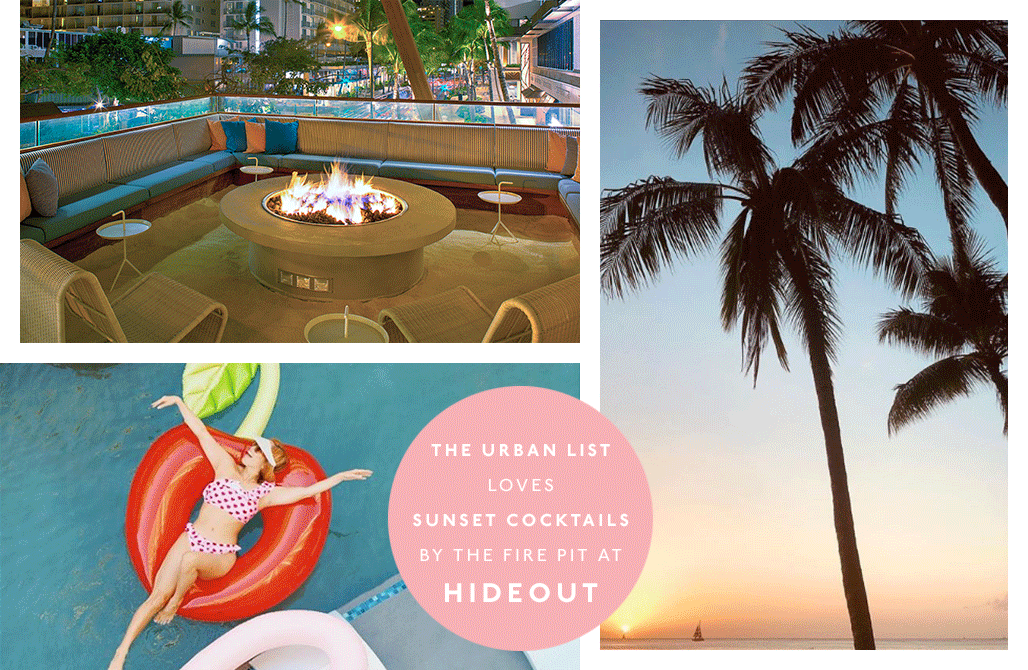 The Best Spots For Your 'Gram
Fire up the feed and have your Instahusband/BFF at the ready for these not to be missed spots:
- Lie back on the floating sunbeds in the saltwater pool
- Grab your travel buddy and have a candid AF laugh sesh in the swinging chairs overlooking the pool (honestly, the pool is your best friend here)
- That ukulele in your room makes for the perfect snap when played in front of that trademark Laylow wallpaper we spoke about earlier
- Standard cool girl pose in front of Hideout's bar
- Anything involving the fire pit at sunset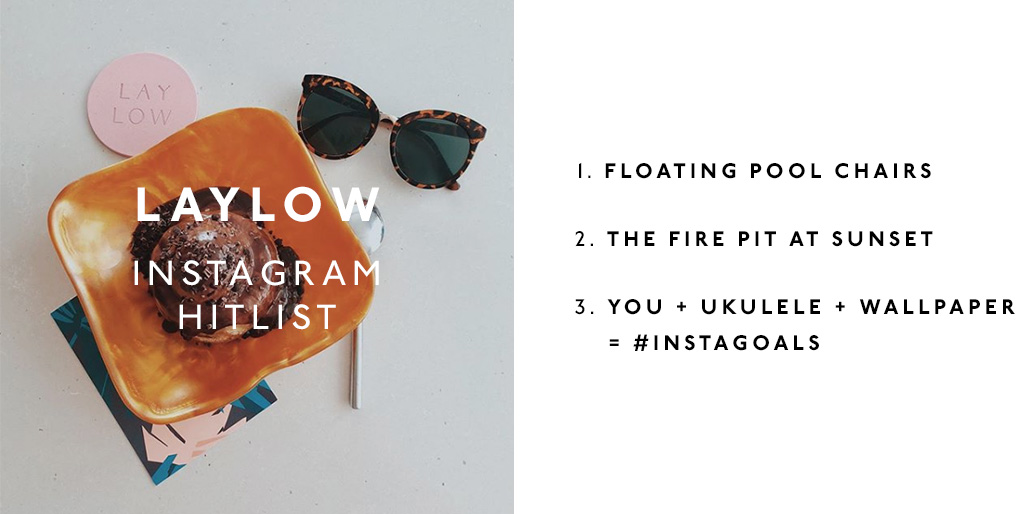 Need to add some fitspo to your insta feed - here's the health nuts you need to follow RN.
Design credit: Isaac Smith