In what can only be described as the most delicious time of year, the Night Noodle Markets are returning to Perth, so you better loosen those belts. And in the most thrilling news, it's all going down in a new and exciting location at Yagan Square. Expect to see your old-favourite hawkers back again and they'll be cooking alongside some brand-new vendors, serving up mouth-watering meals from March 25 to April 5.
With over 20 vendors to choose from, it'll be hard to decide which amazing foods to try first. But don't worry, we've got you covered with the best eats to track down at the Night Noodle Markets.
Kumokumo
It's the first year Kumokumo are coming to the Night Noodle Markets so you best send them straight to the top of your hit list. They're dishing up Japanese street style soft, souffle pancakes with whipped butter and Jarrah honey. Why not skip dinner and go straight to dessert?
Lucky Chans
Lucky Chans is another newcomer to this year's markets and we couldn't be happier. Their Coca Cola Sticky Piggy Bao featuring melt in your mouth 12-hour braised pork shoulder, carrot relish and hoisin sauce is certainly one not to be missed. They've also got the Smashing Pumpkin Bao with coconut and lemongrass curried pumpkin topped harissa yoghurt. The best part? Vegans can sink their teeth into this one too.
Bao Brothers
If you can't get enough of those soft, folded pillows of goodness, then you need to head straight to Bao Brothers where they're adding a welcomed twist to traditional Korean cuisine. They've got Bao Easy 3 (one pork, chicken and tofu bao), loaded sweet potato fries, and Korean Fried Cauliflower on the menu. Honestly, our mouths are already watering.
@Roll Up
The kids from @Roll Up have found a whole new look for roti, and it's one you're sure to find absolutely delicious. Get your hands on their roti dippers with homemade peanut sauce for your entree and follow it up with their soft shell crab roti roll-ups with mixed salad and mayo or peanut sauce. It's pure perfection.
Waffleland
Waffleland are making your sweet, sweet dreams come true. Treat yourself to a waffle stick covered in ice cream, peanut butter sauce, bananas, pretzels, and so much more. The only thing better than waffles is waffles covered in sugar and ice cream, and after walking around all night at the market, you totally deserve it.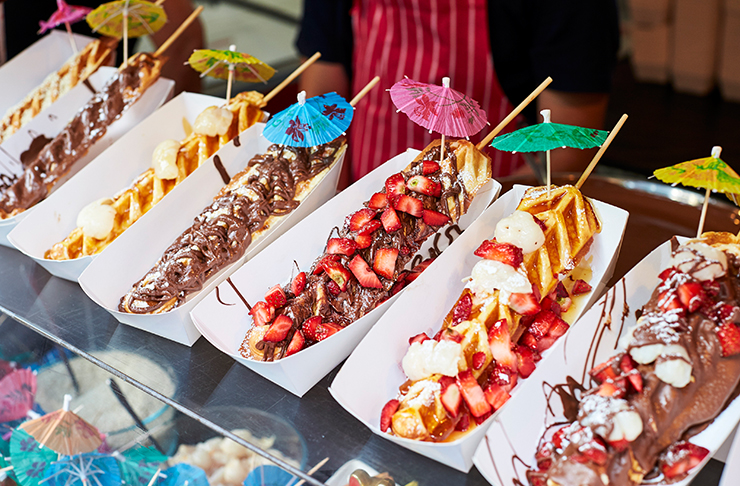 POKLOL x Puffle
POKLOL and Puffle have teamed up to bring you the best street food around, including their KFC Puffle. They've stuffed sweet and spicy Korean fried chicken inside a signature cheese Puffle and it's seriously a game-changer. They're also dishing up a Cheeseburger Puffle with chopped bulgogi beef patty mixed with melted cheese, drizzled with Japanese mayo, mustard, sweet and spicy ketchup all loaded into a cheese Puffle.
Flying Noodles
The noodles don't really fly at Flying Noodles, but they come pretty close. Come see these gravity-defying noodles for yourself and find out why they look, and taste, so incredible. With chicken, prawns, pork or vegetables on top, your tastebuds will really soar.
Twistto
Check out Twistto for the original Korean twist potato. These tornado potatoes are seriously good, and they are even better with Korean-style seasonings and toppings. With no messy plates, they're the perfect market food, and they're so good you'll be going back for more.
Gelato Messina
Cap off your night with some decadent dessert from Gelato Messina. Option number one is the Bangkok Banana featuring deep-fried banana fritters, caramelised palm sugar, banana gelato, coconut and lime chantilly and peanut crumble. Option two is the Phuket Bucket with condensed milk pudding, condensed milk crumble, lychee and sala shaved ice, lychee gelato, and rainbow jellies. It's a tough decision, so why not get both?
Want more markets to check out? You've come to the right place.
Image credit: Night Noodle Markets Instagram