It's gearing up to be another sizzling summer and we have it on good authority that the best way to cool down is from the inside-out, with a generous serving of your favourite, cold, creamy treat.
Lucky for you, we have the inside scoop on where you can find the best ice cream and gelato on the Sunshine Coast. We dare you to try them all!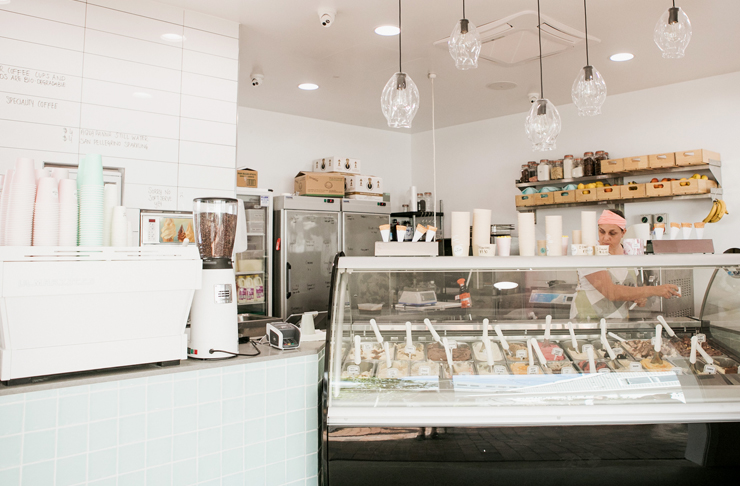 Fior Di Latte Gelateria
Mooloolaba
Our addiction to gelato has gone up a few notches since the opening of Fior di Latte Gelateria at The Wharf...and it's easy to see why! Within the cabinet are 24 of the most-inspired gelato flavours we've seen—date brulee, lamington and fairy bread to name a few. They also have insane soft serve flavours on rotation, including Cocoa Pop and Popcorn. For the coffee lovers out there, Fior di Latte whips up a mean affogato with local roaster Tim Adams Specialty Coffee, and they also have an array of gluten free, dairy free and vegan options, so no one misses out.
Massimo's Gelateria
Noosa Heads
A cornerstone of Hastings Street and one of the original gelaterias in Noosa, Massimo's is handsdown one of our favourite spots to get some of the best gelato on the Sunshine Coast. Having sampled many of their flavours over the years (for research, we swear!) their Ferrero Rocher is a consistent winner, or feel free to browse the cabinet while you give your scorched soles some reprieve from darting in from a day at the beach.
Maleny Food Co.
Maleny
Making gelato may look like child's play, but there are traditional methods and recipes and our friends at Maleny Food Co. have nailed it! Made fresh daily, starting with a morning collection of fresh Guernsey milk and cream from a local family farm, their small-batch gelato is then churned rather than whipped, which produces a velvety rich and creamy texture like no other. With more than 100 flavours in their arsenal, it's impossible to pick a favourite, but their blueberry and lavender, espresso, and lychee choc ginger are simply delightful. The perfect antidote on a scorching summer's day, this place is a must-try when licking your way through the Sunshine Coast's best gelato.
Peregian Pantry
Peregian Beach
One of the newest offerings on the Sunshine Coast is Peregian Pantry. Packed with loads of yummy sweet treats (their cannolis are sublime), they're already gaining a reputation around town for seriously delish gelato. Churning out your all-time favourites, they have also delivered on popular requests, including a vegan coconut gelato—yum!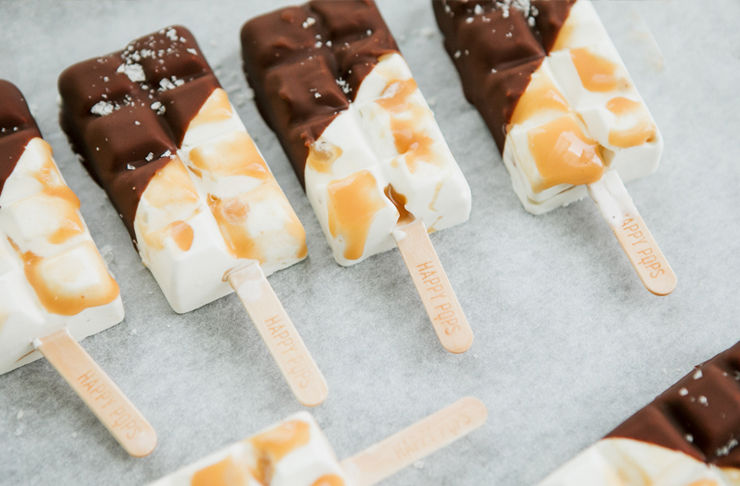 Happy Pops
Noosa Heads
There's something nostalgic about munching on ice cream on a stick and Happy Pops is resurrecting those vibes with their handcrafted artisanal gelato and gourmet waffles on a stick. Having amassed a cult following, Happy Pops has a 'choose your own adventure' concept, so you can let your taste buds do the ordering! First you choose your 'pop', either gelato, sorbet, yoghurt, waffle or brownie (we're drooling already), then you choose your dripping, and then it's time to get your Willy Wonka on at the toppings station. After taking a dip at Noosa Main Beach, you'll know where to find us all summer long.
Milano Gelateria
Caloundra
Traditional gelati and sorbet made by an Italian chef using recipes dating back to 1895—you just know you're in for a sweet treat at this Caloundra gelato joint. Chef Franco Negri learnt the art of pastry and gelati from Maestro Gelatiere Carlo Pozzi in Milan, and since moving to the Sunshine Coast, he's brought that profound skill and coupled it with our beautiful local produce—the end result is a fresh twist on the classics. So the next time you're hitting one of the golden beaches at the southern end of the region, make a pit-stop at Milano Gelateria for some of the best gelato on the Sunshine Coast.
House Of Gelato
Maroochydore
Having worked up quite the appetite Christmas shopping, reward yourself with a scoop (or two) from House of Gelato at the Sunshine Plaza—our current fave is their salted caramel! On second thought, maybe you should skip the shopping and just go straight to House of Gelato and buy everyone a tub of their gourmet goodness for Christmas.
Amo Gelato
Noosaville
When in Rome…or should we say, when in Noosaville, make sure you swing by Amo Gelato for some of the most affordable and best-tasting gelato on the Sunshine Coast—our top picks are the tiramisu and lemon meringue. Then, with a few scoops under your belt, we recommend taking a leisurely stroll along the Noosa River to help burn it off.
Betty's Burgers
Maroochydore and Noosa Heads
We all know Betty's is the bomb when it comes to mouthwatering burgers, and their signature concrete is next-level delicious. Luckily, there's always room for dessert, so the next time you pop in for a bite to eat, order a generous serving of their rich and creamy custard ice cream. They have some insane recipes going on like chocolate hazelnut donut and almond toffee marshmallow, or take a punt and create your own masterpiece from their selection of mix-ins. Go on, weekends are made for indulging.
Smoochie's Fudge And Ice Cream
Cotton Tree And Aussie World
When you have a hankering for epic fudge, Smoochie's is clearly a go-to, but did you know they also make some of the best ice cream on the Sunshine Coast? The clever cookies at Smoochie's whip up their own handcrafted small batch ice cream on the daily, and the texture and flavours are out of this world. It's definitely one to add to your hit list this summer.
Gelato Mio
Coolum Beach
After soaking up the rays along Coolum Beach, seek some shelter while you dig into the award-winning goods at Gelato Mio. Made daily in small batches (which means there's no need for any preservatives!) the traditional artisan gelato shop also has a range of healthy alternatives to suit almost any dietary requirements—so your intolerant friends won't miss out on the fun.
Image credit: Amy Higg