Another year, another birthday! Whether you're keen as a bean to celebrate, or will most definitely be drowning your ageing sorrows, edge another year closer to that letter from the Queen in style.
But no need to stress about finding the perfect place to blow out those candles – we gotchu! From a BYO dinner to high tea and everything in between, there's bound to be something in our birthday dinner guide to suit you and your crew. Cheers to you!
Cheap And Cheerful
La Canteena
Maroochydore
It's impossible to have a bad time at La Canteena! Icy-cold cocktails, super moreish Mexican eats, chilled-out laneway vibes and big long tables make it the perfecto place to celebrate your b'day…not to mention it's easy on the hip pocket!
Good Bar
Mooloolaba
If you want a birthday meal that gives you bang for your buck, look no further than The Good Bar. Mooloolaba's fave backstreet bar serves up some of the biggest and best food in town…if you haven't had a Good Bar burg, you need to get one in your belly, stat. But if not for the food, choose to celebrate turning another year older at the Good Bar with some dranks. Craft beers and vibin' cocktails will make your birthday one to remember…or forget...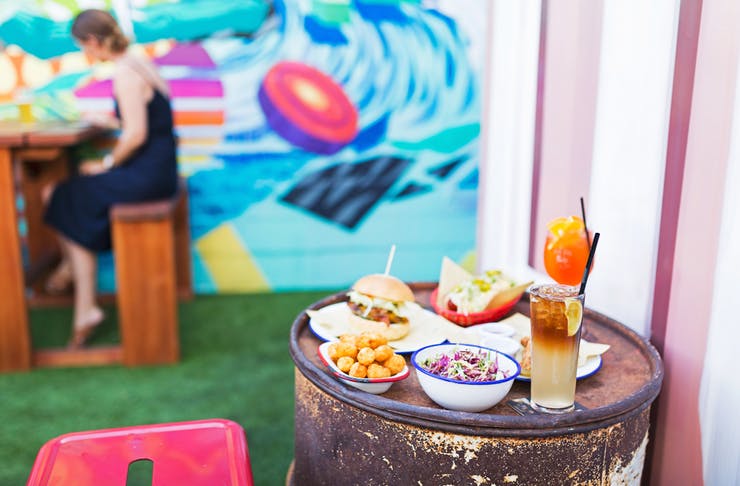 Village Bicycle
Noosa
This Noosa fave is a top birthday candidate namely for its range of cool spaces and just general party vibes. With an open outdoor area, an intimate indoor space, and a sa-weet AstroTurf beer garden out back, choose where you and your party pals wanna nab your posi and settle in for a night of food, booze and good times at Village Bicycle.
Some Cash To Splash…
Corbin's
Maroochydore
This Ocean Street gem makes our birthday list for its drool-worthy Asian-fusion food menu and eclectic cocktails. Perfect for groups, their 'Feed Me' option takes away the hassle of having to decide what to get—let the chefs at Corbin's do it for you!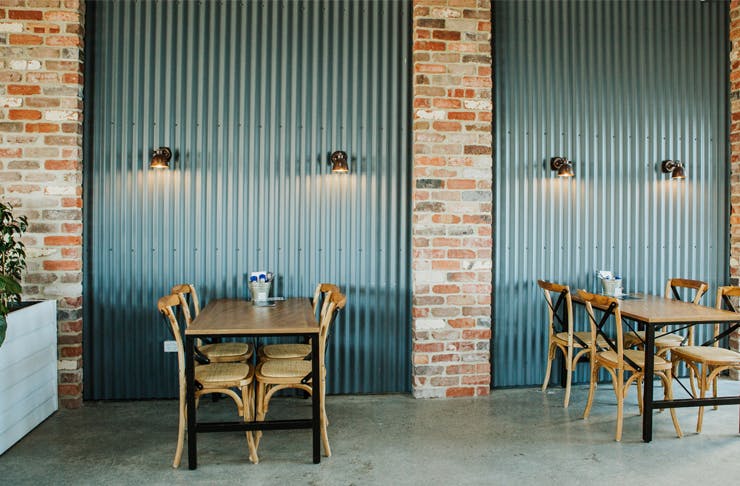 The Dock
Mooloolaba
There's nothing quite like dinner and drinks by the water, right? It's automatically more relaxing, and just a little bit fancy! If this is what you're after, The Dock, in the Mooloolaba Wharf precinct, has prime position overlooking the river and marina. Specialising in smoked meats, charcoal grill and quality beers (not to forget an extensive wine list), The Dock is a real crowd pleaser!
Hungry Feel
Buderim
Looking for a fine dining experience without the exxy price tag? Hungry Feel is your place! Serving beautiful, locally sourced cuisine within a rustic, intimate setting, this little treasure is tucked away in Buderim's Middy's complex and is, in our opinion, an ideal spot to celebrate your birthday with family, close friends, or significant other.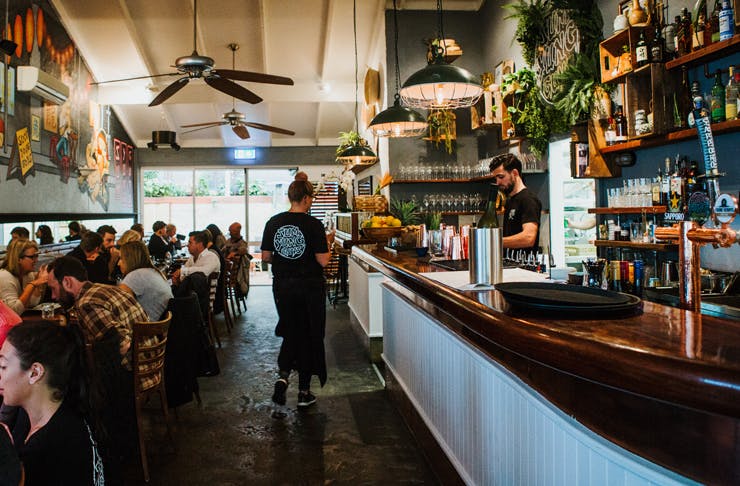 Sum Yung Guys
Sunshine Beach
We know we're writing the birthday dinner guide, but TBH, there's really no occasion that wouldn't be made better with a meal at Sum Yung Guys. Designed to be shared in good company, their share-style Asian fare has received rave reviews since Day One…not to mention the moody-yet-chic Melbourne-esque fit-out!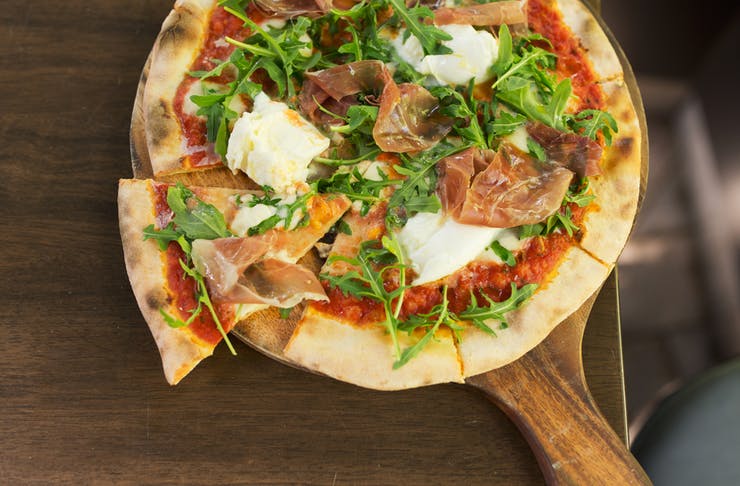 Locale
Noosa
This sophisticated and sexy Italian restaurant and wine bar makes for one incredibly Insta-worthy birthday dinner. Authentic woodfired pizzas, inventive pastas, summery cocktails and Italian sweet treats—what more could you need to celebrate? Not to mention that Locale is literally across the road from the most delicious gelato in the world, Massimo's. Second dessert anyone? It's your birthday, after all…
Three Bar and Grill
Caloundra
A notch well above your average bar and grill, Three offers a gooooorgeous beachside dining experience in Dicky Beach. All about honest and uncomplicated (yet incredibly satisfying) food, they're also super accommodating to those who can make group dining a lil' complicated—80 per cent of their menu can be prepared gluten free, and a handful of dishes are vegan!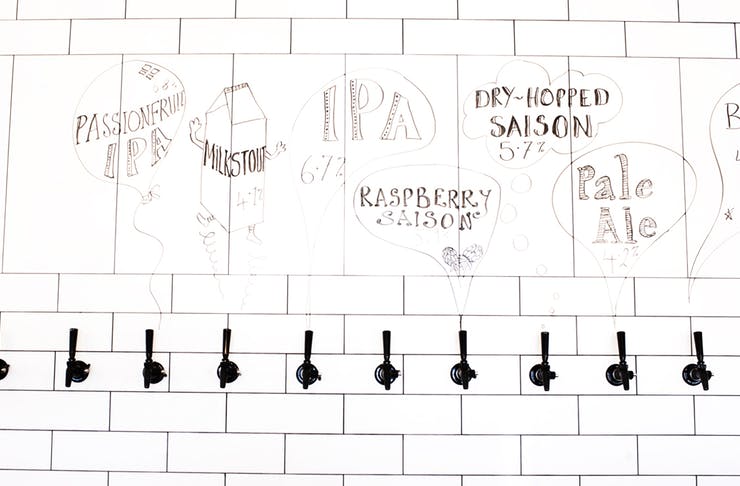 Brouhaha Brewery
Maleny
If you like your boutique beers, we've sure got a goodie for you! With good coffee, awesome food, great beer and a funky atmosphere, Brouhaha Brewery in Maleny ticks alllllll the boxes for a fab birthday celebration. There's something super cool about sinking brews that were literally made within a few metres of your table! But if beer isn't your poison of choice, don't let it put you off a visit—there's wine and spirits, of course, and the food is fab on its own.
Cash To Burn Baby
The Long Apron
Montville
When it comes to hosting a fancy birthday celebration, The Long Apron at Spicers Clovelly Estate is a tough one to beat! Whether you choose the $85 a la carte menu (three courses included) or a full five-course tasting menu (with matched wines, if you're so inclined), a birthday dinner at The Long Apron is a truly indulgent experience. While you're at it, why not stay the night at Spicers Clovelly and treat yourself to the ultimate hinterland escape? It's your birthday, you deserve it!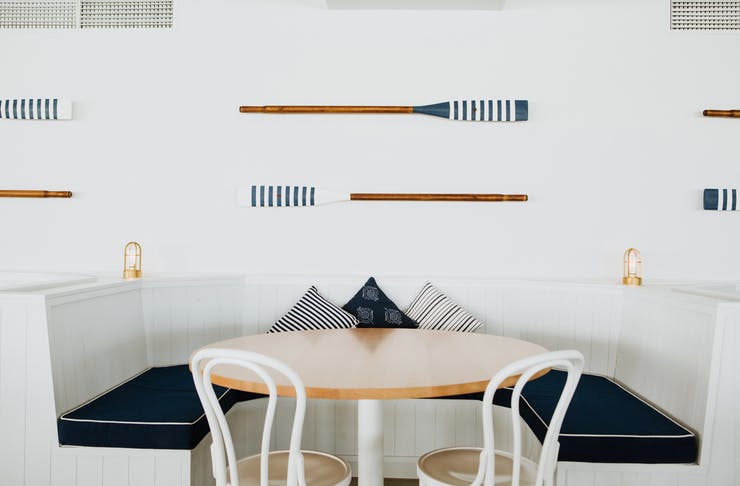 Pier 33
Mooloolaba
Pier 33 is yet to disappoint! What used to be the old yacht club is now one of the Sunny Coast's most iconic restaurants. Pier 33 has all the makings of a great birthday celebration—the lush waterside setting, scrumptious seafood menu and all-round luxe feel make it one of the top event venue options on the Coast right now.
Spirit House
Yandina
Famous for having won countless awards, we have to say that this is the place that immediately comes to mind when planning a super spesh occasion. From nek-level Asian food and a high-end ambience, to an extensive wine list and lush garden setting, it's easy to see why Spirit House is a Sunshine Coast institution. Oh, and did you know there's a totally separate, totally amazing bar onsite, serving Asian-inspired cocktails and an all-day bar menu?
Bistro C
Noosa
No matter how many new places pop up on the Coast, we'll always go back to Bistro C. You just can't get enough of that absolute beachfront bliss! A stalwart on the glittery Hastings Street strip, Bistro C delivers every time—whether it's breakfast, lunch, dinner or drinks. Plus, you and your crew are in prime position to spill out for a night on the town!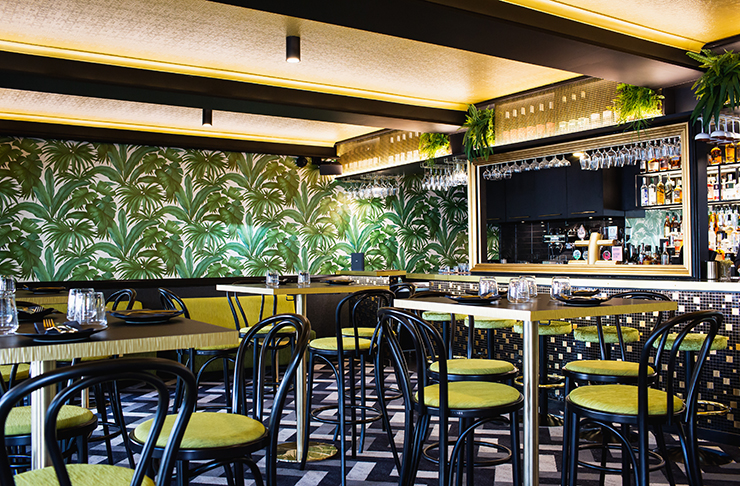 Kiki Bar
Maroocydore
Welcome to the jungle. This super sleek, sexy bar is the best way to sip your way into your next birthday in style. And it's a dirty martini lover's dream. Kiki Bar is ALL about the classic cocktail, with a splash of spice of course. Think: Mai Thais, Espresso Martinis, Negroni, Gin Sours and Cosmopolitans just to name a few. And the kicker is there will be a strong focus on using Australian spirits. They've even got a Lemon Myrtle Cosmo and a Lychee Elderflower Martini. Yum,yum, what a way to celebrate your special day on the Sunshine Coast.
Aimee Provence
Buderim
Grab the gals and book in for a gorgeous high tea for your next birthday celebration. A high tea at Aimee Provence is a truly special experience! Think freshly baked scones, savoury snacks and other sweet treats, complemented by a glass of Pimms or a French bubbly – is there a better way to bring in a new year of you?
Wanna get out and about for your birthday instead? We've rounded up the best hikes on the Sunshine Coast here. We've also rounded up the best running tracks on the Sunshine Coast here.
Image credit: Amy Higg and Daniel Hine for The Urban List