Turn off your computer, step away from the washing and go do something good for the environment, like taking a sustainable holiday.
We're talking booking a stay somewhere that uses low-lighting, harvests rainwater and composts, among other things.
To help you out, we've created a list of sustainable escapes around the Sunshine Coast, that'll make you feel even better about saying yes to that weekend getaway. After all, you're doing it for the environment.
Beach Road Holiday Homes
Noosa North Shore
It's not often that "sustainability" and "luxury" go hand-in-hand, but that's exactly what you'll experience with a stay at Beach Road Holiday Homes. Bordered by wild bush and empty beaches, this is the kind of place you rally all the family together for one epic group holiday. With several eco-friendly homes, a tennis court, multiple pools, as well as a media and games room, there's no way boredom will enter the vocabulary here. This eco escape is a short ferry ride from Tewantin and is the perfect spot to rest your head after a day of 4WD up the beach.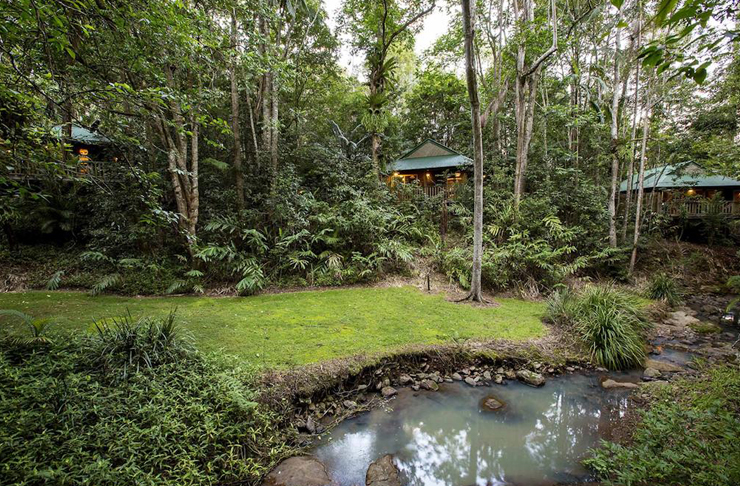 Narrows Escape
Montville
Curl up in the hammock and read a book, tramp through the rainforest, or feast on all the goods crammed into the specially-made gourmet hampers—you'll do it all at Narrows Escape. This romantic hideaway in Montville features six eco-friendly pavilions nestled deep in the forest. The team is committed to sustainability practices such as using rainwater tanks to supply the pavilions, selecting natives for the gardens, using LED light globes and giving food scraps to the on-site hens. But it doesn't stop there. These guys also stand by sustainable tourism, supporting local businesses by only supplying guests with locally-sourced food and seasonal produce.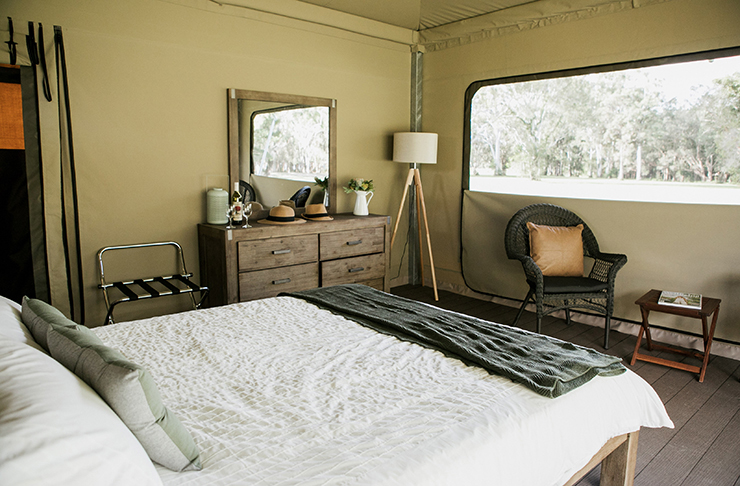 Habitat Noosa
Elanda Point
If getting outdoors is key to a great weekend getaway, then Habitat Noosa is worth checking out. Unfolding over 65 acres, this eco camping and glamping experience is unlike any other on the Sunshine Coast. Located in the national park, your neighbours will include a local group of eastern grey kangaroos. With 500 metres of waterfront on the Noosa River, there's the option to camp on powered or unpowered sites, park up your motorhome or RV, or go all out and book a glamping tent, which we highly recommend. Habitat Noosa is also home to a bar and bistro serving dishes made with local and seasonal ingredients, plus an on-site micro-brewery which produces 100% natural beers. See? This isn't your average campground.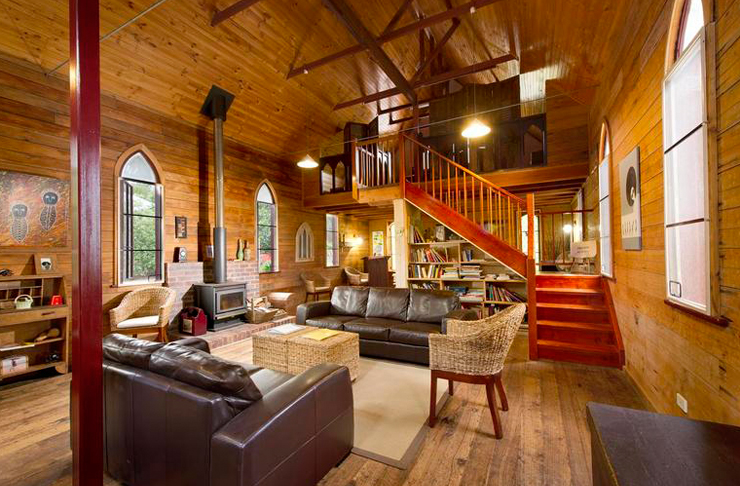 Glass House Mountains Eco Lodge
Glass House Mountains
Surrounded by giant volcanic plugs in every direction, Glass House Mountains Eco Lodge is the perfect base to explore, you guessed it, the Glass House Mountains. Tucked at the foot of Mount Tibrogargan and a few-minute stroll from the start of the national park walks, this is the perfect stay for the environmentally-conscious, but also adventurous, traveller. The lodge has adopted many sustainable initiatives to help minimise its impact, including harvesting rainwater, recycling grey water, composting, using low energy lighting and non-chemical cleaning products. Guests are also encouraged to walk and explore the surroundings, rather than hopping in the car—which isn't difficult with some of the best mountain hikes on the Sunshine Coast on your doorstep. There's loads of accommodation options, but we suggest checking out the Victorian train carriage or the 125-year-old timber church, for a stay with a twist.
Kondalilla Eco Resort
Flaxton
Nestled amongst 20 acres of abundant Sunshine Coast Hinterland rainforest, Kondalilla Eco Resort is a haven from city life that allows you time to experience and reconnect with nature. Located right next to Kondalilla National Park, a large natural rainforest reserve hosting the famous Kondalilla Falls, this authentic retreat allows you time to experience nature in a lush setting abundant with natural bush lands and wildlife. Offering 21 rooms with fresh linens, kitchenette facilities, reverse cycle air conditioning, a wood burner for the cooler months and relaxing spa baths, Kondalilla is truly an eco resort heaven you will never want to leave.
Image credits: Amy Higg for Urban List, Glass House Mountains Eco Lodge, Narrows Escape, Beach Road Holiday Homes