Eating is easily one of our greatest passions (we'll hazard a guess that it's one of yours too), but sometimes we wonder who exactly is behind all the great dishes we consume and the food comas we encounter.
Sydney's historic The Rocks area is full of some of Sydney's best restaurants, so we took a walk down the cobbled laneways to find a bit more about the chefs behind our favourite restaurants.
Saké's Shaun Presland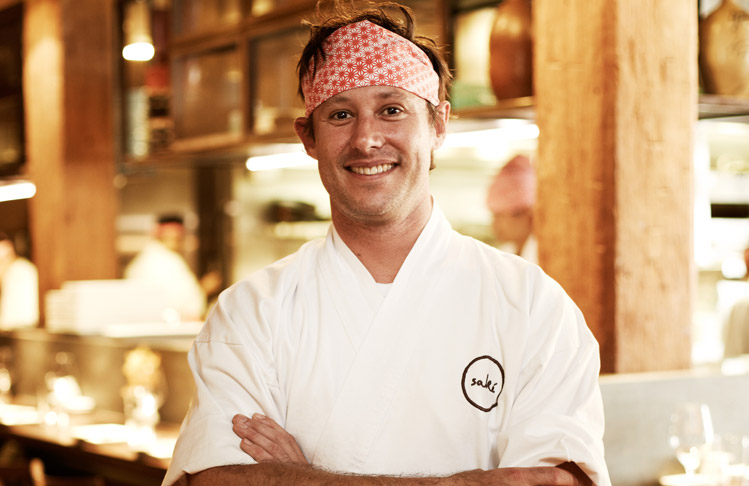 All the deliciousness from this modern Japanese kitchen in The Rocks would not happen without the culinary skills of Shaun Presland. Taking his craft very seriously, Shaun spent seven years in Japan honing his skills in classic Japanese dishes and has brought them back to Sydney (which we're ever grateful for).
After coming on as Executive Chef at Saké in 2009, Shaun has truly made the menu his own. With a range of modern Japanese dishes on the menu, including the ever popular popcorn shrimp and sashimi tacos, Shaun's take on Japanese cuisine is exciting, innovative, and proven to be a hit with diners. Shaun says, "having an idea transferred to a dish, and then being judged daily by guests, is what keeps me going. I'm also continually inspired by the team at Saké. Seeing them grow, evolve and create together is amazing."
Shaun's must-try dish: The white-soy snapper, which is perfectly sliced snapper sashimi with sesame seeds, chives, yuzu juice and white-soy dressing.
Read more about Sake here.
Pei Modern's Mark Best
Pei Modern is one of the best new restaurants in Sydney and we can all thank Executive Chef Mark Best for this. Starting out as an electrician in the Western Australian gold mines (who woulda thought?!), he moved into the culinary world at the age of 25 where he apprenticed at Macleay Street Bistro in 1990. It is at this classic Sydney restaurant where he found his passion for French food. After winning the Josephine Pignolet Award for "Best Up And Coming Chef" in NSW, Mark went on to open his own restaurant, Peninsula Bistro in Balmain.
To further his skills and knowledge, Mark moved to France and worked at L'Arpége in Paris and Alain Passard's three Michelin Starred restaurant, Gastro Temple. Inspired by his time overseas, Mark decided to open his own restaurant, Marque, consistently known as one of Sydney's best restaurants, which is no mean feat in a city such as ours! In 2012, Mark opened Pei Modern in Melbourne and in 2014, graced Sydney's Four Seasons Hotel with a Pei Modern of our own. With a focus on local and seasonal produce, it's pretty easy to see why this Sydney restaurant in The Rocks is already a firm favourite.
Mark's must-try dish: The Holmbrae chicken with baby brussels sprouts and lardo is the kind of thing we dream about.
Read more about Pei Modern here.
Ananas' Neil Martin
One of the best restaurants in The Rocks (and one of our personal faves), is French restaurant, Ananas. And the Chef de Cuisine behind the food is Neil Martin. Food has always been a big part of Neil's life, with his grandfather passing the love of cooking down to him when he was growing up in South Africa. He fondly remembers the lovingly prepared family dinners made by his grandfather, and because of this experience, is passionate about creating special moments through food.
Beginning his career in the UK, Neil Martin worked at The Ritz Hotel and worked with the likes of Michel Roux at Le Gavroche (faaaancy!) and Westbury Hotel in Mayfair. During his time working with the Roux family, he began a life long passion for French food and the intricate cooking techniques associated with the cuisine. After moving to Australia, Neil worked at two-hatted 41 Restaurant in Chifley Tower, Kingfisher and Ortiga. Since his move, he's discovered a love for working with local Australian produce and creating unique and exciting dishes for us to devour in less time than you can say "bon appétit!"
Neil's must-try dish: Poached rock oyster, scallop and celery in a citrus beurre blanc. Amazing!
Read more about Ananas here.
Pony Dining's Neil Nolan
Neil Nolan has been at Pony Dining since day one (that's nine years!). Originally from Ireland, Nolan moved to Australia some 17 years ago, working in kitchens from the Great Barrier Reef to Tasmania. Speaking of his cooking over a wood fire grill, Nolan says, "Pony Dining is one of the first restaurants to cook over wood and I would never want to cook over any other medium now."
With dishes inspired from the Mediterranean, South East Asia and Australia, the menu is eclectic and produce focussed. The Argentinean wood fire grill cooks up the finest cuts of meat, fresh seafood, and a delicious array of shared and larger plates. The open kitchen is great for interacting with guests, plus it's always fun to see your food being prepared right before your hungry eyes.
Neil's must-try dish: Rangers Valley Flat Iron 250g, 270 days grain fed with spiced black beans, mushrooms, crispy puffed wild rice.
Read more about Pony Dining here.
Sailors Thai's Amornrat Jirawattananuyoke (or "Aun")
One of the oldest (and best) Thai restaurants in Sydney is Sailors Thai in The Rocks. Established in the early 90s, Sailors Thai is known for their modern takes on classic Thai dishes as well as their focus on quality produce. Heading up the kitchen is Amornrat Jirawattananuyoke, or as she's affectionately known as, Aun.
Growing up surrounded by the intoxicating atmosphere of her family's popular street food business in Bangkok's old city, Aun came to Australia in 2008 to study hospitality. Here she trained under Krongthong Akkachitto at Sailors Thai in Potts Point and then moved to Sailors Thai in The Rocks where she worked under David Thompson. Aun says of her cooking, "When I was young I did not know how to cook, but once I learnt to cook I kept telling myself that I will cook the food I love for my customers. The food at Sailors Thai shows my identity. Street food is renowned for being fresh and delicious and this is what our culture is all about. If you want to experience Thai food in my style, the true street food way, you need to come to Sailors Thai."
Aun's must-try dish: Her very own Neua Kem Sot Wine Dang—Crispy salted Tasmanian beef ribs with ginger and garlic in a red wine sauce.
Read more about Sailors Thai here.
Getting to The Rocks
Hungry and keen to get to The Rocks quick smart? We hear you. Head here to find out the best way to get there.
Editor's Note: This article is proudly sponsored by Sydney Harbour Foreshore Authority and endorsed by The Urban List. Thank you for supporting the sponsors who make The Urban List possible. Click here for more information on our editorial policy.