Sometimes, all you really need is a cold beer and somewhere local to perch yourself for the afternoon. And for that, the recently renovated Enmore Hotel has opened its doors to you.
The hotel aims for two things: simplicity and community. "I think in a complicated world, people are sort of looking for the simple pleasures of a local pub," says owner, Ged Dore. In fact, the pub website's banner headline plainly states "restoring the local".
Taking over the old Sly Fox night club space on Enmore Road in June, the new watering hole will be unrecognisable to those who previously frequented the late-night dance den. The "old fashioned boozer", as described by Dore, is heavily inspired by the Australiana nostalgia captured by iconic Aussie photographer Rennie Ellis. In fact, one of the pub's best decorative pieces is a modern, all-female recreation of one of Ellis' best-known photographs depicting punters at a Queensland pub in 1982.
The photograph hanging across from the main bar, taken by Sydney designer and photographer Lucia Braham, and the pub's entire 70s-era vibe is partly intended as tongue in cheek. "In the 70s, you had pubs built for blokes and you might at best have a little ladies lounge," says Dore. "We flipped that concept and thought, how do we design that style of pub for today's community?"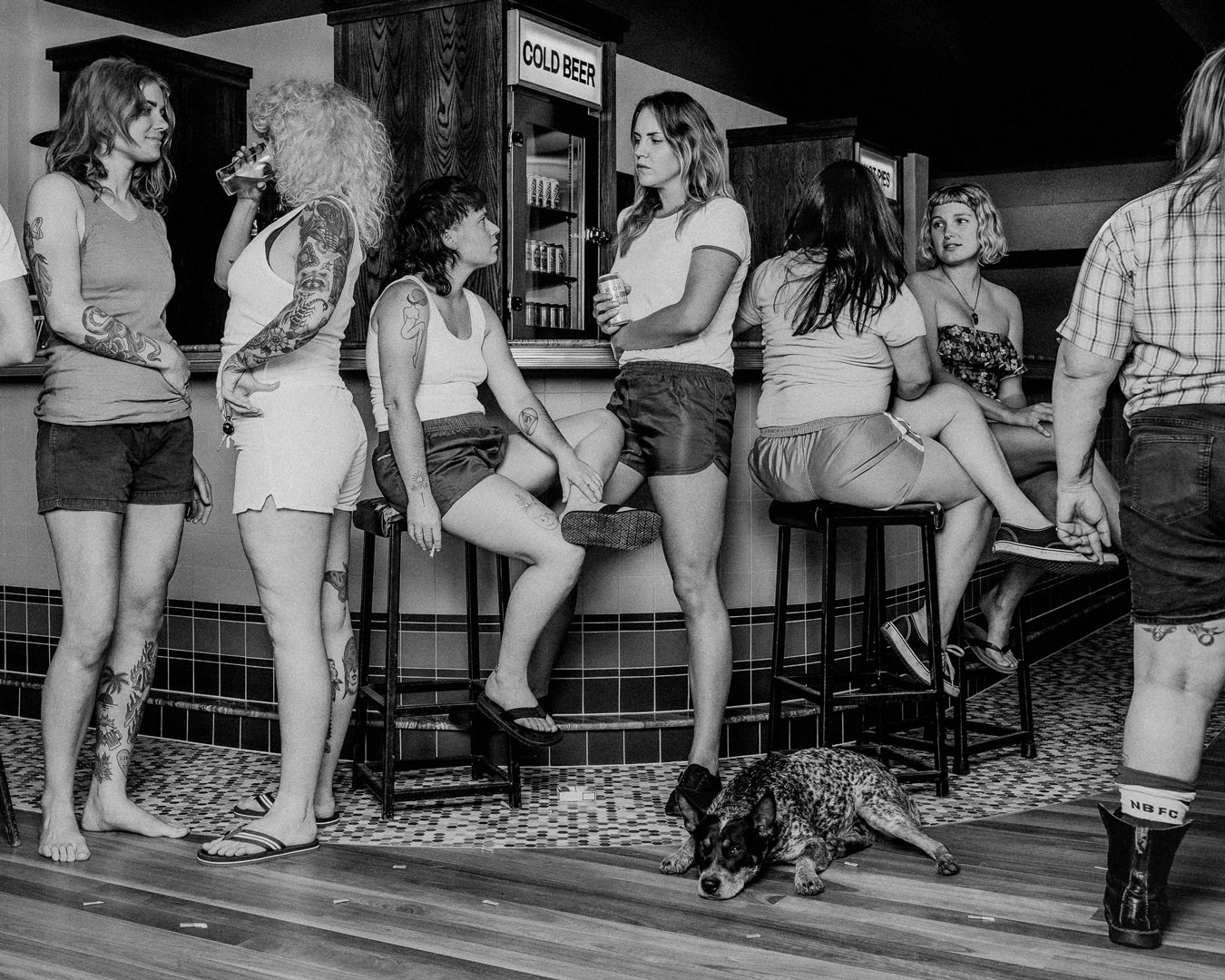 The pub's thoughtful look and feel was a collaborative effort between Dore, Braham and licensee, Brigette Jakobsen. If you walked in and ignored the smartphones on tables, you'd easily believe you were standing in a Sydney pub 45 years ago.
Every facet of the small venue and its autumn colour palette says Australia in the 1970s–from the jukebox playing "Aussie hits" to the chenille covered orange chairs, and from the old school NRL memorabilia to the different shades of brown tiling and doors in the bathrooms. Working in collaboration with Braham, the venue's high top tables and stools were custom made by Marrickville's Reso & Co to resemble classic pub furniture of the time. The simple pub pleasures of a pool table or an AC/DC pinball machine also reside for entertainment.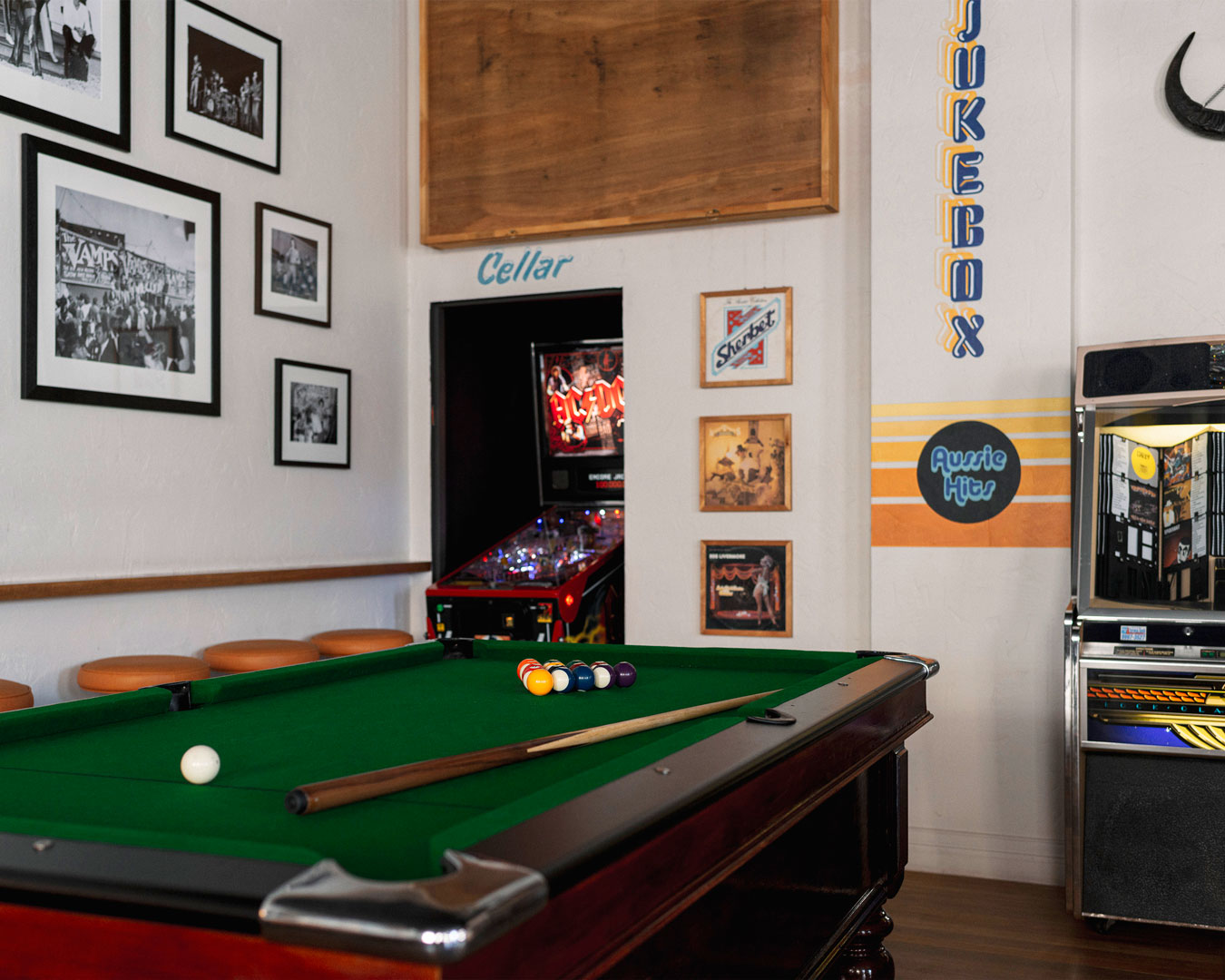 As for what's on tap, you'll get an idea of that long before you even set foot inside as you spot the lit-up beer signage from down the road. Sitting up on high is a sign for local brewers, the Grifter, with some retro Toohey's old and VB signs at the entrance for good balance. With a tap list of local craft beers and classic standards, the pub isn't necessarily aiming for a mix of past and present but is pouring good products sure to please anyone popping in for a schooner. "We're just keeping it simple," says Dore. "If you've got quality, it doesn't matter whether it's new or old. It's just cold beer."
The pub is now also a must-do for any member of the Resch's Appreciation Society, with the Inner West favourite on tap, some silver bullet tinnies in the "cold beer" fridge, and a large mural of the retro NSW logo painted on the back wall above some actual wooden grandstand seating.
If you're after something hot to eat to go with that cold beer, they've also got you covered. But once again, the Inner West venue is keeping it simple. Without a kitchen to cook up the usual pub grub, the Enmore Hotel is offering fresh gourmet pies and toasting up hot jaffles in house. With only counter meals on offer, the pub isn't trying to compete with the dozens of surrounding restaurants. "We're actually just saying, we'll have you before and after," says the pub's owner.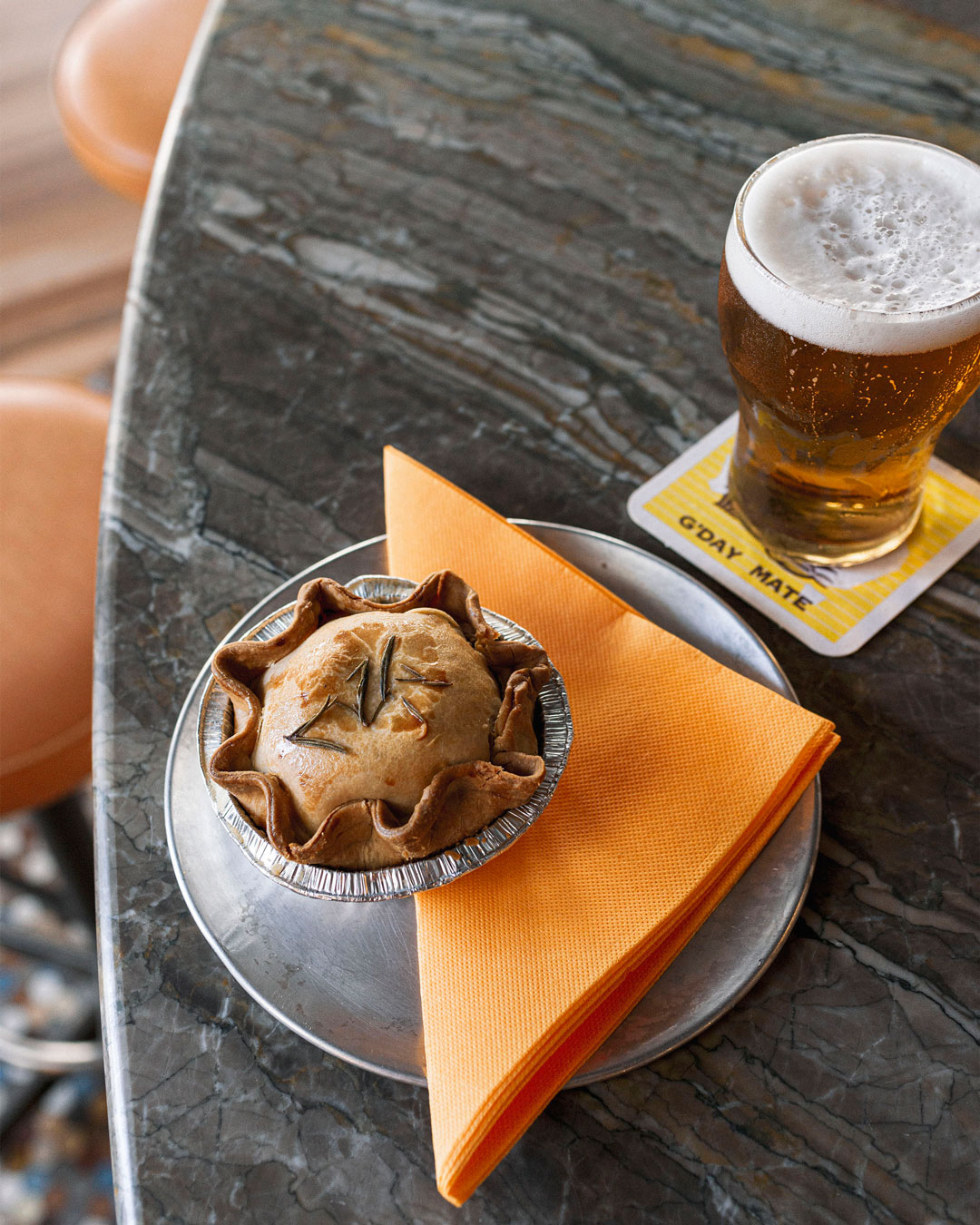 Dore, who also owns Marrickville's The Henson and Stanmore's The Salisbury (each respectively known for being local favourite spots), is making quite the mark on the Inner West pub scene. "The Inner West has just got that melting pot, it's got that cross-section of demographics that makes a place a little bit gritty," he says. "It's got life. It's got a soul."
We recommend you keep your eye on this understated little Enmore pub, which opened up under the radar in a pandemic year, and according to Jacokbsen, is still putting itself together. "We're adding to it as we go," says the licensee. "We're adding signs, we're adding pictures, we're adding lightboxes."
"It's a bit of a journey–as far as restoring it back to being a local pub."
The pub is already doing jazz nights on Thursdays, it's about to start the classic local's "badgey" on Fridays, and there's even a "chicks with sticks" women's pool comp starting up in the new year on Wednesdays.
If you're looking for simplicity done well, an inclusive place to sit down and grab a cold beer, and somewhere you'll always feel like a local—the new Enmore Hotel is the spot for you.
For more info and opening hours, head over here.
Looking for Sydney's best craft beer bars and pubs? This list should sort you out.
Image credit: Chantel St Quintin and Lucia Braham