Europeans, they're a real happy-go-lucky bunch and why shouldn't they be? We're making wild generalisations here, but they have the best diet (according to us), the Mediterranean is at their doorstep, they're tanned (for the most part), they have an accent, and siestas are a thing. Guys, let's face it, if you were from Europe you'd be pretty stoked too. Is it any wonder 99.9% of Australians exchange the winter for a European summer every year?
Sadly for some of us who are trying to adult, there's no Greek island hop on the horizon (sigh), but it's not all doom and gloom. Just because we're missing out on the holiday doesn't mean we can't try to embrace the Euro lifestyle from our very own city.
Say hello to The Royal, the quaint Darlinghurst café bringing European flair to our streets. These guys may not be shutting up shop for a midday snooze (luckily for us), but they sure are doing everything else right. With good coffee, great food and an awesome atmosphere, The Royal is teaching us a thing or two about the European culture that we'll happily embrace. As it turns out, there's a bit to learn if you really want to live as the Europeans do (and age as gracefully as them too).
So, here it is, a few lessons we could all take from the Europeans to help us acquire that happy-go-lucky-attitude while saving yourself the jetlag!
#1 But First, Coffee
There's no denying the Italians love their coffee and they do it oh so well. Right down to the carefully prepared specialty beans (we're loving The Royal's very own Little Marionette made just for them), coffee is a daily ritual to be savoured. Espresso bars are a thing—like a cocktail bar, but with coffee. Yep, that's right, time to hustle your mates for a pre-work, post Bachie episode catch up. Don't have time to sit and chat? They've thought of that too. Talk about ingenious, more often than not, the Italians have takeaway coffee windows, so you can linger on the footpath and not feel like you're standing in the waiter's way while waiting for your hot brew.
#2 Learn How To Leisure
Sundays are made for late brunching and long lunching. In Paris, it's not uncommon for locals to set their alarm bright and early so they can duck down to the market and pick up a loaf of fresh bread before heading back to bed for a few more hours of shut eye. Yes, you read that right. BACK TO BED. Sound like heaven? Almost. With really only one day dedicated to leisure per week, let's face it, we could probably all benefit from a lie in. Cue, all day brunches. The Royal knows we need our beauty sleep, so with their all day brunch menu there's no shame for nursing your hangover through the breakfast hour. Hit the snooze button and fear not because, thanks to these guys, you can order poached eggs post midday. Hangover. Cured.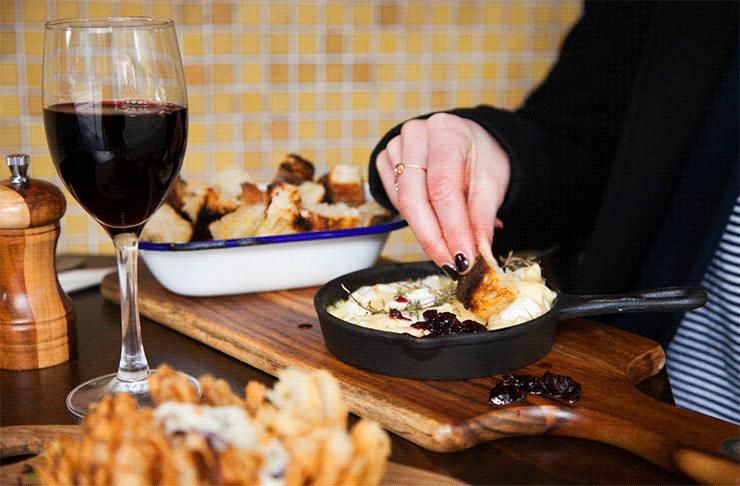 #3 Make Friends With Carbs
With banging figures and gracefully ageing skin, the Europeans have got some explaining to do. With a diet of pastries, pasta, breads and pizza, it seems the only answer is carbs, which is totally something we can get on board with. We're also sure someone once said something about good fats… Yep okay, we'll go with that. Carbs are good for you so if you want to start looking like Vanessa Paradis, now's the time to order that cheese toastie. #noregrets
#4 Learn To Share
Our love for food means we have developed a tendency to order everything off a menu just so we can try a little bit of each dish. Sound familiar? (Boyfriends everywhere be rolling their eyes and secretly wishing they could just eat a meal all to themselves). In Europe sharing is caring, it was where tapas was invented after all. With cheese platters, croquettes and French fries on the menu, there's a chance for table bonding before moving onto mains. The one problem? When you order a dish of baked camembert with croutons from The Royal and it is so good, your idea of sharing goes out the window. At least the thought was there.
#5 Life Is A Celebration
The Europeans love to celebrate and there's nothing wrong with that. Family dinners, post work aperitifs, whatever the occasion, life is a fiesta! The streets in Europe are always upbeat, with music playing on every corner and the sound of conversation spilling out of bars. Like us, the Europeans have adopted the common practice of ending a busy day with a post work vino. To top it off, the sweet sounds of live music ought to really get you in the mood for the weekend, of which, The Royal has plenty of. On any given Friday , pull up a pew, grab yourself a wine and celebrate the end of another week. We'll cheers to that.
Editor's note: This article is sponsored by The Royal and proudly endorsed by The Urban List. Thank you for supporting the sponsors who make The Urban List possible. Click here for more information on our editorial policy.
---
Image credit: Federica Portentoso