CONTACT
2 Locomotive Street
Eveleigh, 2015 NSW
Show on map
open
---
Opening Hours
| | |
| --- | --- |
| SUN | closed |
| MON | closed |
| TUE | 4:00pm - 12:00am |
| WED | 4:00pm - 12:00am |
| THU | 4:00pm - 12:00am |
| FRI | 4:00pm - 12:00am |
| SAT | 4:00pm - 12:00am |
---
The Details
Need to Know
In the mood for
Need to know
---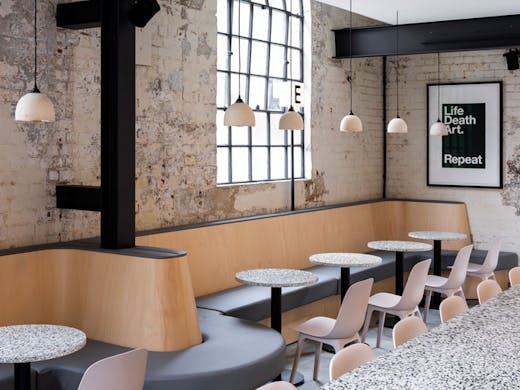 Re is the planet's only permanent establishment to operate almost entirely off of waste produce and recycled materials.
However, award-winning bartender Matt Whiley and restauranteur Maurice Terzini have decided not to label their boundary-pushing concept "zero waste". Not yet, anyway. It's a sign the pair aren't interested in greenwashing us, but they are interested in setting a new example for the industry, proving a bar can be world-class and Earth-friendly at the same time.
Even without the label, just about everything at Re has been considered through a lens of sustainability. From the interior design choices to the glassware, ingredients and garnishes, Re is pushing the concept of zero waste to new heights.
"99.9% of the things that we use will be food waste," Whiley explains. "We're looking at anything that is recycled, anything that usually goes in the bin, and asking how we can use that to open a bar that still operates on a level we deem to be exceptional?"
But what does a low-waste cocktail involve, you ask? Poured into reclaimed Maison Balzac glasses, standout drinks to try include a Martini with white truffle and olive leaf, a Sbagliato with a hint of rhubarb, and a Margarita infused with rockmelon. The Re spritz is made with plums and peaches otherwise destined for the compost, and banana skins form the base of a syrup that goes into the "PB + B Old Fashioned", which is flavoured with peanut butter and burnt butter.
Whiley will also be joined behind the bar by a cast of Sydney's best bartenders: Evan Stroeve (Bulletin Place), Jake Downe (This Must Be The Place), and Ho Song (Cantina OK, PS40).
A themed menu of extra-creative limited-edition specials (called "Re-search") is currently wielding some galactic inspo. A drink called "The Milky Way" has been created to mimic elements found at the centre of the galaxy. The ingredients for "Mars" read simply, "Bulleit, silicon, magnesium, iron."
Meanwhile, the sustainably-centred snack-based menu has been overseen by Icebergs' head chef Alex Pritchard. Heroes include the "Egg & Chips" dish, made up of spreadable 'Nduja and salt-and-vinegar chips with a 63-degree egg, and the "St John Rarebit", a version of the legendary sambo from the London restaurant, with flavours of cheddar, Worcestershire sauce and Guinness.
Design-wise, Re's central bar and tables might look like trendy terrazzo, but they're actually made from recycled bottles and Tupperware (diverting around 80,000 plastic milk bottles and containers from landfill). The stairs and other structural features have been made from recycled plastic bags and milk bottles, and the banquettes are upholstered in a sustainable pineapple-leaf fibre. Even the wine coolers are grown from mycelium.
Image credit: Re
---
You May Also Like
Restaurants
Redfern, NSW
Vegan burger sensation Mr Charlie's is hitting Australia and landing in Sydney,…
Restaurants
Erskineville, NSW
You know these guys are pretty serious about pizza when they legally change their…