If you're in Sydney, you'll know first-hand that Mother nature has seriously spoilt us when it comes to stunning swimming spots located under impressive waterfalls. These hidden gems are scattered right across Sydney, and we can pretty much guarantee that you won't stop (and shouldn't) until you have ticked them all off your list.
Who would have thought there'd be a hidden beach in the Blue Mountains?!
Here are the best spots to swim under waterfalls in Sydney.
Carrington Falls
Southern Highlands
Take a dip at the bottom of this 50-meter waterfall, which locals will tell you is one of the most beautiful on the South Coast. You'll also find a number of rock pools, cascades and waterholes at this stunning spot, making for hours of fun right in the heart of the beautiful Kangaroo Valley.
Collins Beach Waterfall
Manly
This hidden beach, nestled between North Head and Little Manly, is the perfect spot for a splash under a waterfall. We love this spot because of its ultra-easy location, meaning it's just right for an afternoon picnic (wine is a must), or even a cool off during one of Sydney's unbearable summer days.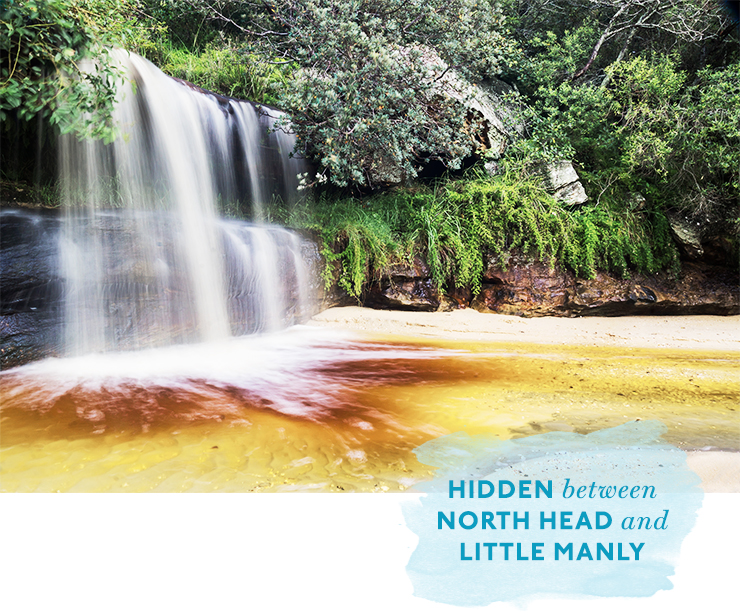 Kellys Falls
Wollongong
One of the most impressive spots south of sydney to swim under a waterfall, this one is definitely worth checking out ASAP. Just a short drive outside of Wollongong, these falls have a picnic area and a couple of other small falls that are perfect for families.
Mermaid Pools
Tahmoor
Calling all adrenaline junkies, this swimming spot is just for you. At Mermaid Pools, the only way in to the water is by jumping off the 15-meter-high rock platform. And if that isn't high enough, there is a 25-meter option as well (ahhhh, no thanks). Be careful at this spot as it's very easy to slip off the rope that you need to climb to get out (there is no other way out), #promise it's worth it though.
Wattamolla Falls
Royal National Park
If you haven't already been to this beaut—we're not judging (well, kinda), but hint hint you'll want to hit this one up stat. From the top of the falls you can see the ocean, and from below you'll feel like you're in absolute paradise. Make sure you head down early before it gets too busy so you can soak up the natural beauty that is Wattamolla Falls.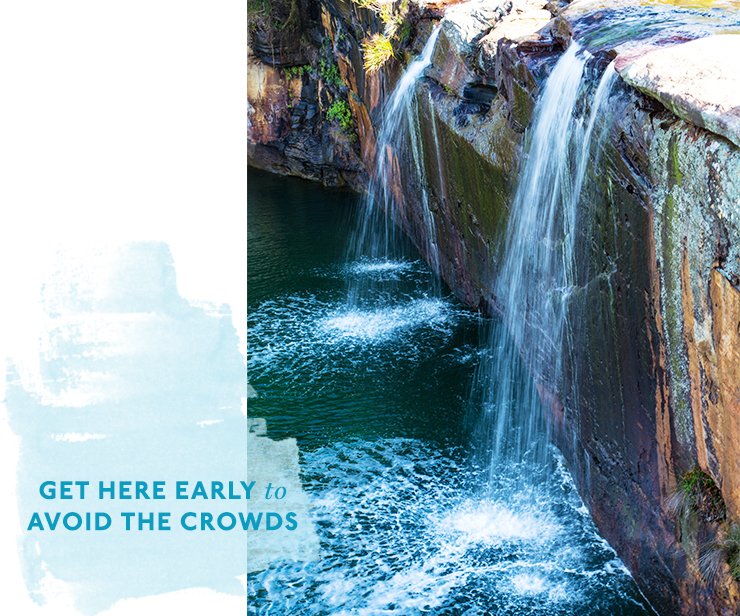 Winifred Falls
Royal National Park
With super warm crystal-clear water and falls that aren't quite as high as it's big sibling, Wattamolla Falls, this location is the perfect kid friendly swimming spot (feat. waterfalls of course). On the trek down you'll find heaps of native animals, you know, to add to your experience at this stunning natural waterhole #living.
Minnehaha Falls
Katoomba, Blue Mountains
People travel far and wide to visit the incredible Minnehaha Falls, and for a very good reason, trust us. The water is deep but very clear, and the surrounding rocks are perfect for catching a few rays after you have cooled off underneath the 20 meter waterfall.
Silver Cascades
Mount Victoria, Blue Mountains
You'll have to put in a bit of effort to get yourself down to these falls, with cascades of cool water rippling down a rock wall before coming to fill the large natural pool at the bottom. Just be prepared for the 400-meter assent back up the trail, consider your cardio for the week sorted.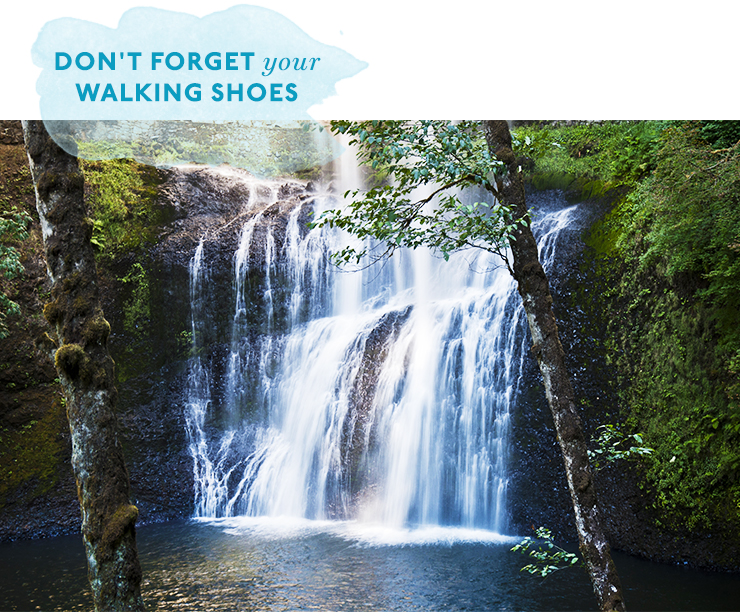 Paradise Pool
Linden, Blue Mountains
The name of this one is definitely not kidding around, when we say paradise, we mean pure paradise, baby. A small sandy beach that leads to a deep pool and (of course) a waterfall is exactly what to expect at this spot. The easy 25-minute walk will get you there without even breaking a sweat and you guessed it, there's even a jump rock too.
If you can't get enough of natural waterholes, check out these beautiful secret swimming spots in Sydney (sans waterfalls).
Design Credit: Sarah Law