With the long weekend over (we're not crying, you are) it's time to turn that frown upside down and start planning your April calendar. You'll be pleased to know we've searched high and low, and boy do we have some events in store for you. Whether your autumn vibes are food and drink related, or you're keen for some art, culture and laughs, April is looking mighty fine.
Here is every fab thing you need to do this month in Sydney.

Bald Archy Art Exhibition
Nothing is more Aussie than taking the mickey out of something serious, and art is no exception. The Bald Archy is a spoof of art competitions, with entries jam packed full of dark humour, satire, caricatures, and it's judged by none other than Maude, a sulphur-crested cockatoo. The Bald Archy is the perfect collab of talent and laughs. Tickets are sold at the door and you can get more info here.
When: Tuesday 20 March – Sunday 22 April, 10am – 4pm
Where: Sofitel Sydney, 12 Darling Drive, Sydney
Cost: Adult $5, Children Free
Rooftop Cinema at Luna Park Sydney
There's something about watching a movie on a rooftop with Sydney Harbour as your backdrop…it's just bloody awesome! From The Breakfast Club to The Dark Night or Lady Bird, there's sure to be a movie that tickles your fancy. Catch a flick this April at Luna Park with screenings every night of the month. Grab your tickets here.
When: Thursday 22 March – Monday 30 April, 6:30pm
Where: Luna Park, Milsons Point
Cost: Deluxe $29, GA $22, Kids $18
Sweethearts Rooftop Cinema
Catch a flick every Tuesday and Wednesday night on the Sweethearts Rooftop and it's absolutely FREE. With a brand spankin' new pizza oven and an epic list of house cocktails...plus a couple of signature surprises, movies like Step Brothers, Pulp Fiction and Point Break neverrrr looked this good.
When: Every Tuesday and Wednesday, 7pm
Where: Potts Point Hotel, Potts Point
Cost: Free

Singles Wine Tasting
Forget drinking alone or third-wheeling it with your couple friends…the Crowie is hosting a night of wine tasting for 40 singles aged between 24-39. Making your way through wines from the Hunter Valley's Audrey Wilkinson, you'll be matching them with canapes and maybe you'll just find a match for yourself too. Get your ticket here.
When: Friday 6 April, 5pm – 10pm
Where: Crows Nest Hotel
Cost: $44
Friday Foodie Feast
The ultimate foodie experience is coming to the Campbelltown this April with a whole bunch of delish food and boutique stalls popping up for one Friday night only. Prepare yourselves for a night of international feeds, food trucks, live entertainment and lighting shows. BYO picnic rug and appetite. Details here.
When: Friday 6 April, 5pm – 10pm
Where: Kellicar Lane, Macarthur Square, Campbelltown
Cost: Free entry
FLAME Festival
Fairfield's FLAME Festival is sure to be lit (see what we did there?) with over 90 performers settling in for a night of art, music and entertainment around the city centre. The event will showcase a bunch of crazy talented Western Sydney locals in various venues including restaurants, bowling alleys and bookshops. Find out more here.
When: Friday 6 April, 5pm
Where: Fairfield City Centre
Cost: Free
Orange F.O.O.D Week
Hop in the car and crank the tunes, you're taking a road trip to Orange this week for the annual F.O.OD Week Festival. The whole town is coming alive to show off the best food and wine the region has to offer. With a whole bunch of events, from night markets to vineyard forages, this is a foodie's dream. Don't want drive down? Hop on the F.O.O.D. train. Picking up passengers from Central Station, this train will take you straight to Orange and it'll even feed you along the way. More info and tickets, head here.
When: Friday 6 April – Sunday 15 April
Where: Orange, NSW
Cost: Prices vary depending on the event
Gin! The Show
As the name suggests this event is alllllll about one thing. Gin. Whether you like it with tonic and lime, neat or on ice, this show covers all there is to know about the clear spirit from experts and distillers themselves. You'll be able to sample over 100 types of gin (yep, 100), plus get your mitts on cocktails for just $10 and bottles of gin at one-off show prices. Can we get a HELL YES!? Get your tickets here.
When: Saturday 7 April, 12pm
Where: Stamford Plaza Sydney Airport, Mascot
Cost: $60pp
Polo in the Vines
What could be better than a private polo event, with a live band and DJ, 'Fashion in the Field', pamper lounge and cider garden? Only all of that plus a six-course lunch by hatted French chef Guillaume Brahimi (we're already drooling). Urban Polo is bringing the game to the Hunter Valley for this day of fine food, luxe décor (it's Hermes inspired…) and of course, wine straight from the vineyard itself. Buy your tickets here.
When: Saturday 7 April
Where: Dark Horse Vineyard, Hunter Valley
Cost: $86.45+
Little Bit of Italy in Broke
Rolling out their 13th year, Little Bit of Italy in Broke is showcasing everything Italian-related this April and we recommend you take this as a sign to take weekend escape you've been dreaming about. You'll be quaffing wine and scoffing cheese, wood-fired pizza, sausages and tiramisu and you'll also be getting your hands dirty in gnocchi making classes. Find out more here.

When: Saturday 7 April – Sunday 8 April
Where: Broke
Cost: Vary depending onethe vent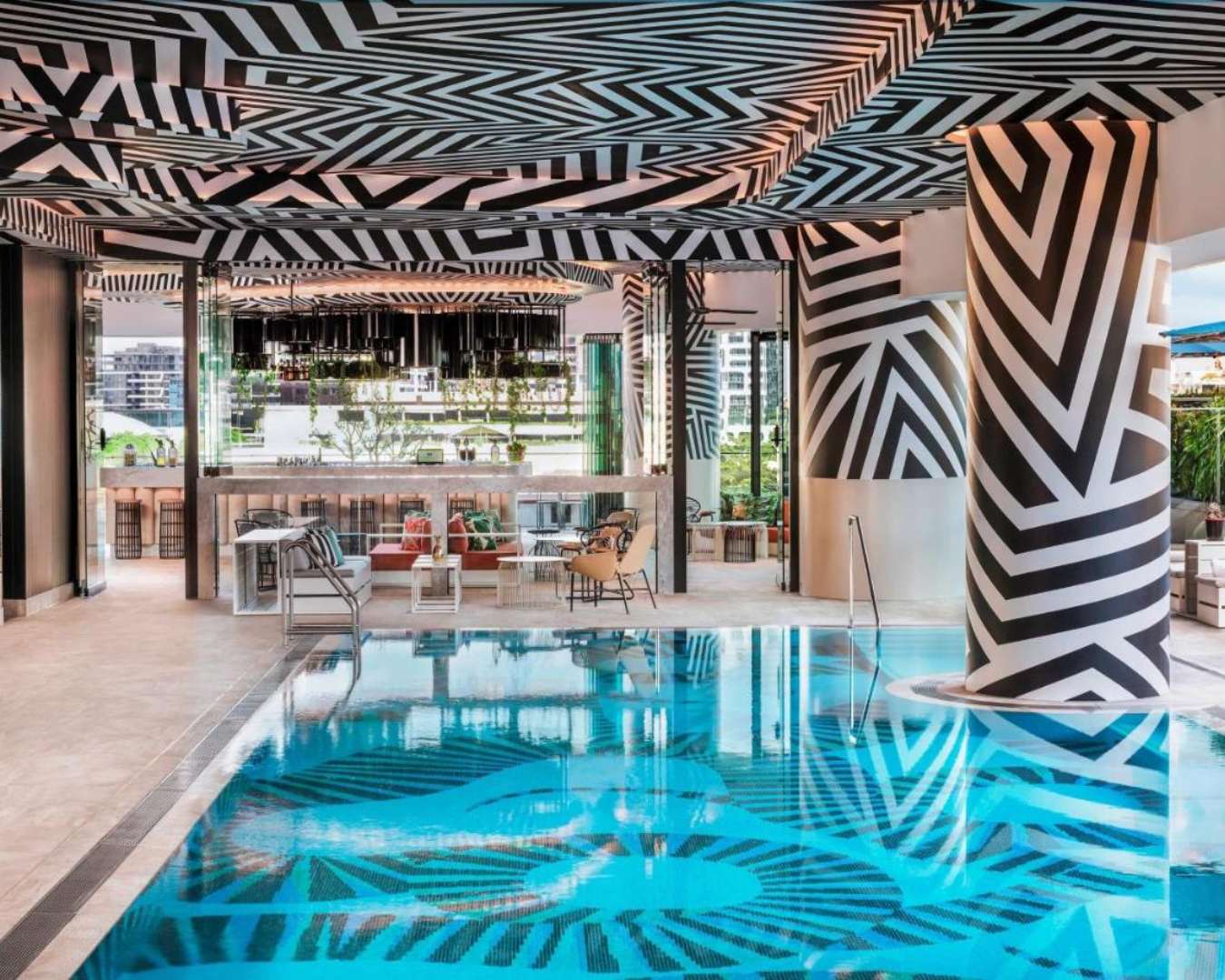 Blak Markets
Escape to Bare Island and find your inner art enthusiast at the outdoor Blak Markets. Over 30 stalls will be selling one-of-a-kind Indigenous artwork directly from the artists. So not only are you adding absolutely stunning pieces to your collection, but you know for sure that the profits are going directly back to Indigenous communities. Not to mention, there will be live music, crafts and bush tucker to boot. Find out more here.
When: Sunday 8 April
Where: Bare Island, La Perouse
Cost: FREE
Down For Good Laughs
Get over that mid-week lull with a good ol' hearty laugh at Della Hyde because they're throwing a comedy night. With a line up that'll challenge all other line ups, you'll be laughing along with John Cruckshank, Lizzy Ho, Oliver Twist and Gavin Scott, and hell yeah, getting over hump day just got that little bit easier. PLUS, for something extra, you can also spring for the package which includes a reserved seat and bangin' snack menu. For more info and tickets, head here.
When: Wednesday 11 April, 7:30pm
Where: Della Hyde, Darlinghurst
Cost: $10 online or $15 at the door. 'Snacks and Show' Package $39pp.
Young Henry's Barbecure
We're sold whenever someone mentions anything that combines food, booze and live tunes, but add the fact that the event is raising money for Cure Cancer and we're already there. With local institutions like Mary's, Vejoes and Archie Rose Distilling Co. on board, this is not your average BBQ. Plus, there'll be raffles and merch up for grabs too. Get more deets here.
When: Saturday 14 April, 1pm – 6pm
Where: Marrickville Organic Markets, 142 Addison Road, Marrickville
Cost: Gold coin donation entry
The Birdcage
Say goodbye to 2018 and helloooo to the roaring '20s for a night of glitz and glamour at this vintage burlesque show. We don't have to tell you it'll be filled with incredibly talented showgirls rocking all manner of feathers, sequins, and you'll be filled with a whole lot of champagne and gin. If that isn't enough to tempt you (we highly doubt it), tickets include a three-course banquet meal and glass of Mumm on arrival. Find out more information here.
When: Saturday 14 April, 7:30pm
Where: 84 Union St, Pyrmont
Cost: $89

Latte Art Workshop
Skip the long lines at your favourite café by learning to make the most perfect and insta worthy latte at home at Roastville Coffee's latte art workshop. These barista gods will show you how to make a coffee so you'll learn all the tricks and techniques to master latte art, including the rosetta, heart and tulip patterns in yo' milk. Grab your tickets here.
When: Tuesday 17 April, 5.30pm – 9pm
Where: 157 Victoria Road, Marrickville
Cost: $89
Opera Wine & Dine: Opera Safari
Opera Wine and Dine kicks off this month with a series of four operas accompanied by (you guessed it) booze and bites. Hosted at the uber-luxe Castlereagh Boutique Hotel, the first of the series is the comic opera, Don Pasquale. While enjoying the performance, you'll be treated to a three-course menu with matching wines and you'll want to get your tickets here, right now.
When: Friday 20 April, 7:15pm
Where: The Castlereagh Boutique Hotel, 169 Castlereagh Street, Sydney
Cost: $150pp
Gather & Cook Adventures
Move over Bear Grylls, after a day with Biota Dining, you'll be ready to take on the wild. Prepare to step into the Southern Highlands, gathering all your own ingredients, learning how and where they grow and then the chefs follow it all up by taking you through a cooking session over the campfire. With the option to extend your stay for dinner, trust us, you won't want to return to city life any time soon. Enquire here for more info.
When: Friday 20 April, 9am – 2:30pm
Where: Biota Dining, Bowral
Cost: $150pp

Hunter Valley Uncorked Avalon
Save yourself the drive and head to the Northern Beaches for the full Hunter Valley experience this April. We're talking wine, food, and more wine. The beachy vibes of Dunbar Park will transform into everything Hunter Valley for one day only, with gourmet food stalls and wine tastings from a range of restaurants and breweries. More details will be released here soon.
When: Sunday 22 April
Where: Dunbar Park, Avalon Beach
Sydney Comedy Festival
It's that time of year again…a whole MONTH of laughs. Kicking off at the end of April, Sydney Comedy Festival is herding up some of this planet's funniest people (no, not your dad, regardless of how good he thinks his jokes are) for a whole bunch of stand-up shows and galas. You'll be able to catch Cal Wilson, Joel Creasy and Lawrence Mooney live and that's just the beginning. Find out more and grab your tickets here.
When: Monday 23 April – Sunday 20 May
Where: Sydney
Cost: Varies depending on the event
More interested in heading to the markets? Read this.
Image credit: Caitlin Hicks