Europe and North America taunt us with their chilly Christmases every goddamn year and quite frankly, we're tired of it. Well may they scoff our seafood and stonefruit but they're missing out on the joys of a hot and sultry December.
Besides the usual fallbacks of beach trips and sundowners, Brisbane is in for a tonne of fun stuff this summer—perfect for getting romantic with your squeeze. And because this heat is an UNGODLY cinch on productivity, we've done all the hard work of creating a date itinerary for you.
Pick your pleasure and load bae into the wagon, here are Brisbane's best summer date spots.
Head For Howard Smith Wharves
Brisbane City
Date night on the Wharves has become such a reliable mainstay of our week ever since the precinct opened. Whatever vibe you're going for, from a casual midweek burgers to a landmark anniversary celebration, there is something at Howard Smith that can cater specifically to you. This summer, we recommend sinking a few frothies at Felons before checking out the katsu at new Japanese restaurant Yoko Dining, followed by a scoop or two from Goodtimes Gelateria and a romantic stroll along the river.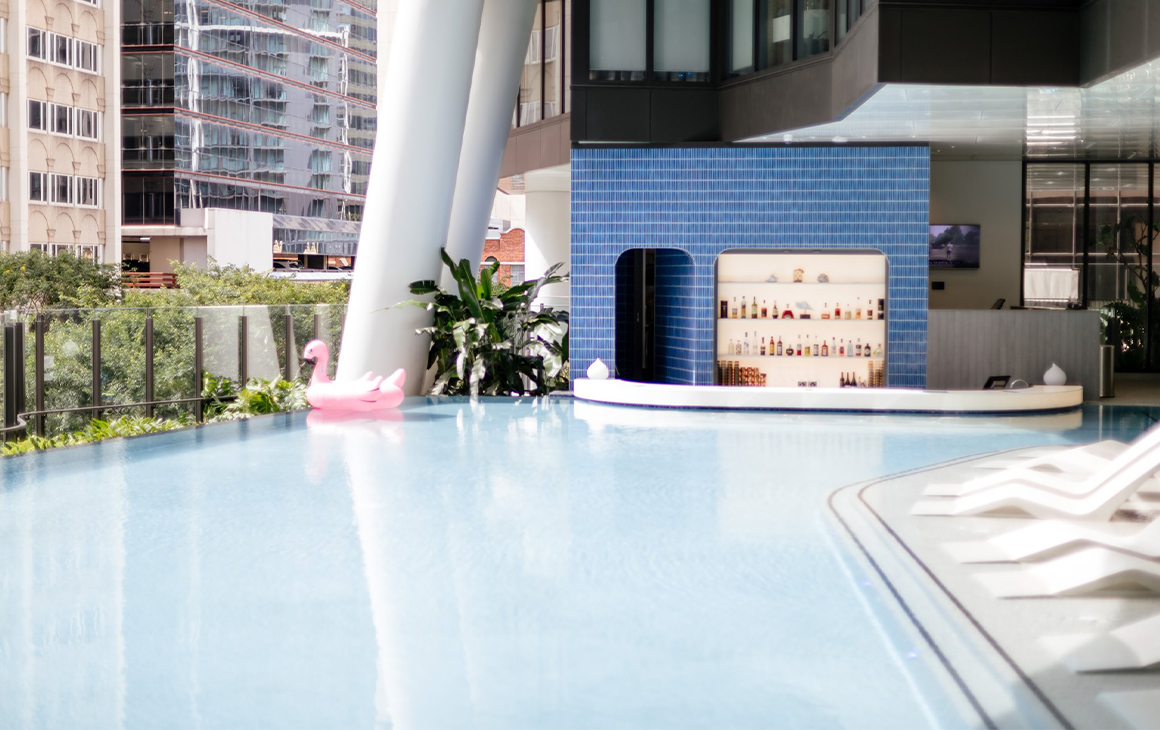 Dive Into The Westin's Swim Up Pool Bar
Brisbane CBD
The Westin is well on their way to becoming one of our favourite destinations, especially since the rollout of their summer party sessions. Thanks to the Nautilus (an ingenious feat of architecture that puts a fully functioning and licensed BAR in the middle of a POOL) you can order and enjoy a glass of prosecco without ever leaving the comfort of the chlorine tides. The sessions kick off every Friday, Saturday and Sunday, and cost just $20 for entry and a spritz on arrival—but if you're keen to take this date to the next level, why not just book a whole night?
Take A Turn Around An Ice Skating Rink
Various locations
What is the one thing that every Netflix Christmas special has in common? If you said bad writing, shame on you, because the answer is an ice skating scene, or rather, a scene where the luckless hero/heroine cops scorching sex eyes from their frosty love interest across a frozen pond. Just because we live in a subtropical climate is no reason why you or your beloved need miss out on the cheesiness and romance of a day on the ice. Luckily, Brisbane happens to have some cracking ice skating rinks where you can escape the sick joke of a hot Christmas and go for a little icy scoot scoot.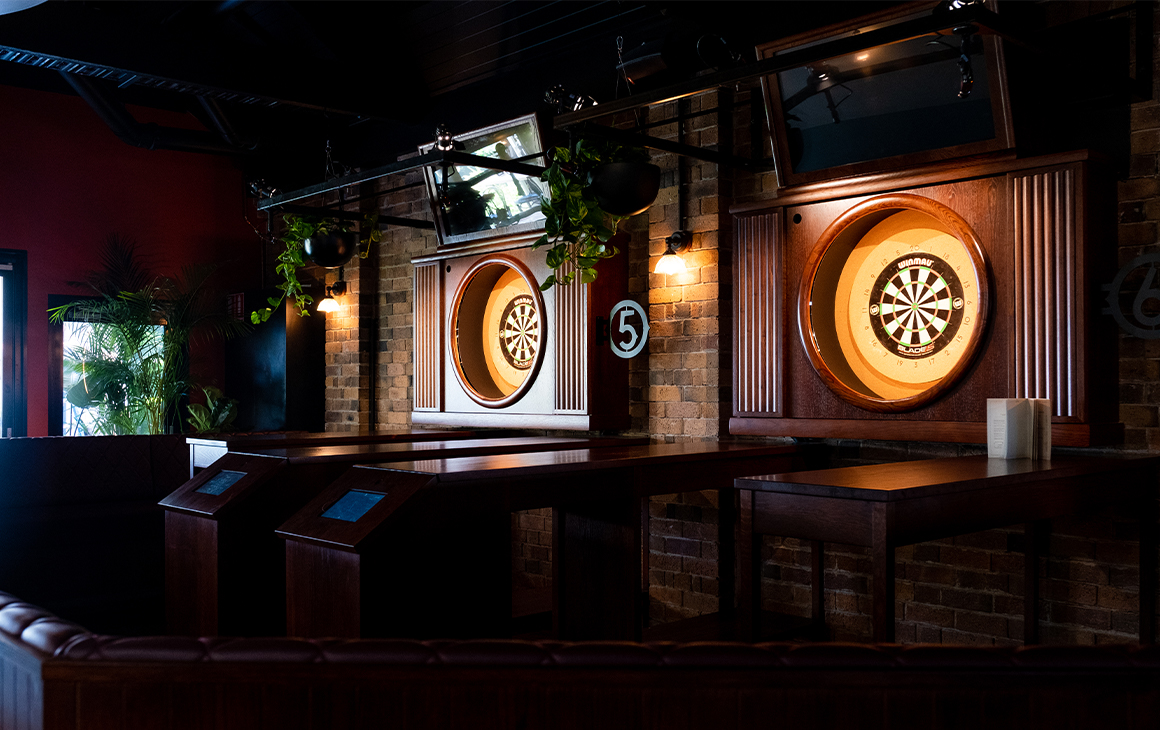 Throw Some Darts At Oche
Fortitude Valley
If there was a pasttime that never even crossed our minds as deserving of a comeback, it's darts. We're not talking the kind you punch in the smokers area, or the kind that make your bust look fire, we're talking about the game that hangs in every man cave ever. Brisbane's latest drinking hall, Oche, has breathed fresh life into the classic game. Darts is now a high tech endeavour with electronic dartboards that keep score for you (perfect for when you've had a few). Oche is an ideal playful summer date because not only is it indoors and interactive, it also boasts a menu designed by Ben Williamson of Gerard's Bistro fame. In the spirit of that flavour temple, we recommend the popcorn bekaa chicken and a lager to wash it down.
Explore Water at QAGOMA
South Brisbane
Well and truly debunking the myth that galleries are a winter sport, the cavernous, air-conditioned inside of QAGOMA is a light-filled sanctuary from summer. The current exhibition, 'Water', could not have come at a better time. It celebrates the uniting force of all life on earth, the nurturing tide that feeds plants, houses fish and constitutes 70% of our bodies. Water is the best, and QAGOMA knows it. Bringing together works and installations from a bunch of international artists, the exhibition is a multifaceted ode to the wet element. After copping a load of all that colcha, head over to Maeve Wine Bar for a dimly lit dinner of classic French cuisine and a few bottles of the finest drops going.
Catch A Flick At Blue Room Cinebar
Rosalie
Whoever invented going to the movies as a date idea really should have found a way to patent it. A natural respite from summer, every Brisbanite has their local cinema's session times saved in their favourites for those days when you really just can't even. When the mercury soars, our pick is always Rosalie's Blue Room Cinebar. This fully licensed cinema sports some unbelievable assets like cracking titles, big comfy chairs and food delivered right to your seat mid-feature. We're big fans of a matinee to escape the afternoon sun, and then chasing it up with a debrief over a cone at Gelateria Cremona. That should cover you until sundown.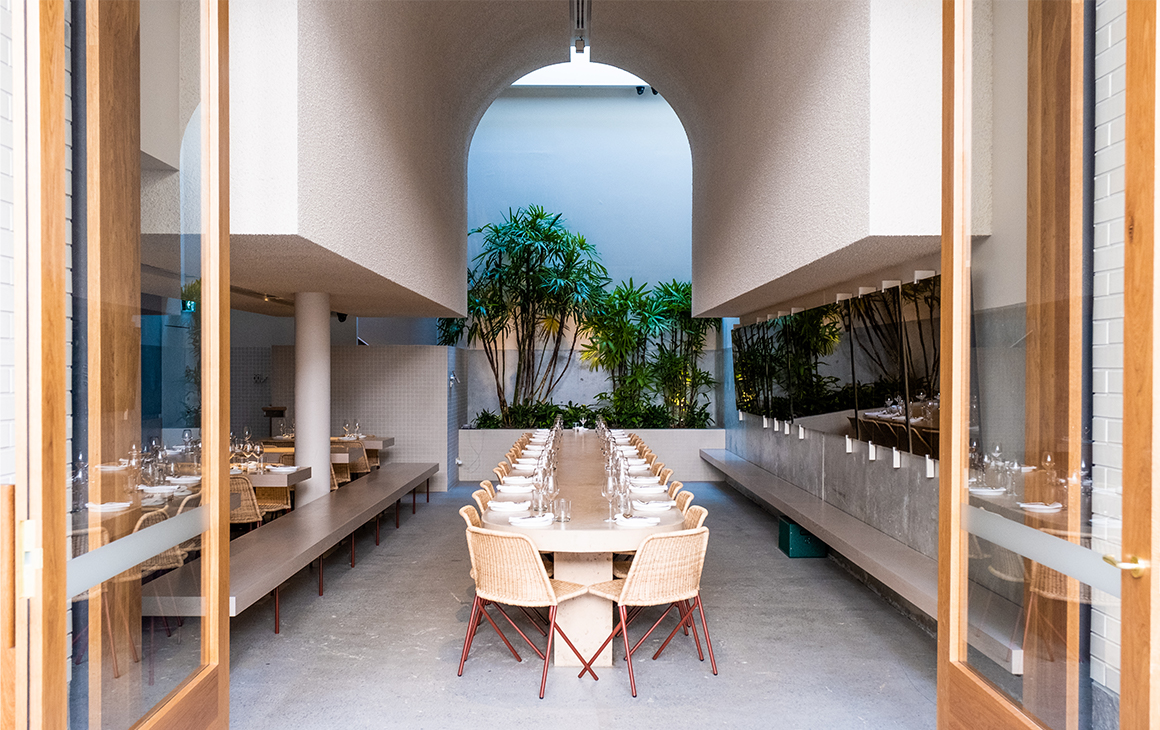 Eat Your Way Through Ada Lane
Fortitude Valley
This is a choose your own adventure kind of date. Start with drinks at LOS, the Land of Smiles, and one of their 110 tequilas. Then head downstairs for dinner at the freshly unveiled Same Same or Beaux Rumble. A transplant of the restaurant formerly known as Longtime, Same Same brings us cracking Thai flavours, while Beaux Rumble is all sophistication, with a menu full of wood-fired feeds. Either way, skip dessert, because in the interests of making the most of the precinct, your final stop is at Gelato Messina for a double scoop of whatever seasonal delight the fellas have whipped up. Want to keep the fun going? Head to the Lobby Bar for last drinks with James Street's well-heeled crew.
Get Sky High At The Terrace
South Bank
South Bank's Emporium Hotel is a multi-disciplinary totem of luxe and wonder. With glittery French restaurant, Belle Epoque, and the smooth and sultry Piano Bar on the lower floors, Emporium is a date night failsafe. For summer, we're heading right to the top for an evening on the Terrace. Cracking drinks, delicious food, and that's all before we get to talking about The View. Holy mackerel. Being South Bank's only rooftop bar, Emporium's Terrace offers a panoramic view of the city and the river, which makes a perfect backdrop for you and your date that really sticks it to people-watching.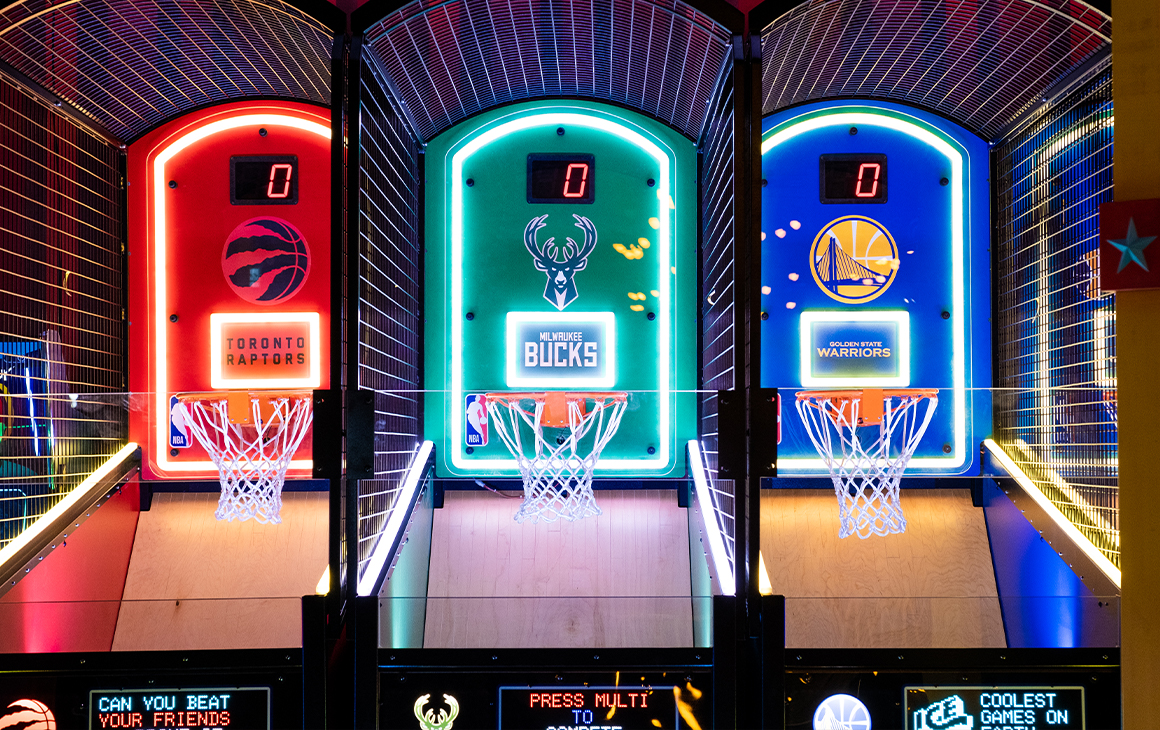 Play On At Archie Brothers Cirque Electriq
Toombul
Requisite for a fun date night at Archie Brothers is a bae with a healthy sense of competition who ain't afraid of clowns. The circus-themed adult arcade is a wonderland of bright colours, loud noises, and all the other mod-cons of an extrovert's paradise including a full food menu and cocktail bar. But Archie Brothers is just one of Toombul's attractions, for more big kid fun, check out adult playground UPSTAIRS, which includes a popcorn ball pit, a neon swing, and live music Thursday through Sunday.
Sip and Distill At Brisbane Distillery
West End
If you want a novel date idea, look no further, because the botanical brewers at Brisbane Distillery are your ultimate wingmen. They host gin-making masterclasses where, under the helpful guidance of one of BD's talented distillers, you and your squeeze can craft a bespoke bottle of gin from scratch. For a more casual experience, you can select a combination of your favourite botanicals and the distillers will mix it up into a 100ml bottle for you to try with tonic right then and there. Need snacks? Head just down the road and snag a slice from Pie Town.
If you need more ideas to ramp up the romance, find eight $50 date ideas here.
Image credit: Howard Smith Wharves, The Westin, Sophie Spencer