With the exam season looming for many (it always feels like it's looming, even when it's months away), sometimes you just want to escape the house and go and study at a café. And no, this isn't brunch-fuelled procrastination—with Wi-Fi, a damn good coffee (maybe even a snack or two) you can conquer the world. And zero danger of naps. Now go and smash that assignment, it won't smash itself.
Here's 14 great cafes for study in Melbourne.
Sun Moth
CBD
Hidden away in Niagra Lane, Sun Moth is a firm favourite with RMIT City Campus locals. With spicy chai and a killer cappuccino, an extensive Asian fusion menu (with awesome healthy eats) and the 'coffee to bar' attitude (meaning you can start with your coffee in the AM and move onto the rosé come 4pm), this place ticks all the boxes when it comes to studying. Be aware though,it gets rowdy during peak times.
WIFI: Yes
Small coffee: $4.50
Union Street Brewers
Brunswick
Known to many as "that café near Jewell Station", Union Street Brewers is an absolute classic. There's a home-made rotating brekkie menu and some of the best chai lattes around (seriously, we've tried a lot of damn chai lattes). They also offer 10% off for students if you flash your I.D Card. RMIT Fashion Degree Students, it's right close to your campus so head on down. Free WIFI and a sunny courtyard rounds things out nicely.
WIFI: Yes
Small coffee: $3.80
Mr Tulk
CBD
Mr Tulk is a firm favourite for many students, partly because it's located right next to the State Library. Soak up that sweet FREE library WIFI while you sip your capp and feast on a light meal. All those books lining the walls makes you feel extra studious, plus, the café is named after the library's first ever librarian—how cute!
WIFI: Yes
Small coffee: $4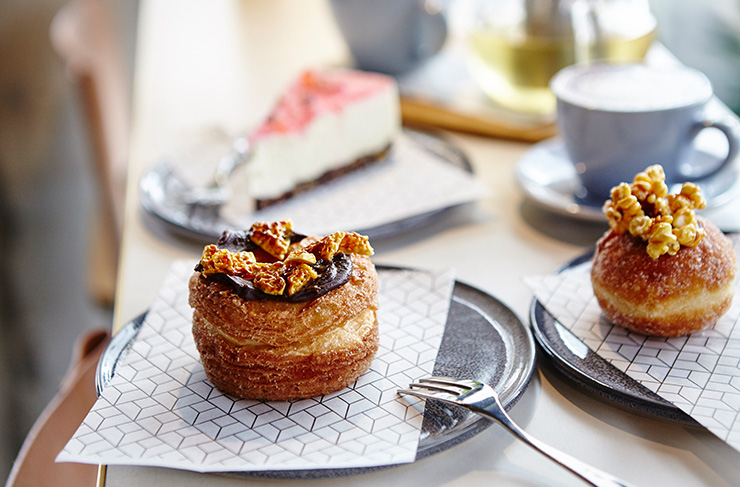 Rustica (AKA Brick Lane)
CBD
Rustica in the CBD (now known as Brick Lane) is a firm favourite with those who want a bit of a heavier brunch during their study session. Sit at the bar near the neon sign (so cute) and people watch as a bit of a study break, or chow down on freshly made sourdough toast slathered in vegemite. Always a winner.
WIFI: Yes
Small coffee: $3.80
Journal Café
CBD
Pick up your journal (no pun intended) and head on down to Journal Café in Flinders Lane. It's still the perfect getaway from the city bustle and hustle. Don't worry: hustling shall be done, with free WIFI (thanks to the City Library nextdoor) and a good cuppa coffee. If you're feeling peckish, try their simple smashed av' with lemon, sourdough and prosciutto. Good brain food.
WIFI: Yes
Small coffee: $4
Stovetop
Carlton
One of the busier spots for Melbourne Uni Students, Stovetop is a relatively new kid on the block, offering free WIFI and a hearty meal. They have all-day brunch (with separate breakfast and lunch menus) plus a cracking pastry cabinet, so you can refuel your brain. Even better? They're slinging some of the best coffee in Carlton. Did we mention the free WIFI?
WIFI: Yes
Small coffee: $3.50
St Ali
South Melbourne
St Ali is known as one of Melbourne's top cafes, a hidden + humble study spot in South Melbourne is popular with all age groups, but it's a good pick if you're looking for a quiet nook to study your pants off. Just set yourself up near the front door (on one of the more secluded tables), and re-fuel with some damn good coffee.
WIFI: Yes
Small coffee: $4.50
Naughty Boy Café
Brunswick
Naughty Boy is the home of the 'freakshake'—try it out for size and study at the same time. Plonk yourself on one of their comfy chairs and get working on whatever takes your fancy. It gets a little busy here in the afternoon, but the late mornings are the perfect time to tick off your to-do list.
WIFI: Yes
Small coffee: $4
The Queensberry Pour House
Carlton
Another UniMelb fave, The Queensberry Pour House serves unlimited (yes, you heard us right) filter coffees, so settle on in and get all your writing done with a bit of assistance from the brew. After a few hours crushing that Arts essay, you'll be buzzing off the ceiling.
WIFI: Yes
Small coffee: $5 (bottomless)
Terror Twilight
Collingwood
One of the best cafes for studying, Terror Twilight offers cozy bench style seats (perfect for both rainy and sunny days) plus a healthy menu to fuel your brain. Try one of their bowls, and go for a big mug of chai latte to help you crack open the books. They also have MCT oil additives to their coffee—just order the 'Mind' upgrade and see how smart you get.
WIFI: Yes
Small coffee: $4.20
Everyday Coffee
Various
Stay for the coffee, but browse the books—Everyday Coffee doubles as an uber-cute bookstore (only at the Carlton Location). However, they have numerous roasters all throughout Melbourne (Northcote, Little Collins, Johnston Street) so you can find somewhere to settle in with your laptop for a study sesh.
WIFI: Yes (can be a little slow when busy)
Small coffee: $3.50
Heartattack And Vine
Carlton
Between a smorgasbord of spaghetti eateries, Heartattack and Vine slings Wide Open Road brews and a small selection of delicious eats. Not only are the staff super friendly, they offer inside and outside tables. So pick your poison and type away. The only downfall is that they don't have free WIFI, but sometimes that's a good thing—if you need zero distractions, this is your best bet.
WIFI: No
Small coffee: $4.50
Poolhouse Coffee
CBD
Another hidden CBD gem, Poolhouse is known with the RMIT community as it's close to one of their major buildings. Located at the back of the CBD Poolhouse (hence the name), they'll have you wishing you were swimming in a pool of coffee (yes please). They offer an array of eats including healthy salads and rice paper rolls as well as Doughboy Donuts on Thursdays. Even better? There is free WIFI all daaaay.
WIFI: Yes
Small coffee: $4
Captains Of Industry
CBD
Quiet, secluded and totally underrated—that's Captains of Industry. This place is almost painfully cool—a hidden barber, cobbler and sandwich bar, tucked up some stairs on Somerset Place. Park yourself up by the window, overlooking the leaves of Elizabeth St and chow down on excellent sandwiches, coffee or wine (if your essay's looking really bad).
WIFI: No
Small coffee: $4
Want to get that brain working? Here's a bunch of places to learn new things in Melbourne.
Image credit: Terror Twilight | Michelle Jarni