Ah, the Christmas special. The calling card of actors that have passed their use by date and a seasonal alternative to the standard rom-com; what better way to infect oneself with some holiday cheer than to indulge in a couple of Christmas flicks? If you aren't blessed to have access to the Hallmark Channel (devo), we've rounded up some of our favourite Christmas classics that'll have you ho-ho-hoing all the way to December 25th. Gather up the popcorn and rum balls, this list is sure to be a hit.
Four Holidays (2008)
Starring: Reese Witherspoon, Vince Vaughn
Christmas Pairing: Whisky and stuffing
Vince Vaughn and Reese Witherspoon do the enviable every Christmas by avoiding attending any family function and taking the opportunity to go on holiday – yay! However, one year the usual plan goes awry and they end up having to attend the family dos. Cue the comedic duo suffering through Witherspoon's mother's mental nativity play, a scary game of Articulate, a happy hippy mummy who's banging Vaughn's best friend, and a couple of roundhouses from his UFC fighting brothers.
Bad Santa (2003)
Starring: Billy Bob Thornton, Bernie Mac, Lauren Graham
Christmas Pairing: Beer
Heinously rude and entirely godless, Billy Bob Thornton is Willie, a notorious con artist who every year teams up with his midget friend Mitch to play Santa and Elf in shopping malls, only to rob the shops when the doors close. This is black comedy at its best, and a refreshing change fromstereotypical Christmas movies. They've got it made until one day a kid takes a shine to Willie, and it's all downhill from there. It's pretty cringe-worthy watching, but so funny you won't care. You'll probably start suspecting all shopping centre Santas are secretly flipping you the bird behind your back.
Elf (2003)
Starring: Will Ferrell, James Caan, Zooey Deschanel
Christmas Pairing: Candy canes and creaming soda
Buddy the Elf is a man after our own hearts with a love for the four food groups – candy, candy canes, candy corns and syrup. When Buddy (Will Ferrell), the man-sized elf, is ejected from the Elf community after continuously getting in trouble for his human-related mishaps, Santa sends him back to the States to "find himself". One liners and the unparalleled comedic talent that is Ferrell will have you and your second cousins clutching your sides till the very end. Get ready to celebrate yo' inner elf.
Polar Express (2004)
Starring: Tom Hanks, Chris Coppola, Michael Jeter
Christmas Pairing: Turkey and a pair of reindeer horns
Based on the popular children's book, The Polar Express follows Billy, a kid who is desperately trying to believe in the whole Christmas thing. Cue elves, snow, and reindeer (which I was convinced didn't exist until I was 13). This all changes on Christmas Eve, when the Polar Express takes Billy away in the middle of the night, promising a visit to the North Pole to meet Santa. Cue self discovery, feel good vibes and Christmas jingle jangle. The animation and special effects are pretty groovy, so it's worth a watch for that, but you may even find yourself unintentionally looking to the sky for Santa come the 25th.
Santa Buddies (2009)
Starring: Puppies!
Christmas Pairing: Earmuffs and eggnog
Okay, this is the quintessentially crappy Christmas movie, but if you've got kids you need to plonk in front of something, this one takes the cake for cute factor. Golden retriever buddies are in the mix to try and restore Christmas spirits, and watching them all dashing through the snow will have you nawwing, while the script will definitely have you snoring. The kids will love it, though.
The Santa Clause (1994)
Starring: Tim Allen, Judge Reinhold, Wendy Crewson
Christmas Pairing: Punch and pavlova
In the Simpsons, when Homer kills the Grim Reaper, he has to take his place as the overlord of mortality. Naturally, when Tim Allen kills Santa, he uncontrollably transforms into the jolly ball himself – full of presents, red coats and, of course, blessed with impressive girth/beard. It's a Christmas comedy that shows the spirit of Christmas probably better than any other movie in this list, as well as being chocka-block with easy laughs. There are three follow up movies to this first feature, so if you find yourself strangely attracted to Tim Allen in a fat suit, you are in luck my friend.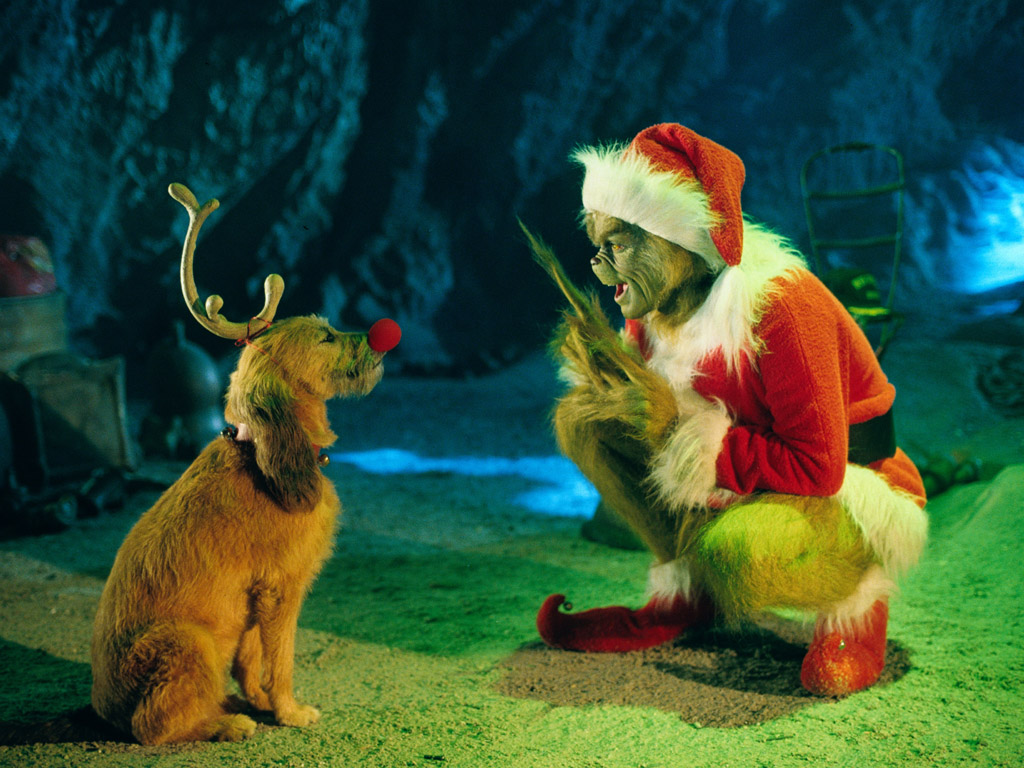 How the Grinch Stole Christmas (2000)
Starring: Jim Carrey, Taylor Momsen, Jeffrey Tambor
Christmas Pairing: Ham and apple cider
Green definitely suits Jim Carrey's complexion in this Dr Seuss comedy about the mean, green, Christmas stealing machine, the Grinch. Spiteful of the Whoville community's Yuletide spirit due to a failed Christmas romance when just a boy, the Grinch decides to do away with everything that looks like Christmas. Aided by his pooch Max, the Grinch steals all the trees, canes, presents and, ultimately, Whoville's happiness. Will Cindy Lou Who (Taylor Momsen) be able to show the Grinch the light and joy that Christmas brings and restore the spirit of Whoville to its former Christmas glory? Only one way to find out!
Love Actually (2003)
Stars: Bill Nighy, Hugh Grant, Colin Firth, Keira Knightley, Emma Thompson, Alan Rickman & then some
Christmas Pairing: Red wine and a rum ball
It seems totally appropriate that as I'm writing this, Mariah Carey is belting out her perennial classic, All I Want for Christmas is You. If you haven't seen this sugar-coated, story montage of pure happiness, then I don't believe you've ever really enjoyed yourself, or Hugh Grant for that matter. Who doesn't want to follow eight different love stories and their interrelated tales in the lead up to Christmas Day? It's funny, feel good and you get to look at Colin Firth for many uninterrupted minutes.
National Lampoon's Christmas (1989)
Starring: Chevy Chase, Beverly D'Angelo, Juliette Lewis
Christmas Pairing: Gingerbread men and sav blanc
Anything that Chevy Chase touches is comedic gold (don't care what you say about Funny Farm, The Three Amigo's is my life) and the National Lampoon franchise is no different. In this Christmas special, the Griswolds invite the rest of their genetically dysfunctional extended family to their house for Christmas, resulting in a slew of slapstick gags – from cats getting electrocuted by fairy lights, to a ridiculous kidnapping. At the end of the day, there's the typical message about Christmas being a time for families, but just ignore that and get a good belly laugh out of this film.
Scrooged (1988)
Starring: Bill Murray, Karen Allen, John Forsythe
Christmas Pairing: Prawns and champagne
Similar to Chevy, I'm convinced anything that Bill Murray is in is something I want to see. In this contemporary dark comedy about Dickens' famous "Christmas Carol", Murray plays Frank Ross, a selfish and widely loathed TV executive who on Christmas Eve is visited by the three spirits of Christmas. There are lots of cheesy eighties effects (think Ghostbusters), but it shows that even the most corrupt of souls can be sweetened by the saccharin of Christmas cheer. If only these spirits would visit my aunt before this Chrissy…
Home Alone (1990)
Starring: Macaulay Culkin
Christmas Pairing: Mac and cheese and milk
When the McCallisters leave Kevin at home when they take off for a family Christmas trip to France, he's left to his own devices against a pair of idiot burglars who are robbing the neighbourhood. Watching this as a kid makes you think of all the things you'd love to get up to if you were left home alone, like watching gangster movies, eating a whole heap of Cheezels and, of course, setting up an obstacle course of booby traps to catch the villains. Well, maybe not the last one.
Holiday Inn (1942)
Starring: Fred Astaire, Bing Crosby, Virginia Dale
Christmas Pairing: Mulled wine and cherries
If you're nostalgic for a time where actors actually looked like people you wanted emulate, hit up this 1942 musical, Holiday Inn. Bing Crosby opens a seasonal inn when he gets bored of city life, and ultimately becomes entangled in a love triangle between the drool-worthy Fred Astaire and his up and coming performing talent, Virginia Dale. The film won an Oscar for that song White Christmas (which I cry every time I hear for some reason…), so if you're running out of excuses to re-watch the Sound of Music, this is the Christmas special for you.

TUL Note: Ella Stening is a freelance writer based in Melbourne, Australia. She can be found compensating for her addiction to eating out and drinking lots of wine by writing about it all over the web. Or with her cat, Louis.

Elf Image Credit: J Bowman Can't Sleep
Grinch Image Credit: Fanpop.com