As the sun shows its face more and more over the coming months, you're going to need a plethora of ideas on how to spend your free time, be it a day off during the week, or the ever cherished weekend.
Victoria has a ton of great bushwalks that you can tread all over, but this time around we're focussing on walks within the Moorabool Shire.
Moorabool Shire covers a large area west of developing suburbs such as Tarneit, Werribee, and Wyndham Vale all the way to the east side of Ballarat—covering towns such as Bacchus Marsh, Gordon, Ballan, and Lal Lal.
Outside of the towns, you'll find the likes of Lerderderg State Park, Long Forrest Conservation Reserve, Merrimu Reservoir, and Werribee Gorge State Park—all places you're going to want to explore.
So, here are 11 bush walks to take in Moorabool Shire.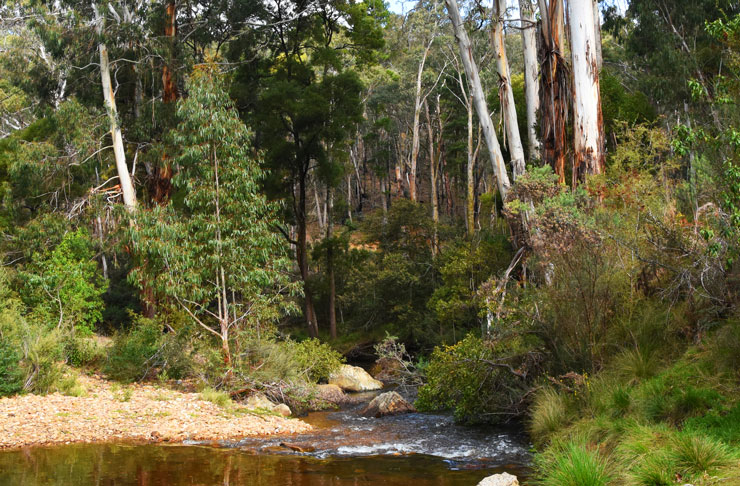 Lerderderg State Park
Lerderderg State Park covers more than 14,000 hectares and is about an hour's drive from Melbourne.
The park is full of gold mining history along the Lerderderg River, and you can find remnants of it throughout walks around the park.
Mackenzies Flat to Grahams Dam
Length: 3km
Time: 1 hour return
Blackwood Mineral Springs To Shaws Lake and Sweets Lookout
Length: 3.5km
Time: 2 hours return
O'Briens Crossing to Byers Back Track and The Tunnel
Length: 3km
Time: 1.5 hours return
Werribee Gorge State Park
Werribee Gorge—as you'd expect—follows the Werribee River, cutting through a large part of Victoria west of Melbourne.
The 200m deep gorge was formed around 1 million years ago, with the river cutting it deeper over the years since.
Werribee Gorge Circuit Walk
Length: 10km
Time: 4.5 hours return
Short Circuit Track
Length: 5km
Time: 2 hours return
Falcons Lookout
Length: 3km
Time: 2 hours return
Centenary Walk
Length: 4km
Time: 2.5 hours return
Moorabool Falls Trail
You'll find the Moorabool Falls Trail outside of Lal Lal on the Moorabool River.
There are two waterfalls to see on this trail, Moorabool Falls, and Lal Lal falls, of which Moorabool has the longest cascade at 27 metres.
Length: 2.8km
Time: 1.5 hours
If you're on the lookout for even more adventure, check out these articles.
Image credit: Isaac Mehegan