There's something berry, berry special about picking fruit fresh off the trees with your own two hands.
Not only does it tend to taste about ten times better than your average flash-frozen and defrosted three-month old banana, but you can pride yourself on being a fully functional human capable of foraging, should the ~apocalypse~ hit.
We teamed up with Visit Victoria to bring you everywhere you can pick your own fruit in Victoria.
Pennyroyal Raspberry Farm
Great Ocean Road
Along with acres of berries, plums and currents which have been grown organically (chemical-free!) for over three decades, Pennyroyal Raspberry Farm produce their own cider and berry gin. Think—raspberry, bramleberry, or jastaberry gin which has been produced from hand-picked farm berries. Pair it with an overnight stay at picturesque Lorne for total #romance and head for the ocean in the morning.
Sunny Ridge Strawberry Farm
Mornington Peninsula
In the middle of the Mornington Peninsula, halfway between Dromana and Flinders, you'll find one of Victoria's favourite DIY berry picking farms. Rosy red strawberries are usually available to pick from November to April, but the sugary sweet dessert café is open all year round! Think: homemade ice creams, strawberry "kebabs" and Devonshire tea. Pair your visit with a trip down to Cape Schanck which is barely a 20 minute drive away.
Ripe 'n' Ready Cherry Farm
Mornington Peninsula
The team at Ripe 'n' Ready Cherry Farm know their audience. For $15, you can buy yourself entry to the farm for all you can eat cherries. If you're keen to take a bucket (or three) home, they also sell their cherries by weight once you've picked your fill.
Red Hill Cherry Farm
Mornington Peninsula
Next time you're toddling down to Red Hill for a beautiful bottle of red, make a stop at the Red Hill Cherry Farm. Nestled in the picturesque coastal suburb, Red Hill Cherry Farm has been running for over 46 years and is one of the oldest in the state. They house over 25 varieties of cherries (yes, there's more than just….red). Make sure you head home with a few bottles of the region's wine and maybe even a bottle of cherry beer or cider from the farm.
Lonsdale Tomato Farm
Geelong & The Bellarine
The ripest tomatoes, clearly the ultimate fruit, await at the edge of Queenscliff and a short drive from Ocean Grove. While you can't *technically* pick your own 'matoes from the farm, their produce store is the closest thing to an indoor garden we've seen. For one thing: there's a literal lettuce wall. The region has some of the best brunch around (seriously!), so make sure to make time for poached eggs and other delights of the region
Tuckerberry Hill Blueberry Farm
Geelong & The Bellarine
Next time you're strapping the surf board to head down to Ocean Grove Beach, make a detour to the Tuckerberry Hill Blueberry Farm. Fresh, organic blueberries and strawberries await, along with a local produce store which opens every Saturday. Stocking locally grown, mostly organic or spray free produce, you'll also find honey, jams, sauces and handmade crafts. If you're heading down bright 'n' early, you can catch a sunrise yoga class on the beach thanks to Barwon Heads Yoga.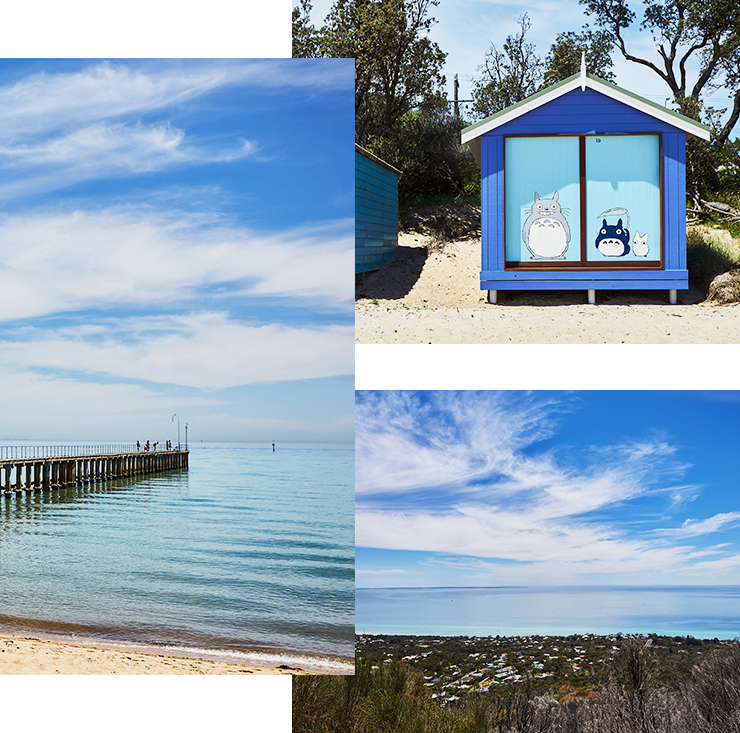 Lomas Orchards
Geelong & The Bellarine
They have a friendly cattle dog and his name is Bob. Do we need to say more?! Strawberries and boysenberries abound at Lomas Orchards, but fruits and veggies available in summer include apricots, peaches, nectarines, zucchini and beans. Don't miss all our favourite vintage shops (check out #4 in the list!) on your drive home.
Berry World
Great Ocean Road
A world of berries awaits just outside Timboon. Blueberries, boysenberries, marionberries, cherries, nectarines and apricots are usually all available by mid-summer. Pop-along to their homely café, and make it into a day with Timboon's bike-friendly cycling trail.
Blue Hills Berries & Cherries
Yarra Valley and the Dandenong Ranges
While the Blue Hills Berries & Cherries farm plays home to a small dictionary of berry varieties, the main attraction are blueberries which are 100% sweet. The Silvan Reservoir is set in the foot of Dandenong Ranges, providing a wealth of walks with a variety of levels. Make it into a day or weekend trip by hitting the coast and cooling off at hotspots like Dromana Beach and Mount Martha Beach.
Need some more #inspo? Check out Visit Victoria's berry picking guide, and fire up group chat with the best summer events and limited time-only happenings, STAT.
Editor's note: This article is proudly sponsored by Visit Victoria and endorsed by The Urban List. Thank you for supporting the sponsors who make The Urban List possible. Click here for more information on our editorial policy.
Image credit: Michelle Jarni for The Urban List.