Nothing is what it seems in Kyneton. That historic butter factory is actually an uber-contemporary art gallery. That former icehouse is where you'll be feasting soon. And that ye olde bank? Turns out that's where you'll be resting your head tonight. It's close enough to Melbourne (just over an hour away) to make it there and back in one day, but after reading the below you'll want to take two. Kyneton: Who knew?
1. They Know How To Do #Cafelyf Right
Finally a hotspot that actually allows you to book...a doughnut. Little Swallow's hulking Italian-style doughnuts are such a cult item you'll probably have to reserve one. And you can partake of these doughies even if you're on a clean-eating kick as they're made from mashed potato (so, basically salad). We can't help but be charmed by a cafe that features a hot dog of the day and makes just about everything in-house. Shout outs also to the super new Wedge Street Food and Wine (already winning us over with homemade crumpets) and Duck, Duck Goose and Larder for their inventive brunches.
2. Forget TV, Here's Where To Unleash Your Inner Master Chef For Real
If being surrounded by so much delicious country cooking and produce has inspired you, chef Damien at Piper Street Food Company lets you take it one step further. At PSFC's cooking classes you could find yourself fermenting kimchi, curing charcuterie or tackling whatever the gourmet movement of the moment is; be it nose-to-tail, raw food or seasonal slow-cooking. Classes can book out weeks in advance so if you aren't pre-prepared, it's still worth popping into their produce store for a crusty fresh loaf or a customised picnic hamper (printed with a handy local area guide on the side). Or else see Damien's wife Bryanna for a cheeky tasting of pates, terrines, and rillettes.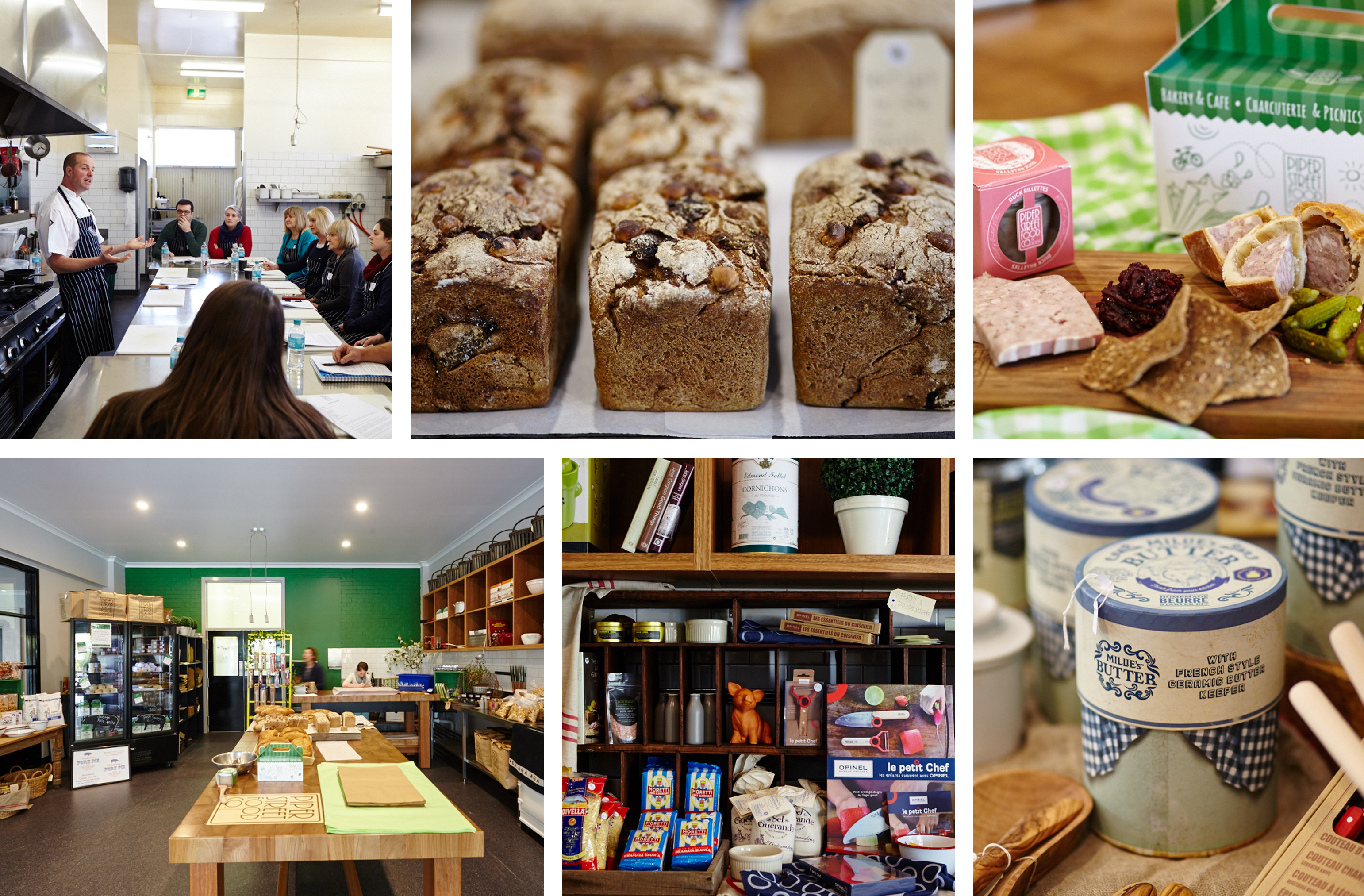 3. You Can Shop 'Til You Drop
It seems sleepy from the outside but looks can be deceiving. Piper Street has got the goods to make our wallets quake. Mulch Living drew us in as a rare non-urban outlet in which to find an Aesop fix. We stayed for their covetable selection of candles, vases and cushions. Then there's No Town, which will have Melbourne's men suitably out-fitted in no time. Their range of menswear and accessories is housed in an environment of pinball machines, vintage toys and other manly paraphernalia. It's also handily located right next door to Stockroom, which is an approachably casual art and design gallery. The best part is that just about everything is buy-able! From neon flamingo lamps to Phil Elson's gleaming crockery (so. much. want) to Stefan Gevers' watercolours just begging to make your walls at home pop, it's hard to leave without snapping a little something up. There are interesting exhibitions on here across several display spaces all the time too. Down the road, Kabinett is like an antiques store sans the usual stuffiness. Go here for industrial vintage furniture and unexpected, shiny treasures. And do pop into Cavaletti to find Japanese trinkets, indy publications and crafty knits too. May your home and closet soon be as full as your belly.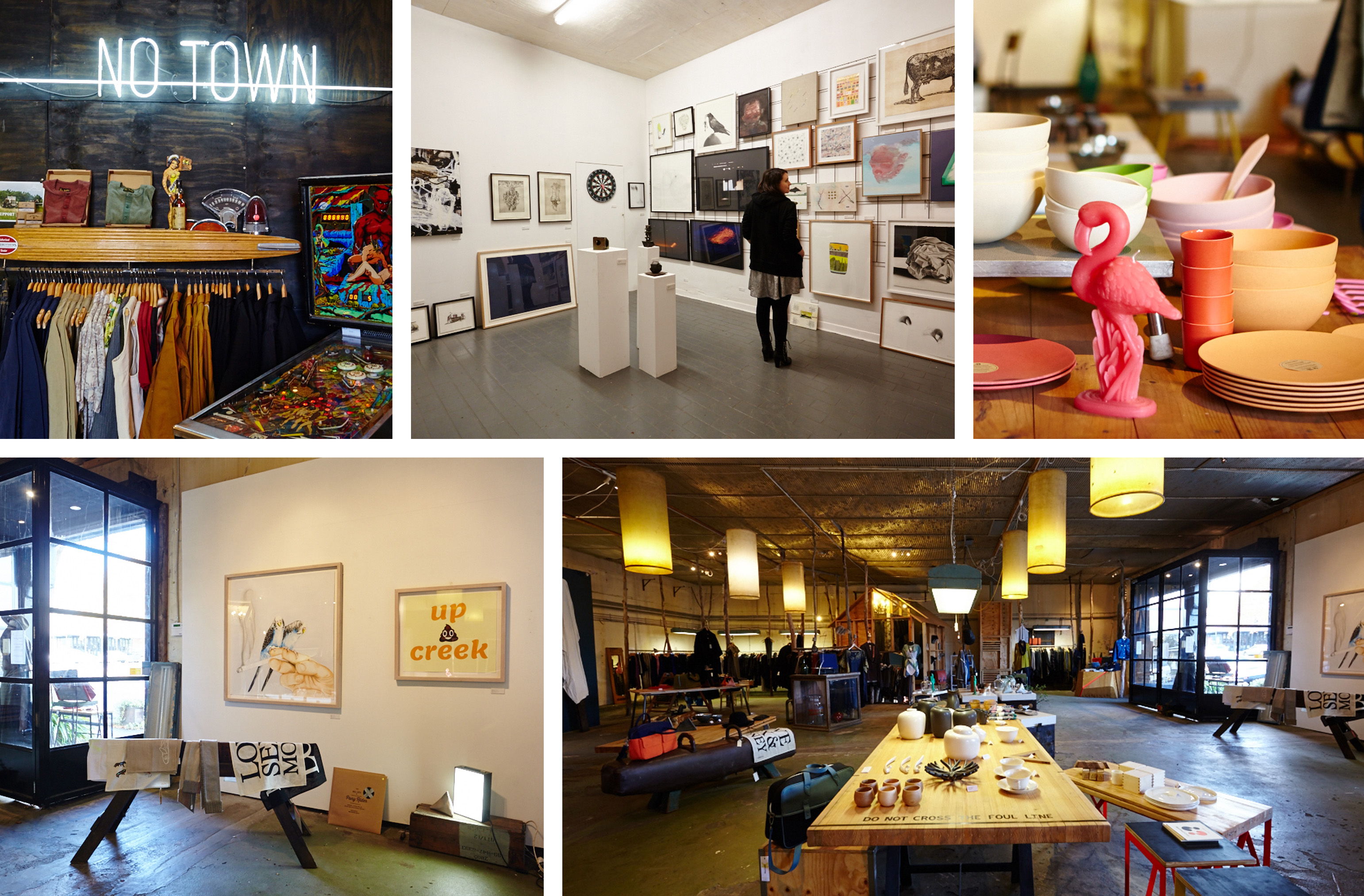 4. You Can Go On A Novel Adventure
Here's where Piper Street Food Company and Duck Duck Goose & Larder's produce stores comes in extra handy! Stock up on tasty supplies and then head out to picnic at Hanging Rock just like the mysterious Joan Lindsey book/Peter Weir movie. Well, not quite. You're more likely to spot a sleepy, eucalyptus-drunk koala than go missing while trekking up to the top of the rock. But if you really don't want to risk it (read: are feeling super lazy) opt for a trip to Hanging Rock Winery instead. You can watch the cows wandering the picturesque vineyard while you sip sparkling rose and pat as many winery dogs as you can find. Once you start you'll probably want to make it a mini-wine crawl. Luckily, Cloud 9 Farm is right nearby—drop by their cellar door for sprawling views, triple velvet cheese, and a bottle of Shiraz.
5. Fine Dining Ain't Forgotten
If you're as gluttonous as we are, your appetite's probably revived after all that retail therapy and/or adventuring. Booking a table at Source Dining is a no-brainer when you're in the neighbourhood: it's the kind of place that clearly knows what it's doing and relies on access to local, seasonal produce. The only hard part is deciding whether or not to skip the entree (don't: goat cheese soufflé please) to save room for two desserts because you can't decide between their pretty-in-pink fromage frais cheesecake or the Jaffa-esque delice cake.
You should also clear time in your schedule to visit a little slice of Rome in La Bonta. This Italian joint serves up exceptional gnocchi and Moreton Bay Bug risotto. We'd happily occupy their leather armchairs for a chat with chef Tim over many amaros or spritzes anytime. Protip: if you linger at Little Swallow long enough at lunchtime, you can simply move on over to the so Frenchy, so chic Midnight Starling bistro next door for steak tartare and comforting potato gratin when the clock strikes wine o'clock!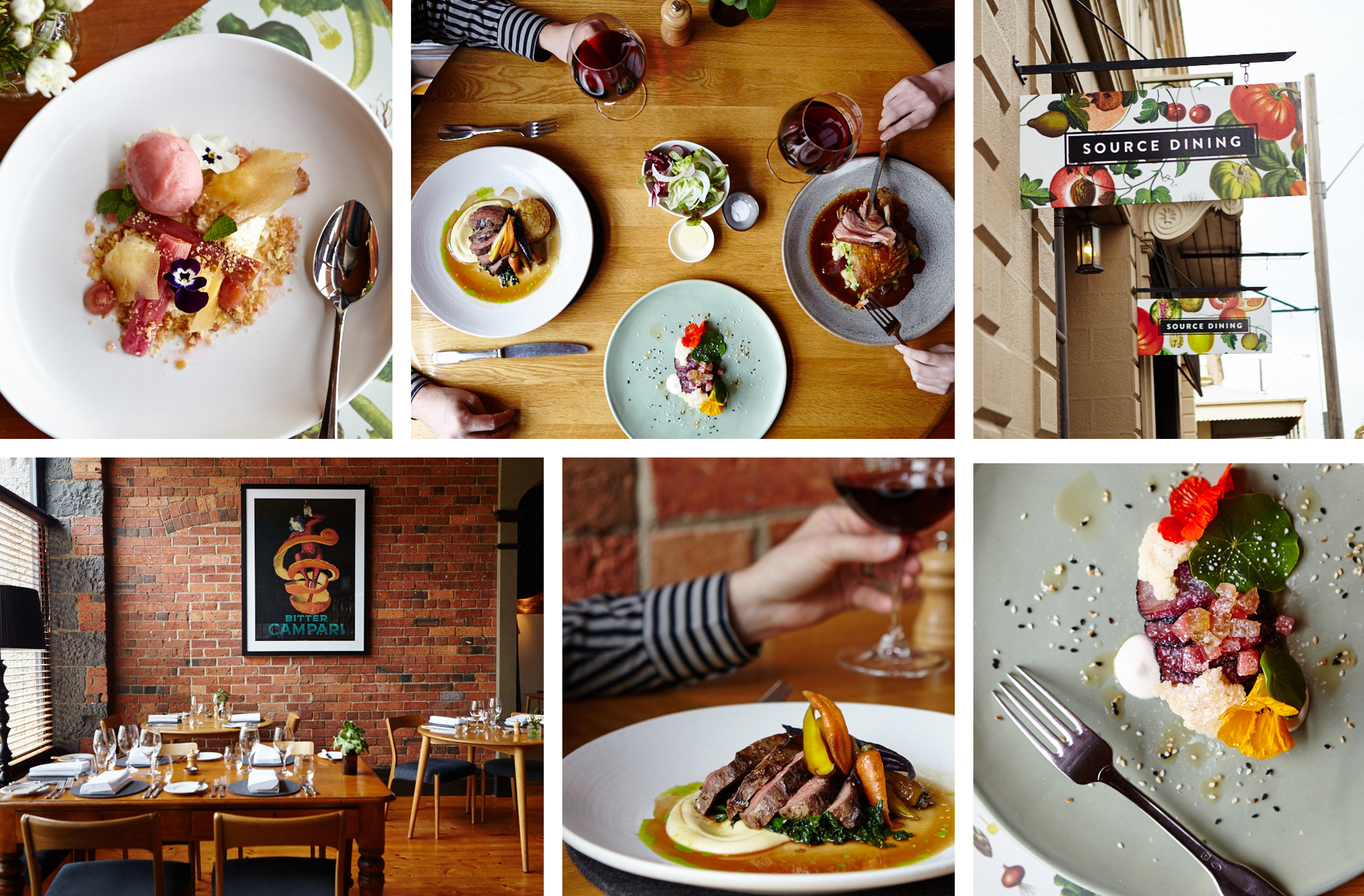 6. Even Bedtime Becomes A Boutique Experience
Circa 1860 and Piper and Powlett both caught our eye for their country-luxe accommodation offering. But our tip is Mollison's. Bathed in white, the boutique hotel is set within an old bank building. Depending on the room you choose you'll enjoy a secluded deck or a huge private balcony overlooking the main street (hello, evening cocktails). With designer furnishings and a central locale Mollison's is pretty sweet spot in which to lay down after a serious day of shopping, strolling, quaffing and scoffing.
7. They Do Paleo Pretty Damn Well
If you feel like getting out of town take a short drive (or meandering bike) over to Malmsbury. Here you'll find Moto Bean Coffee Roasters: a shrine to pour-overs and motorbikes. It's bit of a must-do pit-stop for civilised rev-heads. We dig their acclaimed corn fritters and their "Paleo Rider" (get it?) breakky. Did we mention it smells amazing in here?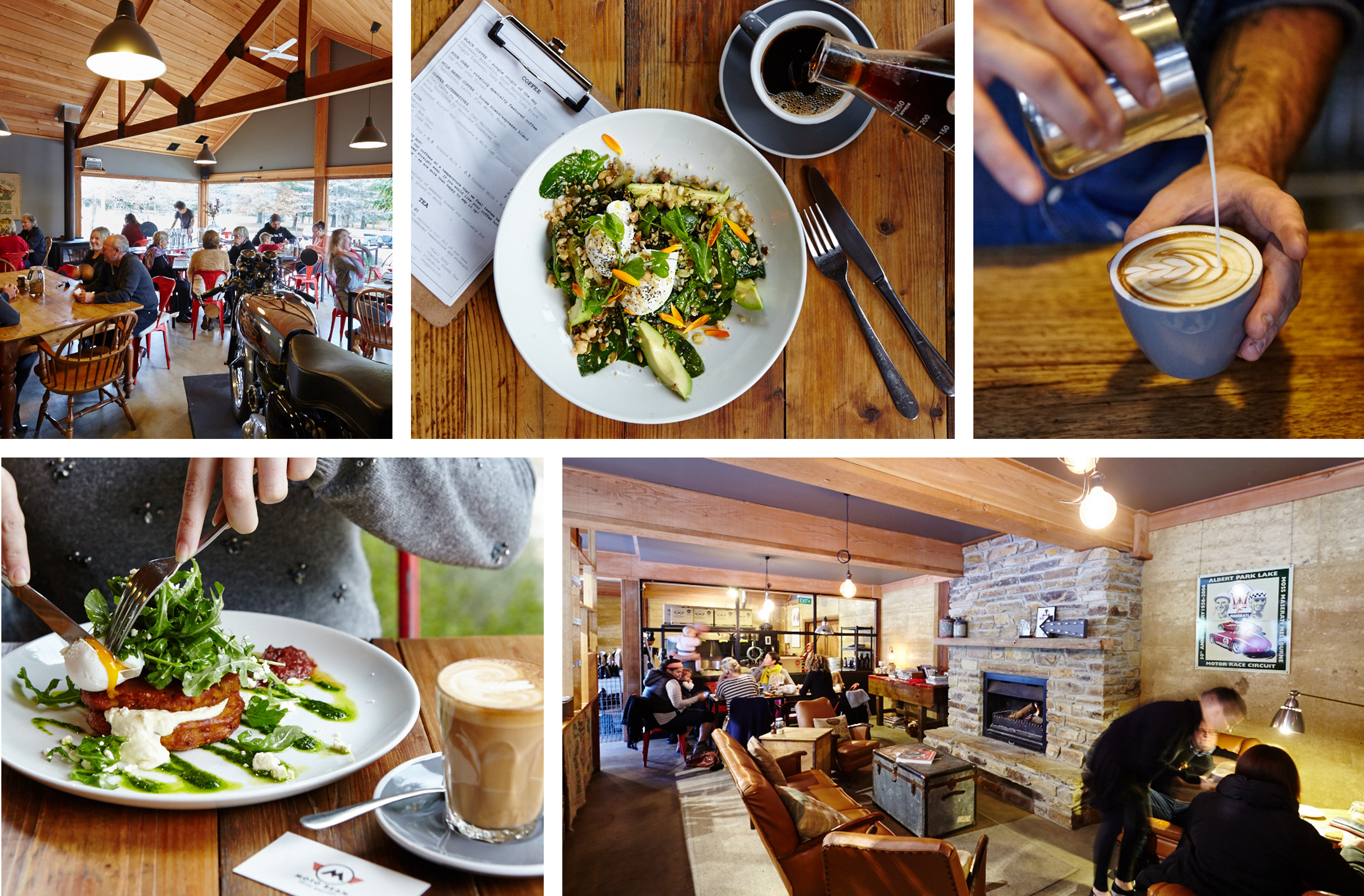 Melbourne's an incredible city, but sometimes we all need to get out of town for a weekend. The Urban List has partnered with Visit Victoria to bring you our Get Out Of Town! series — the ultimate guide to Victoria's regional gems. For more ideas about where to wander in Kyneton, click here.
Thank you for supporting the sponsors who make The Urban List possible. Click here for more information on our editorial policy.
Image credit: Michelle Jarni for The Urban List