London always gets a bad rap for its weather. And, yeah, winter is mostly miserable. Autumn and spring can even be just as bad. But summer is when London comes alive. It hits 20 degrees and all the locals flock to nearby parks and rooftops. The shirts come off (revealing everyone's pasty white skin which will inevitably turn lobster red within minutes), everyone's drinking an Aperol spritz and the festival vibes take over.
To best take advantage of this time of year, when the Londoners come out of hibernation, we've created a list of our favourite rooftop bars and restaurants for you to climb up to. You'll get insane cityscape views while dancing 'til late above the bustling city. Kodak moment? Check.
Frank's Cafe
Peckham
This rooftop bar is located on top of a massive concrete car park that has been transformed by a community of artists. It's just about as cool hipster as it comes. The creative community also runs the events schedule, so you're bound to run into something cool every time you get up there. Expect to get boozy while taking part in interactive exhibitions, watching some live gigs and Instagramming all the epic panoramic city views. And don't miss out on seeing the sunset from up here; with a glass of bubbles in hand of course.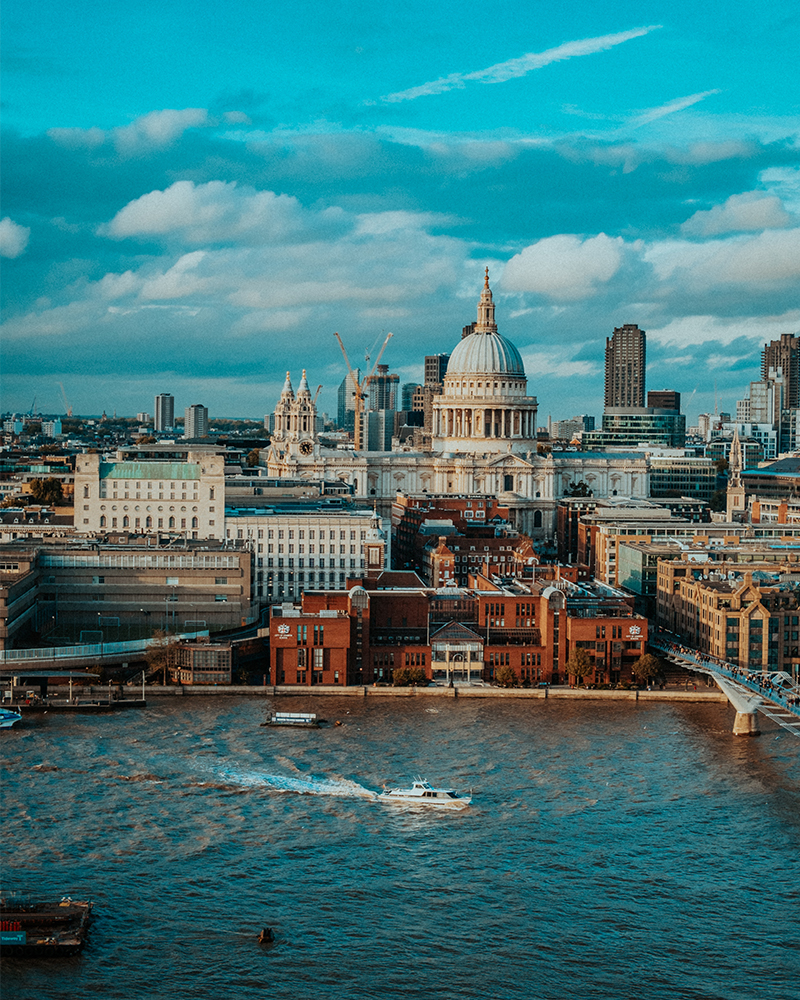 Image credit: Brunel Johnson
Netil 360
Hackney
An East London favourite. Netil 360 is where you go when you want to enjoy the sun but aren't in the mood for sitting in the nearby London Fields park. Up here, you can smash through massive jugs of Pimms while collapsing into one of their many bean bags or lush leather couches. During the day, this spot is super chilled and is mostly full of people working in the sun. And at night, the DJ's come out and the summer parties take over. Just brace yourselves for the sweaty walk up all the stairs. Some days we do wish they had an elevator.
The Faltering Fullback
Finsbury Park
You can spend an entire summer day and night at this cool old pub. Climb upstairs to their jungle rooftop garden which is covered in ferns, vines and all sorts of colourful plants. It's North London's very own Garden of Eden, just with a lot more beer and cider and slightly sticky floors. And once the sun goes down; head inside for live music, billiards, proper pub food and a little boogie. This quirky, laid-back spot in North London has a bit of everything.
Queen Elizabeth Roof Garden Bar and Cafe
Southbank
This rooftop park is one of London'sbest-keptt secrets. Smack bang in the centre of London, you'll find the Southbank Centre's outdoor space covered in wild flowers, fruit trees and community gardens that are taken care of by local minority groups. Read a book on the lawns during the day and have a few drinks here with mates before the night takes you onto a show on the Westend or a proper night out in the big city.
Dalston Rooftop Park
Dalston
Dalston is known for its nightlife and ultra-hipster vibes. So, it's no surprise that their most popular rooftop is the must-be place for summer. Dalston Roof Park has hosted DJs such as Rudimental, Jessie Ware, Johnny Flynn, Basement Jaxx, and Disclosure; and the list just goes on. But tickets to their epic summertime parties sell out fast so make sure you book well in advance. It's worth regularly checking their events page.
Madison
St Pauls
This elegant rooftop bar is where you go when you want to really treat yourself in London. Dress up in your best frock you brought along with you on your trip and rub shoulders with a classier crowd. The tapas are great and so are the slightly overpriced cocktails. But people come to Madison for the views. It's located right by St Paul's Cathedral which is lit up at night. It is a stunner, and it's pretty damn romantic too. You'll certainly be impressing anyone you bring here; just make sure you dress for the occasion or they won't let you in.
Pergola
Paddington
Opening in the summer of 2017, Pergola was an immediate success. The enormous space can seat 850 diners and has seven daybeds, five pop-up restaurants and two bars. It's huge. During the weekdays the space is crawling with business folk, but weekends are perfect for a proper sesh. They've even got a retractable roof for those typical London days when it just decides to rain out of nowhere. Basically, nothing stops the party at Pergola.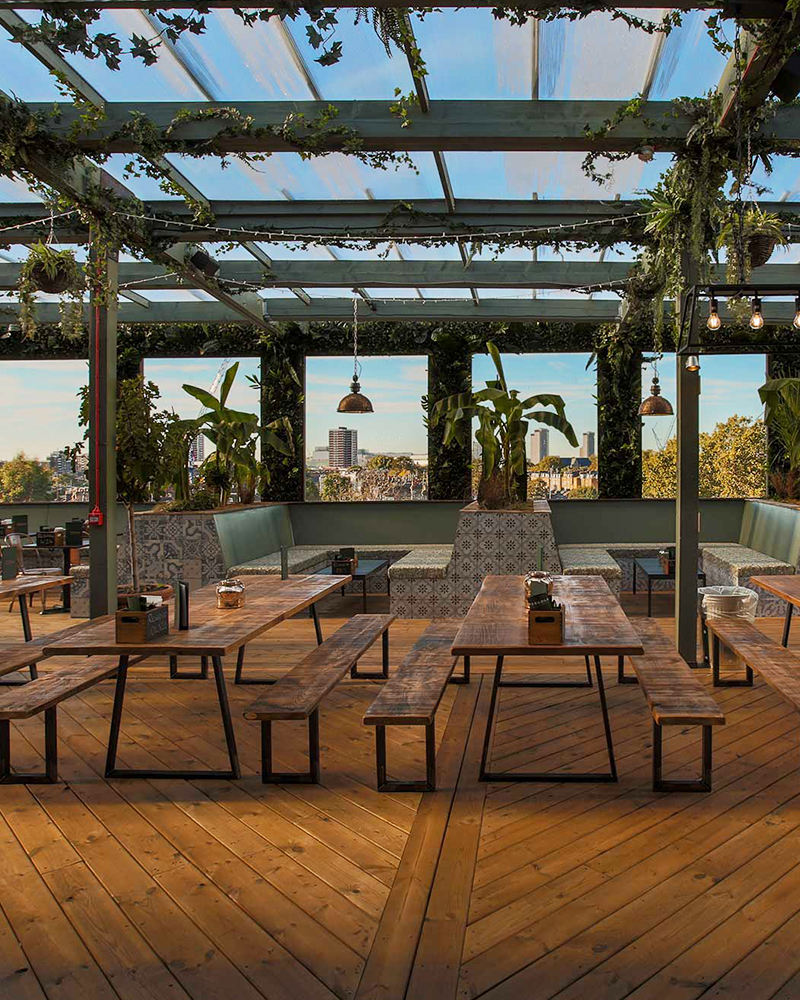 Image credit: Pergola
The Culpeper
Spitalfields
The Culpeper is a fine dining restaurant which grows most of its own vegetables and herbs on its rooftop terrace. Your food can't get more locally sourced than that. They even infuse their seasonal cocktails with produce they've grown themselves. They have very few seats on their garden rooftop, making it prime real estate in London (everyone wants a table here) so make sure you ask for the upstairs seating when you make a booking. Then you can spend as much time as you like eating your way through their brilliant menu. It's the perfect date night spot.
Dinerama
Shoreditch
This rooftop is for all the foodies out there. Street Feast have gathered together London's best street food traders and put them all together in Shoreditch. Grab Venezuelan arepas, Caribbean jerked chicken, Korean buns and dumplings and all the cocktails your heart desires. Here is where you forget about your diet and your budget and just consume as much delicious stuff as you possibly can. But, if you're not in the area, you can also try hitting up some of Street Feast's other venues; Hawker House, Giant Robot and Public.
Queen of Hoxton
Shoreditch
Every year, the Queen of Hoxton bar and club transforms its rooftop bar for the summer. Right now the theme is Moulin Rouge. They've got a windmill, firepit to cook marshmallows on, red velvet tents and loads of twinkly lights. It's all brilliantly quirky and over the top. Here, they'll host their annual summer parties, rooftop cinema nights as well as some new sustainable living workshops for those who want to live a little greener. Definitely check out the rooftop jungle this summer.
Headed to London solo? Here's our boredom-proof guide to going it alone.
Image credit: Clifford Yeo