Running from Northcote to Thornbury, there are plenty of gems studded along the length of High Street. Whether you're after a good feed in the morning, or unwinding with a pint in the evening, the northside strip has it all.
Lowlands cafe, with its salvaged wood backdrop and rustic gas lamps hanging from a ladder suspended from the ceiling, has an instantly homey feel. Serving up exotic single origin espressos, like a La Begona from El Salvador, or tempting home blends whipped up by Small Batch, you can plump for a dazzling array of options from French press to siphon, pour-over or aeropress.
There's an enticing selection of speciality teas too, including a smoky and earthy Burma Oolong, or a Sencha Green cultivated right here in Victoria in the Japanese style. The highlight of a compact menu is the devilishly tasty poached eggs with honey-glazed pancetta, served on a toast-topping spicy slaw with sweetly popping cherry tomatoes. It delivers a wicked combination of salty, tangy and tart. There's a cracking courtyard out back, too.
Just over the road, Little Henri is another fantastic spot for lazy mornings that blur slowly into lunch, blending into dinner. With its big, black-framed windows offering perfect street-theatre views and a jumble of desk lamps shining on the patchwork walls, it's a cool spot to tuck into dishes like zucchini fritters with house smoked salmon, or baked beans served with haloumi and gremolata. From December, Sunday courtyard BBQs will feature live music from the likes of The Stillsons.
Cafe-wise, you're spoiled for choice in Thornbury, with the cutely named Short Round another top choice. House made waffles with lemon curd and fresh ricotta lead into temptation, and there's a quirky twist on the ploughman's called the labourer's lunch, with pork, veal and pistachio terrine, roasted shallots, cornichons and Denhay farmhouse cheddar, served up with chunks of bread.



Image Credit: Lowlands Espresso Facebook

Umberto Espresso Bar is another all-day affair, with brekkie at the weekends and lunch cruising into dinner Wednesday through Sunday. The eensy wood-panelled space offers hearty nonna-style fare, favouring pasta dishes and Genovese espresso, and there are foosball tables that go off. If you want to stick with the Italian theme, Il Pizzaiolo dishes up share-happy, wood-fired pizzas from the more traditional margherita to a daring diavola with spicy pork sausages, rosemary potato, roast peppers, rocket and parmigiano.
If you prefer pub grub, The Thornbury Local offers exactly what the name suggests, with a welcoming crowd of neighbourhood kids who lap up the legendary Midweek Beats DJ sets and live music that ranges from electro to folk rock, and hip hop to all-out pop. There's a dining room upstairs, too.
If you're on a health kick, check out Terra Madre with heaps of organic produce that's surprisingly affordable, and you can grab a massage or a reiki session as well.
Small Dreams is the ideal haunt if hunting for presents for your nieces or nephews. Chock full of wooden toys and stuffed teddies, you'll de awwwwing roughly every five seconds. Grandfather's Axe is a vintage hunter's dream with a plethora of retro armchairs, perfect for enjoying a good rea, and old school framed posters festooned on the walls.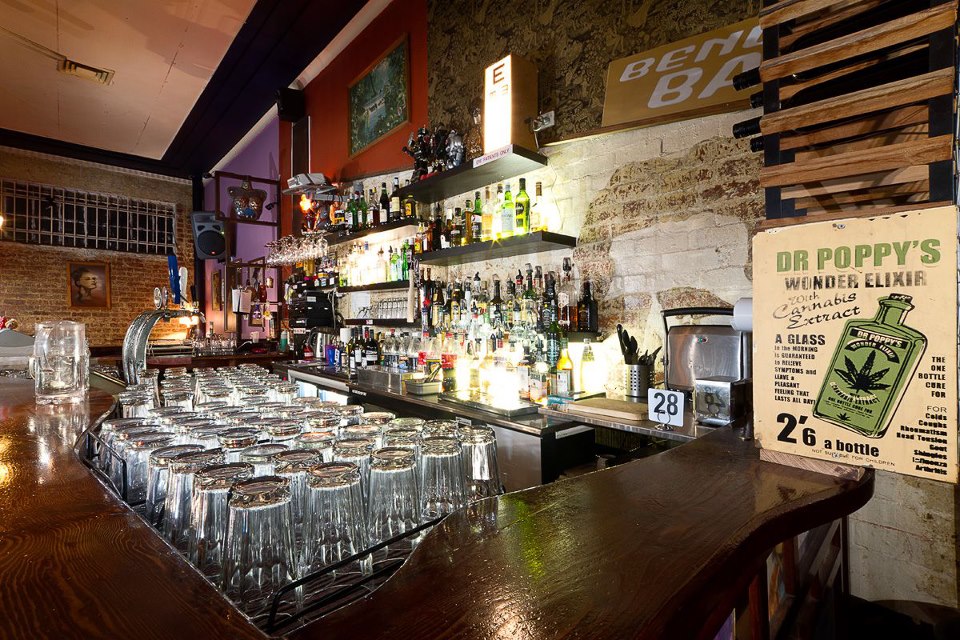 Image Credit: Thornbury Local Facebook

The grand ballroom of The Thornbury Theatre with its vast, arched and ornate ceiling, is one of Melbourne's most awe-inspiring gig venues, and has played host to the likes of local heroes including Jordie Lane, Dan Sultan and Gossling, as well as the assembled literratti of Marieke Hardy and Michaela McGuire's Women of Letters events.

Proper musos won't want to miss out on an extended rummage through the bulging buckets of Thornbury Records, with heaps of quality vinyl up for grabs as well as turntables, t-shirts, mags and good old fashioned DIY zines. And if salivating over your favourite bands works up a thirst, Kitty Somerset cocktail bar is a short stroll away.
Head away from the strip along Mansfield Street and you'll uncover a world of cutesy cool in The Kitschen Pantry, a former milk bar turned cafe cum deli with shelves laden with yummy produce that would make for fine gifts or greedy goodies for yourself. Many dishes on the menu use locally grown ingredients, so you can munch away without worrying about your food miles.
Main Image Credit: Eva Kolenko