My foodie friends, take note – there's a new food trend hitting Melbourne town! While South American restaurants have been popping up left, right and centre, Peruvian cuisine has only recently exploded onto the global culinary scene and, after gathering a swag of awards at some of the world's top restaurants, has finally migrated its way to Melbourne's discerning palate. Get. Excited.
From empanadas to ceviche and the obligatory pisco sours to wash it all down, there's a whole new culinary world out there, just waiting to be explored. And, no, before you ask, there isn't any guinea pig on Melbourne's Peruvian menu. But there is alpaca. Yes, really.
So, without further ado, here are some top South American restaurants dishing up the best Peruvian food in Melbourne. Go forth and conquer, Listers!
Piqueos | Carlton North
The star attraction on leafy Rathdowne Street, Piqueos is a modern Peruvian-Argentinean restaurant that serves up some of the best darned South American food in Melbourne. The restaurant is sleek to say the least, with copper-topped tables, exposed brick walls and a menu of tasty Peruvian-Argentinian fare. Park yourself on a stool and start the evening with a pisco sour and a fat beef, olive and egg empanada.
Piqueos also knows a thing or two about cebiche – their pink snapper, red onion, aji rocoto, sweet potato and lime number earning points for flavour and heat (so good, we've deemed it one of the best in Melbourne!). Carnivores, you won't be disappointed, either – Piqueos' parrilla, a traditional Argentinian grill, churns out everything from Peruvian-spiced baby chicken to a traditional char-grilled beef heart, plus an impossibly tender 48-hour-slow-cooked beef short rib. Drool. If you've still got room for something sweet (who are we kidding, of course you do!), go for the Suspiro Limeño, a traditional Peruvian dessert of dulce de leche, glossy Italian meringue and plum pisco liqueur. Piqueos is an absolute must-go for Peruvian food in Melbourne, folks!
Pastuso | Melbourne CBD
A new grill, cevicheria and pisco bar, Pastuso is the place to go for delicious Peruvian food in Melbourne's CBD. Leading Pastuso's kitchen is renowned Peruvian chef Alejandro Sarvia, who joined the folk from piping hot South American restaurant, San Telmo, to open up the Peruvian sister venue a couple of months ago.
Inspired by the geography of Sarvia's home country, the menu is divided into three regions: the coast (the cevicheria), the Andes (the parrilla) and the Amazon Jungle (the pisco bar). So, what delectable Peruvian food can you expect at Pastuso? Think thinly sliced swordfish loin with cucumber, aji amarillo sauce and rocoto jelly, moreish pulled brisket potato croquettes, and slow-cooked pork belly with a pickled daikon salsa. Stop. It!
Pastuso's clindro peruano, a Peruvian smoking chamber, churns out slow-cooked lamb leg and pork shoulder, while the charcoal grill covers everything from barramundi to alpaca shoulder. Yep, alpaca shoulder. Now you can't get more authentic than that.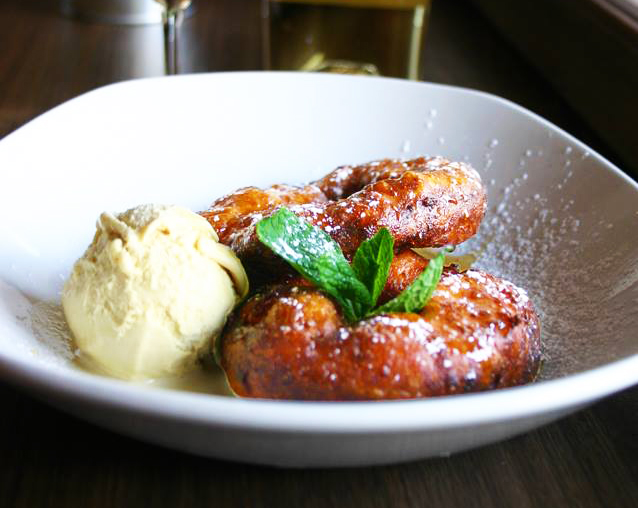 Image credit: Fire Station Cucina Bar Facebook.
Fire Station Cucina Bar | Ivanhoe
New restaurant alert, Listers! Opened just this month on Upper Heidelberg Road, Fire Station Cucina Bar is an Italian-Peruvian affair, offering pastas and risottos alongside tasty Peruvian-inspired fare. Trust us, it's a match that works. While their Italian offerings are undoubtedly delicious, we suggest you forgo the pasta and head down to South American, with a menu of pan-fried scallops served with aji amarillo-spiced cream sauce, fat empanadas, cassava croquettes and picarones. They've got an impressive selection of Argentinian, Italian and local drops to explore, or you can bring in your favourite bottle on Cellar Nights, running Monday through Thursday.
Nobu | Southbank
'But Nobu's Japanese!', you cry? It sure is, but we betcha didn't know they also serve some of the best South American food in Melbourne. Nobu Matsuhisa, after training in Japan, travelled south of the equator to open a sushi bar in Peru. Every Thursday, Melbourne's Nobu pays homage to the maestro's early years with 'A Taste of Peru'. Melding South American flavours with Japanese techniques, the tapas-style menu features tiraditos, croquettas, ceviche and oh-so-much more. Nobu's Peruvian-inspired cocktail list is definitely worth a gander, too, offering everything from traditional pisco sours to the La Rosa Valha cockail, a sexy blend of Brazilian Sagatiba Velha Esplendida Cachaça and Peruvian Masco Plum Pisco Liqueur. You may not be able to pronounce the ingredients, but trust us, it all gets easier after a cocktail or two. Our hot tip? Go for the Peruvian cocktail flight, a tasting selection of three of Nobu's most experimental cocktails.
Mi Peru D'Carmen | Parkdale
This Parkdale Peruvian restaurant is a favourite of South American expats and, after tasting the menu, it's pretty darn easy to see why. The folk at Mi Peru D'Carmen don't fuss about, serving up a variety of authentic, home-style Peruvian dishes and a slew of tasty stews, such as aji de gallina, seco con frijoles and carapulcra. Our pick? The aji de gallina, chicken cooked in a thick sauce made from roasted yellow chillies, garlic and walnuts, piled high atop white rice and potatoes. It's Peruvian food that'll warm the soul. After something sweet? We've got a particularly soft (and doughy) spot for Mi Peru D'Carmen's picarones, pumpkin and sweet potato doughnuts paired with syrup, brown sugar and figs. Those on the hunt for authentic Peruvian food in Melbourne needn't look further than this Parkdale gem!
Can't get enough of Melbourne's South American restaurants? Then check out our guide to Melbourne's best ceviche.
Main image credit: Piqueos.