Here comes the sun, Listers! Yes it's been a wet n' wild week, but our good friend Mr Shiny is back out in all his glory this weekend! So what to do, what to do? With great weather comes great responsibility… to have a ripper time! If you're looking for all the hottest (or coolest) things to do in Melbourne this weekend, read on!

Thursday 15th

We don't know about you, but we're kind of big musical fans here at The Urban List. We're also big fans of cool and dark air-conditioned theatres when the summer heat starts to get to us. Into the Woods has been released in cinemas nationally and it's safe to say we're pretty excited about this culmination of various famous fairy tales in musical form (Jack and the Beanstalk, Cinderella, Little Red Riding Hood and Rapunzel). Into the Woods features an all-star cast including Meryl Streep, Emily Blunt, Anna Kendrick, Chris Pine and Johnny Depp plus a lot of pretty catchy songs which you'll be humming along to well after the credits have rolled. So, what are you waiting for? Pick up a bucket of popcorn, switch your phone to silent and check out of reality for 124 minutes with Into the Woods, based on the Tony Award®-Winning Musical.
Into the Woods will be screening at most cinemas nationally. Check your local cinema for session times.
Rated PG | ©Disney 2014 | #IntoTheWoods

Spread over six nights, Bennetts Lane Jazz Club in the CBD will host a series of Summer Sessions as part of the Melbourne International Jazz Festival. Tonight is the first of the Yamaha Piano Series, featuring Tal Cohen. We're looking forward to chilling out to some smooth jazz this summer.

Yamaha Piano Series: Tal Cohen, Melbourne International Jazz Festival Summer Sessions
Bennetts Lane Jazz Club in Melbourne | $20 (Full) $15 (Concession) | 8pm

Friday 16th

Head to the coolest place to spend the hot summer, Club Aperol at Fatto! One of our favourite Melbourne bar and restaurant combos, Fatto Bar & Cantina has transformed its gorgeous river terrace into a stylish Italian country club, complete with table tennis and Aperol Spritz specials. Head to Club Aperol to get into the Australian Open spirit from 4pm until late, Wednesdays through to Sundays until the 31st of January.
From today, they've replaced bocce with table tennis, and have a heap of tennis-chic outfits, props and accessories for guests to use in an epic Instagram pic. Shimmy to live DJs and nibble on delicious Italian-inspired fare, while celebrating the Grand Slam and saying goodbye to the sun with a sunset in your glass.
Club Aperol | Fatto Bar & Cantina in Melbourne
Wednesdays through to Sundays until January 31st | 4pm - 11pm

Boxing day has come and gone, and we know you're already itching for another sale. Well lucky for you, LIFEwithBIRD will be hosting an online flash sale across three days! With sale prices also in store at the Fitzroy Outlet, thrifty buyers are spoilt for choice. With up to 80% off, you'd be cuckoo to miss this one, Listers!

LIFEwithBIRD Online Flash Sale | LIFEwithBIRD Store Online and in Fitzroy
10am 16th January - 5pm 18th January

Summer welcomes the Royal Croquet Club to Birrarung Marr, for all your balmy festival needs. With a range of our favourite food vendors such as Mr Claws, Meatmother, D.O.C, and Gelato Messina, you can also while away the hours at themed bars, enjoy roving entertainment, or even try your hand at a spot of croquet!
Royal Croquet Club | Birrarung Marr in Melbourne | 16th January - 1st February

If the question is to book, or not to book, we'll always say book! Especially when promised a night of fun-filled entertainment at the Australian Shakespeare Company's production of As You Like It! With great songs and theatre on offer, in the beautiful surrounds of the Royal Botanic Gardens, make sure you do book, and don't miss out on one of the most cultured things to do in Melbourne this summer!

As You Like It by the Australian Shakespeare Company
Southern Cross Lawn, Royal Botanic Gardens in Melbourne
Until 14th March (dates, prices and times vary)

Saturday 17th

Relish a Riesling, or would you rather a Rosé? At the Rosé Revolution and Summer of Riesling Tasting, you don't have to choose! One of our favourite Melbourne restaurants, The Botanical in South Yarra is hosting a free tasting event, featuring more than 30 different Rosés and Rieslings from around the world. Bar snacks are available as well as beer (to cleanse the palate right!?).

Rosé Revolution & Summer of Riesling Tasting | The Botanical in South Yarra
Free, but RSVP required | 2:00pm - 5:00pm

Wondering what's on in Melbourne for thrill seekers this weekend? Slamming onto the St Kilda Foreshore, the SLAM Festival brings a beach volleyball tournament that's open to all skill levels. With inflatable courts, live DJs, awesome prizes, and a Corona Extra After Party on the St Kilda Reserve, don't miss this day of competitive fun! Don't play volleyball? That's ok too! Try your hand at a BONDS giant Twister, join the H2Cocos Coconut Toss or the Scissors, Paper, Rockstar Challenge Wheel. There's also a BBQ for players, so what are you waiting for? Register now!

SLAM Festival | St Kilda Foreshore in St Kilda
Registration starts at 9am, After party starts at 4pm | Register Online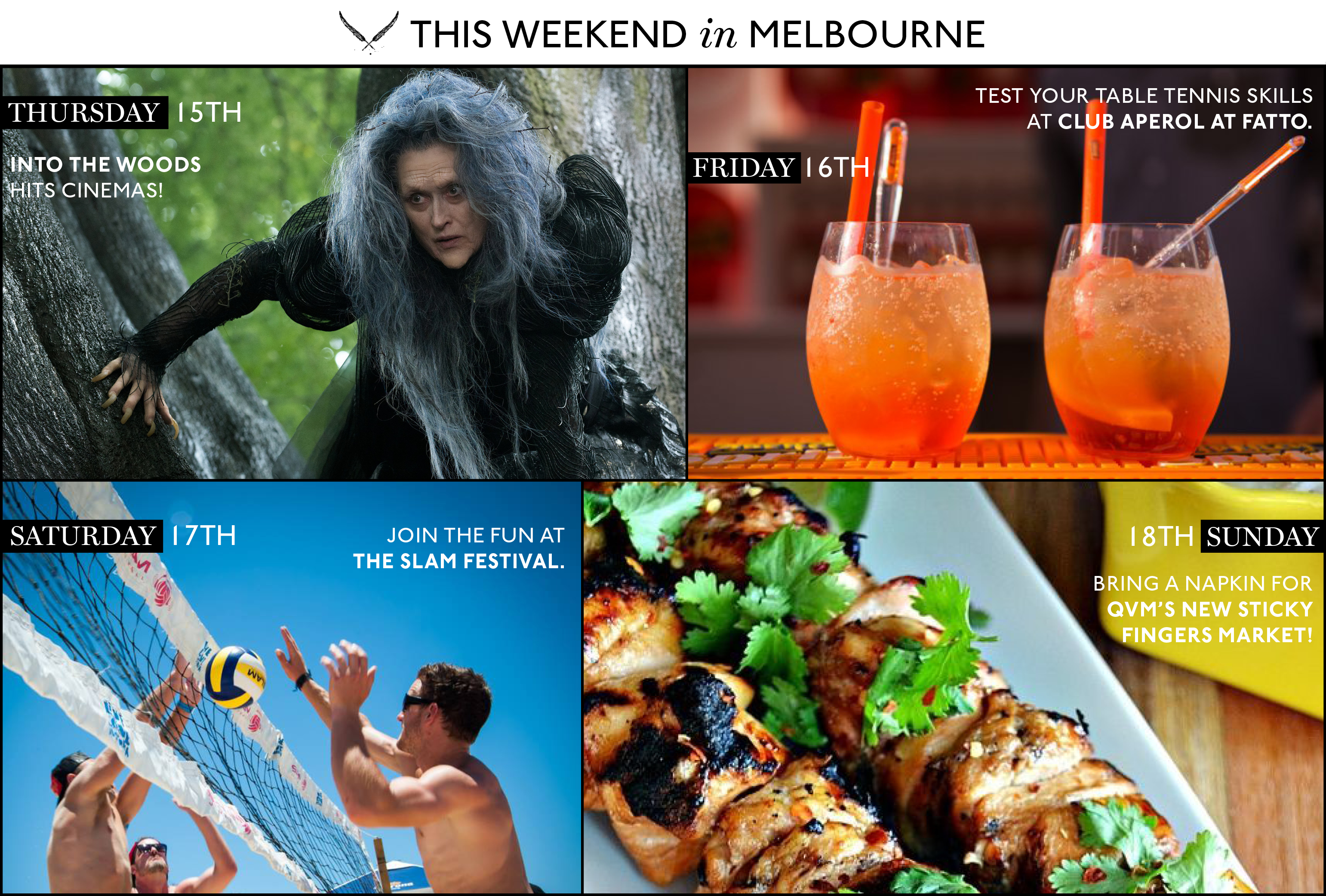 Sunday 18th

Today sees the kick off of the Redbubble Talks Series, with the topic of Branding. Running throughout January, this is part of a series of free educational workshops, seminars and events brought to you by Redbubble! Artists and art appreciators can learn from professional innovators and inspiring thinkers. Grab your insight into the creative industry with this great opportunity. Paid residency opportunities are available to artists in Melbourne, also.

Redbubble Talks Series | Redbubble in Melbourne | 3:30pm - 6:00pm

The Queen Vic Market is doing some exciting new things, and we're already licking our lips (fingers) in anticipation for the Sticky Fingers initiative! A new Sunday Market Food Festival, Sticky Fingers has asked the Queen Victoria Market's food vendors to think outside the box… and put it on a stick! Grab some easy to eat and creatively skewered foodie items, served up on a stick, tooth-pick or prong! There's also an onsite beer garden by Two Brothers Brewery, featuring some live music to set the summer vibes.

Sticky Fingers Sunday Market Food Festival | Queen Victoria Market in Melbourne
18th January - April 12th | 9am - 4pm

Running from today until February 8th, What a Drag is an exhibition celebrating Melbourne's rich Drag culture and history. Traversing through the 60s, 70s, 80s and 90s, this fascinating show has been produced and curated by Ricky Beirao—also known as Rhubarb Rouge. In conjunction with Midsumma Festival, this retrospective exhibition gives viewers an absorbing insight into Melbourne's world of Drag.

What a Drag Exhibition | Chapel Off Chapel in Prahran
18th January - 8th February | 10am - 5pm
Opening Night Tuesday 20th January, 6pm-8pm
Special Drag Showcase Friday 23rd January, 10pm

What's better than a Sunday session you ask? A SUMMER Sunday session. Better still? How about a summer… Sunday… sunset session? Boom. In the Royal Botanical Gardens? Double boom. Jardin Tan is playing host to an epic set of Sunday sessions this Jan, featuring Way of the Eagle—in DJ mode! Get excited for ice-cold drinks, artisan ice cream, scrumptious food, and live music all arvo. Bring it on!

Sunday Sunset Sessions with Way of the Eagle | Jardin Tan, Royal Botanical Gardens in Melbourne
Sundays in January | 2pm-7pm | Free Entry

And one not to miss next week

The Ideas Library are set to launch exciting new endeavour, The Creators Market. Showcasing the talent of local designers and artists, Malvern Town Hall is set to host this one-day event, not only sprucing fashion, designed goods and art, but also food, glorious food! There will also be family friendly activities, and hands-on workshops that you can register for online. Learn a new skill, gain some inspiration, or just shop till you drop!

The Creators Market | Malvern Town Hall in Malvern
Wednesday 21st January | 2pm - 9pm

As always, this weekend is chockers with awesome things to do in Melbourne. Best you get out and enjoy them before Australian Open fever sets in!

Main Image Credit: Food & Travel Magazine