As pretty as the whimsical pictures she paints, with a glamorous job as an illustrator for the likes of CHANEL, Net-a-Porter and Ladurée, there's a lot to envy about Aussie expat, Kerrie Hess. Oh yeah, did we also mention she lives in Paris?? Some girls... Luckily for us, Kerrie was kind enough to step away from the sketchpad and let us in on her path to success, favourite clients, and the things she misses most about Melbourne.
TUL: How did you come to work as a fashion illustrator? Was it a gradual progression or something that happened by chance?
Drawing and illustrating has been something that I always did as a child. I studied Graphic Design at university and started to illustrate on the side professionally during my first job as a designer in London while at The Independent. I decided to give full time illustration a chance at that time, and it's been 15 years since then.
I feel lucky every day to wake up and do something that I love. I'm not sure now what I would do if I wasn't illustrating!
TUL: What does your typical day look like?
I'm up early at around 6.30am, and if I can fit in a run at this time, I will. I then get my son ready for kindy, and start my day going through emails and social media over coffee at around 8.30am. I like to plan my day during this time, factoring any client catch ups. I am most productive in the morning, so try and finish my work day by 4.30 or 5pm.

I like to switch off then, spend time with Marcel and cook, which I find relaxing. I'll then fit in any work skypes scheduled as most of my clients are in Paris and this is the start of their day. I like to then take some time out to catch up with friends or just chill with a glass of wine and a good book. Then it starts again the next day!
TUL: Can you tell us about some of the clients you've worked with?
I have worked with Net-A-Porter, Vogue, CHANEL, and Kate Spade New York.
TUL: And what about current clients/projects?
Lately I have been working for Printemps Paris, Louis Vuitton, L'Oréal and Myer. There is also an exciting collaboration in the works with one of my favourite Melbourne chocolate brands, Cacao – to launch very soon!
I have also just returned from Paris where I opened my first solo exhibition in France at Le Meurice Hotel. It was the most amazing experience, as I also stayed for five days at the hotel. The opening party was just wonderful, and I found myself interviewed for both French and Chinese television shows!
TUL: Anything else exciting on the horizon that you can share?
There are some exciting things on the horizon with one of my favourite Paris brands, Ladurée, but I can't say what at this stage!
TUL: What have been some of the highlights of your career so far?
I think seeing my work up on LV.com was a thrill early last year. Also, seeing my billboards go up in Paris for Printemps was something I could have never imagined. Or illustrating the cover of Harper's Bazaar with Collette Dinnigan – that was amazing to see come to life. But I think my favourite part of my job now is my little online print shop as this little project is so personal, and sees my work in people's homes, which is a lovely thought.
TUL: What is it about fashion illustration that you love so much?
I just love the fluidity of it, especially now using only watercolour and brushes; I feel so much more connected with my work than I did over ten years ago when computers were largely used.
TUL: You've previously lived in Melbourne…what is it about the city that you love?
Yes, I lived for nine years in Melbourne, so it's a city very much in my heart. I love the European sensibility, the Edwardian terrace houses, the fashion and the fact that there is always a million things on in the city. I love the food market culture in Melbourne. And, of course, coffee. I moved to Paris directly from Melbourne and missed the coffee so much. I found out about a great cafe in Paris called Cafe Coutume, which was amazing and later heard that it's run by two guys from Melbourne. I miss the two areas that I lived in, too – St Kilda, and South Melbourne.
TUL: Summarise Melbourne in three words…
Style, coffee, culture.
TUL: What are your fave shopping spots in Melbourne? (And why?)
I like Bridport Street for boutique shopping and High St Armadale is lovely for a mix of fashion and antiques. I also love the couture finds at Madam Virtue & Co in the city. And the Take 2 Markets are great for vintage dresses.
TUL: Fave spot for a long lunch with friends?
I love Il Fornaio in St Kilda for breakfast, or Radio Mexico for lunch. Also love Kamel in Albert Park or Santiago in Middle Park for dinner.
TUL: Fave spot for a night of cocktails?
For a relaxed vibe I like Pelican on Fitzroy Street St Kilda, or Madame Brussels in the city.
TUL: Your fave meal in Melbourne?
I love the seafood at Claypots in St Kilda. Especially the chilli crabs! I have never found anything like this place anywhere else in the world.
TUL: What are five things you think a visitor to Melbourne needs to check out?
City laneways, sweets at Brunetti, ice cream/day at the beach in St Kilda, NGV, Chapel St Bazaar, coffee at St Ali or any of the hundreds of other amazing cafes in the city.
TUL: Best way to spend $50 in Melbourne?
Sharing the shellfish stir fry at Claypots.
TUL: Best way to spend $500 in Melbourne?
I would book a night at The Olsen and include dinner on Chapel Street.

TUL Note: Follow Kerrie Hess on Instagram @kerriehessillustration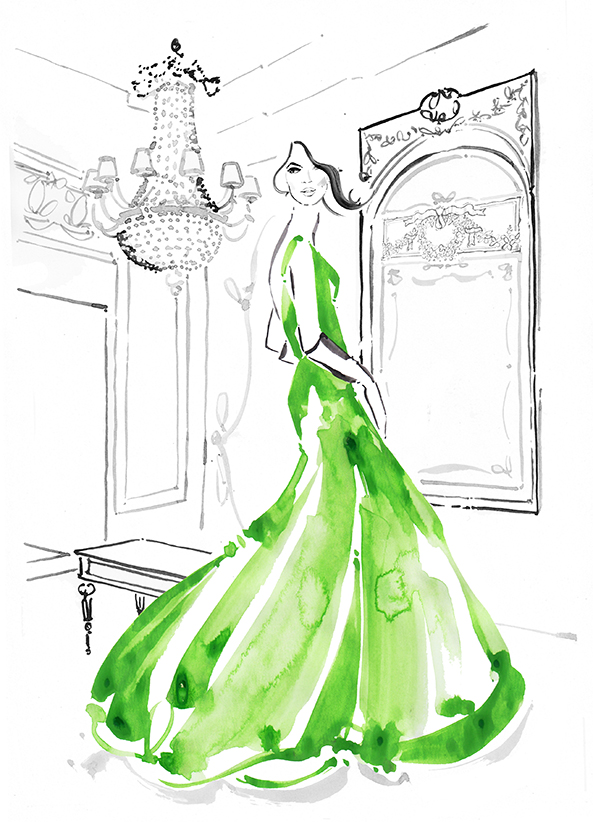 Main Image Credit: Kerrie Hess, photographed by Carla Coulson. All Illustrations: Kerrie Hess – Le Meurice Hotel.