Born from a love for all things relating to burgers, barbeque and Southern food, BurgerMary is the passion project of resident foodie, Jess Pryles. This girl knows BBQ and when we say that, we mean it – whilst always willing to learn new tips and tricks, Jess pretty much knows everything there is to know about how to cook the perfect pulled pork or beef brisket (mmmm brisket).
She's a busy girl too with regular trips to Austin, plus a slew of food events to run (you can thank Jess for the why-didn't-anyone-think-of-it-before Culinary Cinema and Trailer Park phenomenon, as well as the upcoming Trailer Trash on NYE). She's smart, she's funny and she's as obsessed with food as we are.
We take two minutes to chat with Jess about BurgerMary's beginnings and what's in store next, as well as all her fave places around Melbourne.
TUL: How did BurgerMary come about? What were you doing beforehand?
I had amassed a pretty substantial collection of food pics from my visits to Austin, Texas and I always loved writing. It was (corny as it sounds) a total natural progression to start a blog.
TUL: We're sure BurgerMary keeps you busy enough, but just in case it doesn't, is there anything else you get up to?
I like to keep several balls in the air at once because I'm a masochist like that. In addition to the blog, I put on several events every year (like the Super Bowl party I'll be announcing any day now!) and the Carnivores Ball, a meat lovers celebration which so far has been run in both Melbourne and Austin. So, life has imitated art, I guess. I'm a foodie in every sense.
TUL: What have been some of the highlights so far?
Running an event in two different countries was a pretty huge highlight for me. Getting to feed others the food that makes me happy, and seeing the look that comes across their face is totally where it's at.
TUL: What are some of the challenges you've come across?
Hmm, well, probably the challenge of the Pacific Ocean is the greatest barrier – that's a hell of a long flight! 16 hours to Dallas Fort Worth from Sydney, the longest continuous flight in the world. Melbourne is my home but Austin is my heart, so I have to keep going back.
TUL: What is it about Melbourne that you love?
Melbourne is one of the most creative, interesting and diverse cities out there. I seriously think we rival NYC or Berlin as a cultural capital.
TUL: What does your typical day look like?
Well, I spend a hell of a lot of time on the interwebs, and my iPhone is usually glued to my palm. I do like that being in hospitality (by association) means that you're not tied to traditional office hours. Other than that, my day probably isn't too different to most. Lots of laptop work, meetings, endlessly checking Twitter…you get the idea! Oh and there will absolutely be a dog walk in there somewhere.
TUL: What clients are you currently working with?
I don't list my social clients – when I run accounts for people I run them so the consumer believes they are run in-house, and I don't want to break that illusion.
TUL: Any news or developments that you can share with us?
Well, aside from Super Bowl, I've started planning the next Carnivores Ball for Melbourne. Changing up the concept a bit – it should be a big one. Oh! And I think I might have hooked myself up with an informal apprenticeship (well, at least work experience) at a butcher. I've been fascinated for a while now to learn more about the butchering process. I think as a "hardcore carnivore" it's a natural progression…
TUL: You're an expert when it comes to American BBQ and Southern food…tell us, why is it so good and so unique?
Great BBQ is a revelation. Southern food is comfort and history on a plate. Both these cuisines have so much soul, and are so influenced by the places they have evolved from. You're tasting a culture. But on a simple level, there's no real secret, they are just straight up delicious!
TUL: And what's the secret to a good BBQ?
Keep the rub simple, let the meat do the talking. Understand your temperatures, what it takes to get great bark, and how hot the meat needs to get for the fat to render. Never stop learning and striving to improve your methods. And good BBQ is always, ALWAYS, cooked using wood as the only heat source.
TUL: What's your fave café to take your laptop to and work from?
My go-to spot is Yellow Bird in Windsor. It's super laid back, and goes from a coffee/breakfast spot into a bar at night So, it's everything you need, really!
TUL: Fave spot for boozy 'business lunch' or night out with friends?
Recently I had a great boozy business lunch at The Smith…the service was impeccable! To be honest, most of my nights out are based around food rather than drink. I love getting a gang together and heading to Supper Inn. Although, I think Fitzroy is pretty decent for a fun night out…Naked in the Sky, The Kodiak Club, Black Pearl, The LuWOW, Rockwell and Sons… lots of great options.
TUL: Fave health & beauty spots?
Don't hate me. I have my hair cut twice a year (because I found a hairdresser I adore in Texas). I generally buy beauty stuff from Adore Beauty. They're an Aussie company with great service and shipping is free on anything you buy. Hard to pass that up!
TUL: Fave fitness studio / place to workout?
My gym is the local dog park.
TUL: Your latest Melbourne discovery?
Well, these aren't necessarily new spots, but they're newish to me! The Palace Hotel in South Melbourne for pooch friendly Sunday Sessions, David's in Prahran with their 'All You Can Eat' yum cha offering, and Wide Open Road in Brunswick for a classic Melbourne breakfast – their fit out is understated but gorgeous and the menu is really interesting.
TUL: An old, forgotten favourite you've recently discovered?
Get ready to laugh: Malvern Fish Supply on Glenferrie Road. Absolutely ripper old school fish and chips.
TUL: Best way to spend $50 in Melbourne?
A steak and a glass of wine at Bistro Thierry.
TUL: Best way to spend $500 in Melbourne?
From a foodie perspective, probably degustation for two at Vue De Monde – legendary chef and an incredible setting (55th floor of the Rialto). It's a real experience.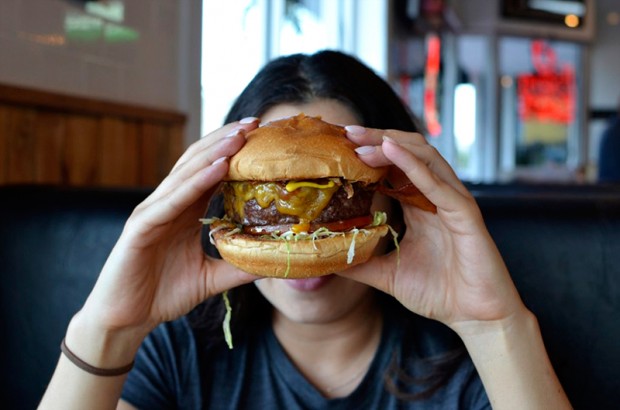 Image Credits: BurgerMary