We all know that living in Melbourne means adapting to four seasons in one day. We do crazy things like carry 'round umbrellas AND sunscreen "just in case" and almost always end up sweating by the afternoon when we left the house in our Kathmandu puffer. For the most part, we just smile and bear it—but there's nothing worse than being caught out in the wrong venue when the weather goes sour.
Because mother nature has no respect for how much a two-faced eyeshadow pallet costs (or that you just bought those suede boots), we've put together a list of venues where you can boogie down or tuck into a share plate, rain hail or shine.
The Penny Black
Brunswick
This place is an old post office turned epic musical kingdom. The Penny Black sports just about every kind of music you need, from bands inside to some smooth RnB tunes in their fully covered beer garden. They even have a purpose-built dance floor out there, so you can show off your best running man to maintain body heat. When hunger strikes, there's goodies like cheap AF pizzas and fried chicken up for grabs.
Emerald Peacock
CBD
If you're in the mood for some European 'o so chic' vibes, look no further than Emerald Peacock in the CBD. This spot is perfect for a girls' night out, or even treating your mum to a fancy lunch. The outdoor area here is so enclosed, and so fancy shmancy that you almost forget you're outside. Pro tip: lads, wear good shoes. No-one gets into the Peacock with sub-standard footwear. Fact.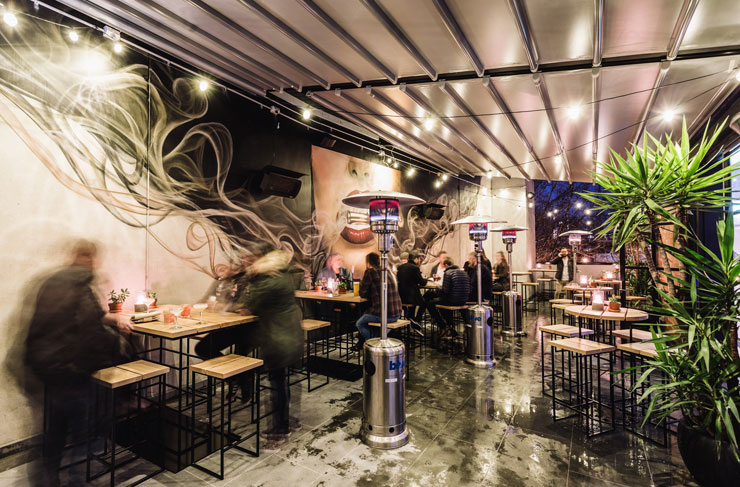 Photography: Griffin Simm
Fargo & Co
Richmond
If you haven't been to Fargo & Co yet, do you even Melbourne? This highly anticipated Richmond hot spot opened last year, and it's damn funky. With a cocktail list to-die-for and an awesome mural in the beer garden, there's plenty to love. They have a big ol' roof over part of their outdoor area, so you can tick this one off the list all year round.
Madame Brussels
CBD
When you walk in you're not sure whether you've stepped into the wizard of Oz or Paris, The cocktail jugs at Madame Brussels are worth braving any kind of weather for. Thankfully you don't have to—they've got a heated and covered area that still gives you rad views of the CBD. Keep an eye out for the lover's nooks inside too. Romance vibes out the ying yang.
Melbourne Public
Docklands
This gem is your go-to for a ton of awesome craft beers, a band playing all-time faves and room enough to fit half the MCG (probs, we haven't tested this). To give you the option of soaking up south wharf at night, the front section of Melbourne Public is basically a massive covered outdoor space (with a ton of those big ass heaters) to keep you toasty during the colder months.
Fitzroy Beer Garden
Fitzroy
Just like the name suggests…it's a beer garden in Fitzroy offering all of the fun things from trivia to bangerz and everything in between. Although it's on a rooftop, there's still a generously covered section filled with awesome décor and lights. This place packs up pretty fast on a good satdee night, so get down early to secure your weather friendly spot.
Howler
Brunswick
If you were looking for a perfect venue to sum up Melbourne without even saying a word—this'd be it. Howler is a massive shed/warehouse turned bar/art gallery, with enough greenery to make you think you're in the butterfly house at Melbourne Zoo. There's a ton of awesome drinks on offer, bike racks because #melbs and of course, it's ready for you to bust a move rain hail or shine.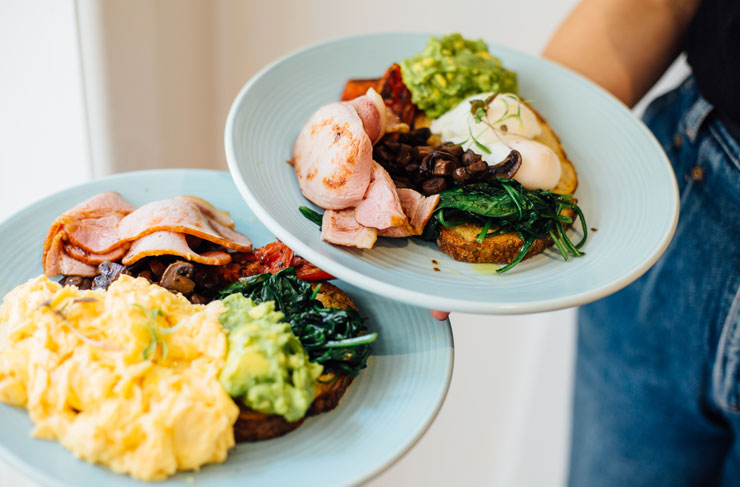 Photography: Annika Kafcaloudis
Fledgling Espresso
Carlton North
Carlton's new brunch bar is like the Narnia of breakfast. From the street, Fledging looks teensy, but walk inside and you'll see it extends back and back, all the way to an arbour-covered courtyard. If the weather's good, this is definitely the best seat in the house: perched outside in the dappled sunlight, latte in one hand and slow-cooked mushrooms with chilli cashew cream in the other. When the Melbourne weather turns, either sit up front and people-watch or tuck yourself into the cosy middle room. Either way, you're getting a sweet brekky.
Dr Morse
Abbotsford
Is there anything more Melbourne than sitting outside at Dr Morse on a Saturday morning? The beer garden is justifiably famous, and the tunes are always banging. There's even an extendable patio roof if spring showers strike without warning. Of course, Johnston St locals know that there's nowhere better to be on a drizzly winter night – the bar inside is cosy and warm, and the cocktail game is as strong as you'll find anywhere.
Welcome To Thornbury
Northcote
Melbourne favourite food truck park is exposed by definition (it's hard to drive trucks into a bar), but they've done a good job with umbrellas, break-out spaces and the big central barn. You can have a good time at Welcome To Thornbury whether it's 35 degrees or blowing a freezing Melbourne gale. Just take shelter near the bar, under the roof, and keep warm with a few crafty pints.
The Napier Hotel
Fitzroy
The Napier's beer garden has a special place in our hearts. There aren't many better places to be when Melbourne decides to pipe in some sunshine from Queensland. Of course, when things go sour, you can always take shelter indoors. The pub vibes are excellent (even better after the recent rennos), and it's the only place we know that's serving The Bogan Burger: steak, chicken schnitzel, caramelised onions, cheese, pineapple, beetroot, egg, potato cake, bacon, lettuce, tomato with wedges and salad. What the actual...
Two Wrongs
South Yarra
You may or may not warm to the crowd at Two Wrongs (if Melbourne had a glitterati, they would probably eat here), but the all-weather vibes are pretty brilliant. On cold days, the boys close the big glass partitions on the street, and Two Wrongs becomes a candlelit cocktail bunker, warm and snug and full of Easey's Rowdy Double Cheeseburgers (still one of our favourite stacks in town). On summer afternoons, when the weather is good, the glass opens up, they turn the couches to face the street, and you can kick back with some quality people-watching.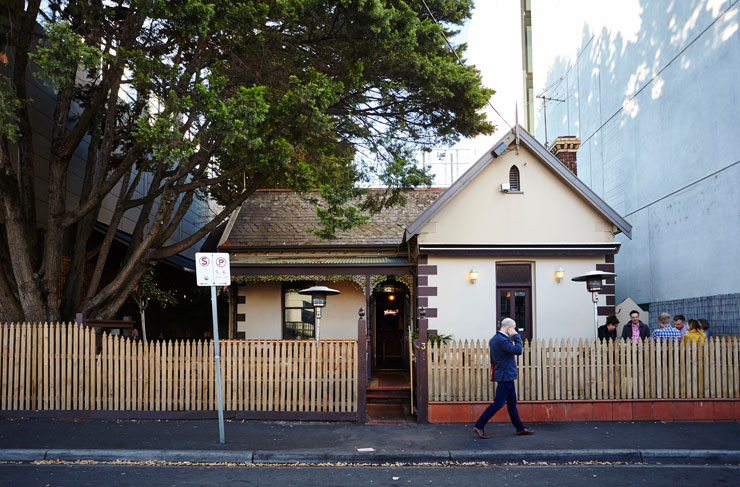 Photography: Michelle Jarni
Leonard's House Of Love
South Yarra
Good old Leonards. We'll never tire of this place—perpetually caught in the 70s, it has a fantastic warmth inside, especially when Melbourne's putting on a grim drizzle. But on balmy nights there's hardly a better beer garden in town—fairy lights and hanging bulbs all around, good beer, the buzz of conversation and a gnarly double cheeseburger (made from beef brisket and short rib—nom).
Weather turned to shit? No problem. Check out these places in Melbourne that'll leave you feeling inspired.
Image credit: Visit Victoria