It's no secret that Melbourne winters are pretty horrible. But you know what's even more horrible? Going through a full winter in the Canadian Prairies (do it, I dare you).
Cold weather is a North American log cabin's entire raison d'être—it's because, for half the year, all you want to do is huddle by the fire in a tiny wooden room, wrapped in your flannel and holding a giant tin of Molson Dry. And that's exactly what you'll want to do at Wood Samaritan.
Lauren Turner and James Frew (ex-Naked for Satan) saw a little cabin-shaped gap in the Melbourne market when they started planning Wood Samaritan. Turner's grandmother is from Edmonton, so the Canadian cred really hits you the second you walk in the room.
"Wood Samaritan is like getting the keys to your friends' log cabin for the weekend," says co-owner James Frew. And having been to a few chalets in my lifetime, I'm happy to confirm that it definitely feels like one.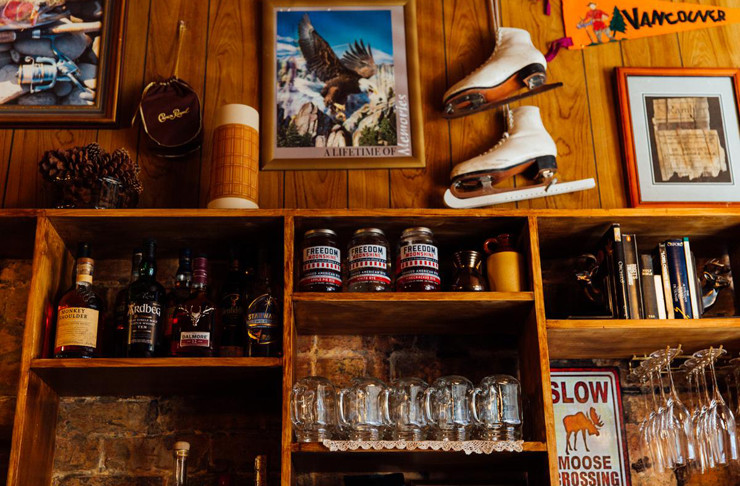 Let's be real: the space is small. That's kinda the whole point of a log cabin. The dim lighting gives it that little extra cosy factor that'll make you want to sink in your chair and sip your drink extra slowly. Narrow, carpeted stairs give it that comforting, "this could really be someone's chalet" vibe.
We're talking wood panelling, 70s wallpaper, hanging ice skates, a cosy-as-hell fireplace and all the vintage Canadian paraphernalia you can feast your eyes on. In all seriousness, the quirky decor really warms my hockey-loving heart right up. They also have a Canadian mountie tap handle, so I practically live there now.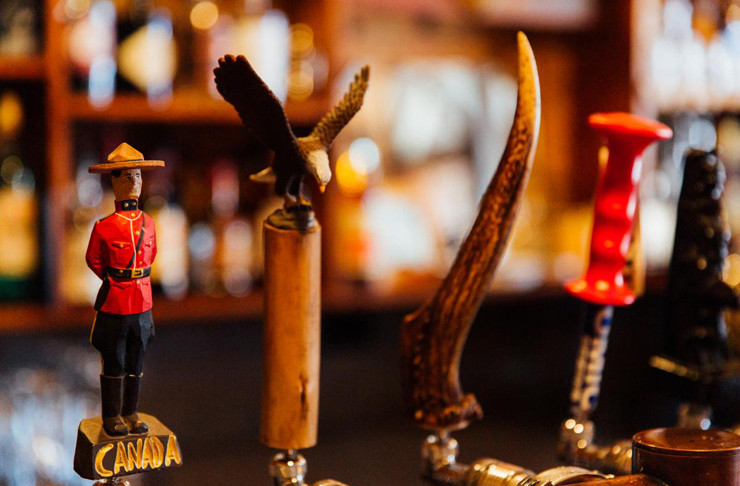 You can warm up with a PB and J Negroni or Smoked Jalapeño Margarita, or take your pick from an ever-rotating list of local wines and beers (lots of good IPAs and stouts) that will tick off any sustainability requirement on your list. If you're feeling adventurous, you can even test your tastebuds with some canned wine, or, a Bloody Caesar. (Seriously, try the damn Bloody Caesar and I'll give you an honorary Canadian passport.)
And while you think a log cabin might go crazy on the venison meat, fear not: while the menu is centred around a smoker, there are plenty of vegan and vegetarian options to keep everyone happy. We're talking fried chicken sliders, Jalapeno poppers, mac n' cheese croquettes, fried pickles and lots of other tasty snacks that'll keep you from wandering too far from all this warmth and good cheer.
The Wood Samaritan is open from Tuesday to Thursday, 3 pm - 11 pm, and Friday to Sunday from 12 pm - 1 am. And on these bitterly cold, wet nights, it's quite well and truly possible that you might never want to leave. Just make sure you get there early because it tends to pack out.
The Details
What: The Wood Samaritan
Where: 140 Lygon Street, Brunswick East
Keep up to date with all the latest openings around Melbourne on our Food & Drink section.
Image credit: Annika Kafcaloudis