Summer calls for 28° weather, bright blue skies, seasonal snacks and refreshing Rosé. Best spent with friends on a chill afternoon, swapping stories and sipping some vino, we've rounded up some top tips on how to throw the soirée of the season.
We know you will be attending at least 43 cheeseboard chow downs over the holidays, so we've called on the talented team at Squealing Pig to help you get together with mates and nail your garden party picnic this summer.
It's all in the details—copious amounts of flowers, a snuggly picnic setting, fairy lights, sensational snacks and of course, Rosé. Here's how to create the 'gram-worthy picnic of your dreams.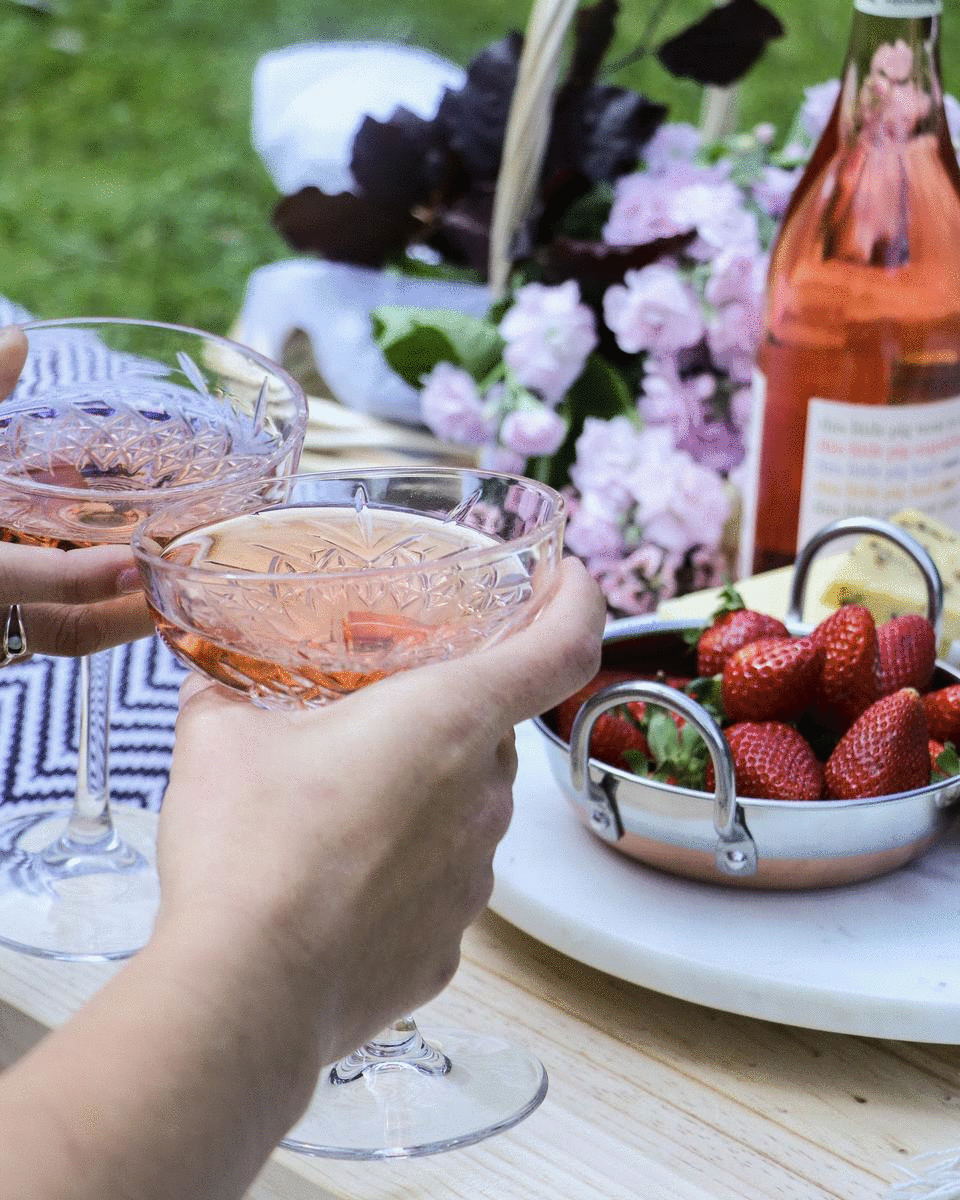 #1 Flowers For Days
The most epic of summer garden parties are all about the florals, with an abundance of flowers and greenery. We're talking anything from the humble houseplant to beautiful bouquets stuffed with seasonal blooms and foliage. Think roses, peonies, hydrangeas—the essentials for a botanical banquet. Alternatively, opt for some potted plants that can be used time and time again. We're all about the Monstera or palm tree tropical vibes right now—perfect for summer soirées.
Pick up some affordable pieces at your local supermarket and get crafty. Create your own arrangements in mason jars accented with fairy lights and twine. Or hunt down some mismatched pottery from your local vintage store for a more eclectic look.
But if you're short on time and want to splash for something more sophisticated, florists like The Botanist and Blush always deliver the goods. We've got our eyes on the Luxe Florals in pastel hues, a mixture of pale pinks and lush greens. What's more, these will keep for a few days, so they'll last a lot longer than your garden party.
#2 Nail The Setup
Location, location, location. Choosing the perfect picnic spot is a delicate art, with things like parking and alcohol restrictions to consider. Luckily, we've rounded up the best parks to drink wine and eat cheese. They all have an alcohol ban from 10pm–7am during daylight savings, making them the perfect spot for a late afternoon vino and chill.
You can't go wrong with the Parnell Rose Gardens. An untapped Auckland gem, it is sprawling with roses across the summer months. Take a stroll through the archways and find yourself a hidden nook to set up your feast in. Whether you're looking to curl up by an old tree, settle down by the flowers or even venture out to the beach at Judges Bay, a five-minute walk away, there's a picnic spot for everyone.
#3 Cosy Up
Spruce up your picnic with all things cosy. Say goodbye to traditional plaid blankets, this season is all about eclectic snuggly finds that bring the indoors out. Start by layering blankets of different colours and textures, then bring together a mix of cushions with fresh, bold prints and retro patterns.
Avoid those wine glass spills with a table fit to hold a decent spread. This can be anything from a couple of old wooden crates, some wicker baskets or retro side tables. If it's just the two of you, this portable picnic stand by Mood will hold the essentials—wine, cheese and crackers.
Add another layer of magic with fairy lights. Beyond the traditional options, you can opt for a string of stars, lanterns or exposed bulbs. We suggest a battery-powered set that will suit you on the go. Find these at The Warehouse or Iko Iko and get your mood lighting sorted.
#4 A Smorgasbord Of Snacks
When it comes to laying out a spread, most New Zealand supermarket delis have you sorted. Create your own epic charcuterie platter by starting with some prosciutto and adding a mixture of cold cuts and cooked meats. Balance the flavours with some grapes, olives and some jams, add some cheese and you're good to go.
Or, visit your local Farro for a delicious selection of ready-made bites by local New Zealand brands. Pack your picnic basket with McClure's Pickles, Whitestone's Cheese Platter selection and a freshly baked Wild Wheat baguette. Satisfy your sweet tooth with delicacies by Little French Pastry—we're talking traditional tartlets or mouth-watering creamy mille-feuille.
If your guest list hits the double-digit numbers, you may want to opt for a more grandiose grazing platter. There's no need to DIY this one—we have you covered on where to commission the cheeseboard of your dreams. Good to Graze offer options from just $11.50 per person or, if you're living life on the lush side, why not opt for a tower of cheese by The Platter Collective, assembled wedding cake style.
#5 Rosé All The Way
Day drinking is all in the choice of beverage. For a summer picnic, look no further than a refreshing Rosé by Squealing Pig. We're always down for the classic Marlborough Pinot Noir Rosé, its fruity flavours pair perfectly with a seasonal cheese platter.
Spice up this beverage base with a summer take on sangria. Simply add your soda of choice (lemonade or club), a fruity cider and a shot of spirits—we're into white rum for this one. Submerge in ice with slices of fruit—think orange, lime, apples, fresh raspberries, the lot. Garnish with a sliced strawberry for ultimate sophistication.
#6 Get Playlist Ready
An epic garden picnic is not complete without a custom Spotify playlist. Spend some time curating a masterpiece, or even ask your guests to add in song suggestions. Make sure to charge up and pack the UE Boom to transition from an afternoon affair to a vibing evening gig with ease.
If you're simply wanting to hit play on the beats without the effort of customising, we have you covered. Listen to Unwind 00's for a chill Sunday afternoon, with throwbacks from the noughties like Coldplay and Maroon 5. Tropical House will boost the mood, with a chill take on popular dance music. And, since it's basically Christmas already, why not get your Bublé on with these Merry Pop Treats, featuring numbers by Sam Smith and Sia.
Editor's note: This article is proudly sponsored by Squealing Pig and endorsed by The Urban List. Thank you for supporting the sponsors who make The Urban List possible. Click here for more information on our editorial policy.