Skydiving, mountain biking, cliff jumping—these are regular rituals for adrenaline junkie Jesse James Cassrels. Known for his enviable Instagram feed, this plumber-turned-professional athlete is always on the hunt for the next stomach-dropping sport.
We caught up with Jesse on his return from the most extreme mountain biking stage race in New Zealand, The Pioneer event in Queenstown. Driving a Mercedes-Benz X-Class through the Southern Alps, Jesse and his mates loaded up the ute to explore the adventurous side of New Zealand and every activity thrill-seekers need to tick off their bucket list.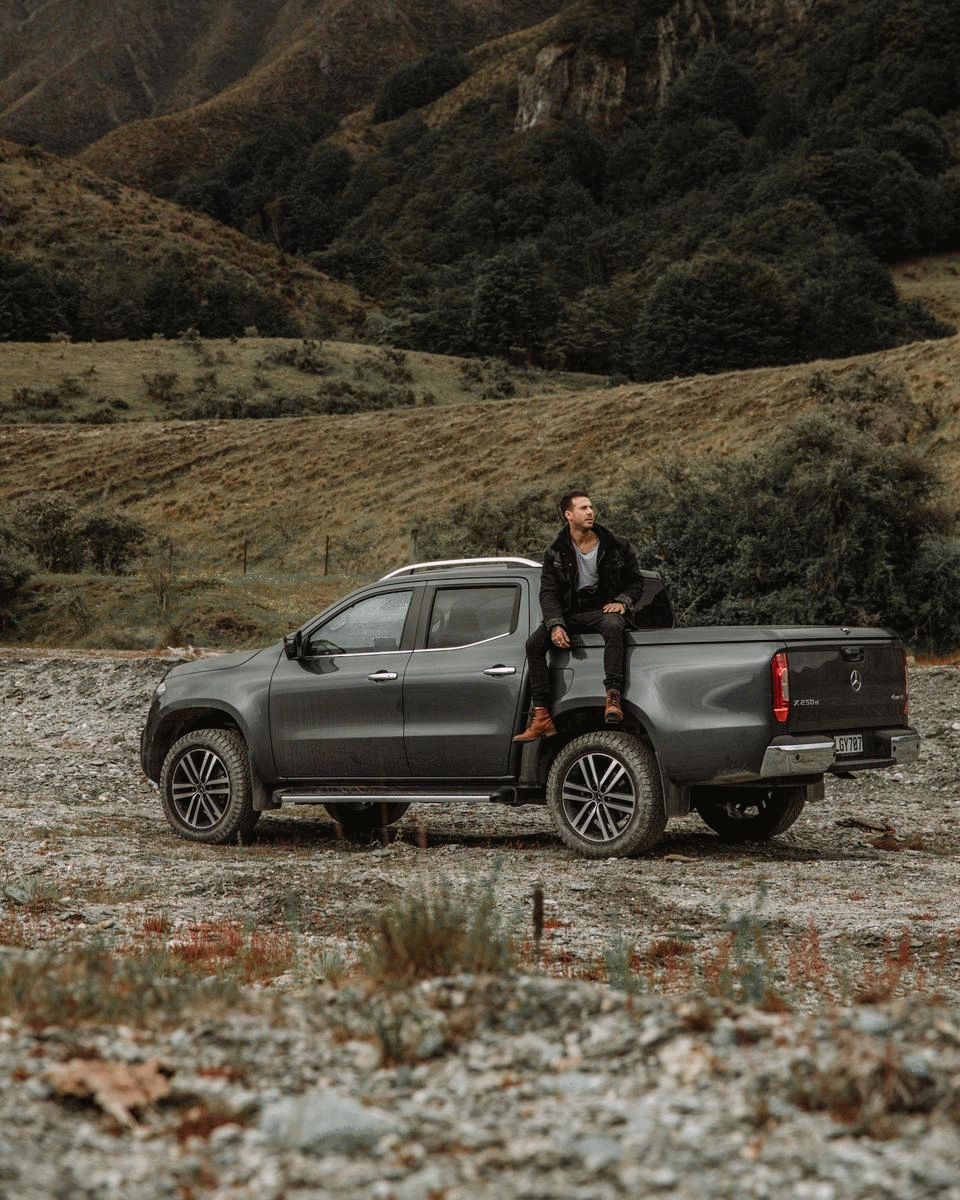 Can you tell us a little bit about yourself?
I grew up on Auckland's North Shore and I am actually a plumber by trade. I left school at 15 with a dream of travelling the world doing extreme sports. So as soon as I finished my apprenticeship, I was off.
Let's see if we've got this right. You surf, snowboard, skydive, ride doors-off helicopters, motorbike, wakeboard and dive with sharks. How did you get into extreme sports?
I've always had a passion for extreme sports. I was that kid with no fear who would race his trike down the street at full speed. My dad took me snowboarding and surfing not long after I learned to walk. Then we bought a boat and I begged him to buy me a wakeboard from Ballistics—I had to work all school holidays to pay it off.
What does a typical weekend look like for you?
Well that depends if it's summer or winter. In winter, I'm up at 4am on Saturday to race down to the Mount Ruapehu for a weekend of snowboarding. In summer, I'll be wakeboarding at Kai Iwi Lakes and skydiving. If I'm lucky I'll sneak in a surf as well.
You recently returned from covering The Pioneer event in Queenstown in a Mercedes-Benz X-Class. Set the scene for us.
The Pioneer is the largest mountain bike stage race in New Zealand, where riders trail through the Southern Alps. You can't just walk off the street, compete and make it to the finish line—these athletes have been training all-year.
We followed the race in the new Mercedes-Benz X-Class ute. Day one saw the athletes at the top of Coronet Peak, which was covered in snow from a freak storm that hit just days before. We travelled from Queenstown to Alexandra, deep into farmlands and out to Bannockburn. It was truly an experience I'll never forget. I'm definitely considering training so that I can enter next year.
What was the most epic moment of the event?
Day three, the Queen Stage—the longest leg of the race. We took the X-Class up to the aid station, the sun had finally come out and it felt like summer. We hung out to help the athletes refuel, this was the highlight for me—seeing them halfway through a 100km race and being able to help was awesome.
It must take a lot of grit and endurance to do these kinds of sports. How do you build up the physical and mental strength?
In a sense yes, but the way we enjoy sports is a culmination of years chasing our passions—starting out as a beginner like everyone does and building slowly. Like life, the fun is in the progression. You fail, you learn, you pick yourself up and try again. When you succeed, there is no better feeling in the world.
With extreme sports, you're taking risks every day. What helps you overcome fear or doubt?
Everybody feels fear, but everyone has their own way of dealing with it. For me, it's being prepared. We train extremely hard to make sure we are physically capable. You also need to know what you're getting into and your limits.
What's been one of the scariest moments on one of your adventures?
My very first BASE jump. My best friend and mentor Jeff Weatherall took me to a secret spot in New Zealand (I can't tell you where). We climbed a 500ft antenna (a tall metal structure), one hand after the other, this was definitely the scariest hour of my life. In the end, the jump actually felt very natural.
You've traveled the country looking for thrills. What makes New Zealand great for adventure seekers?
We are so lucky here in New Zealand, we literally have it all. Massive rapids, beautiful lakes, and huge mountains, you can even find giant waves if you're willing to drive for it. Our climate and landscape make this tiny country one of the best places in the world for thrill-seeking.
What's next on your adrenaline bucket list?
I'm actually flying to Japan at the end of January for some snowboarding action, then running a 30km mountain leg between the coasts. But for now, I'm going to enjoy the New Zealand summer and chase waves.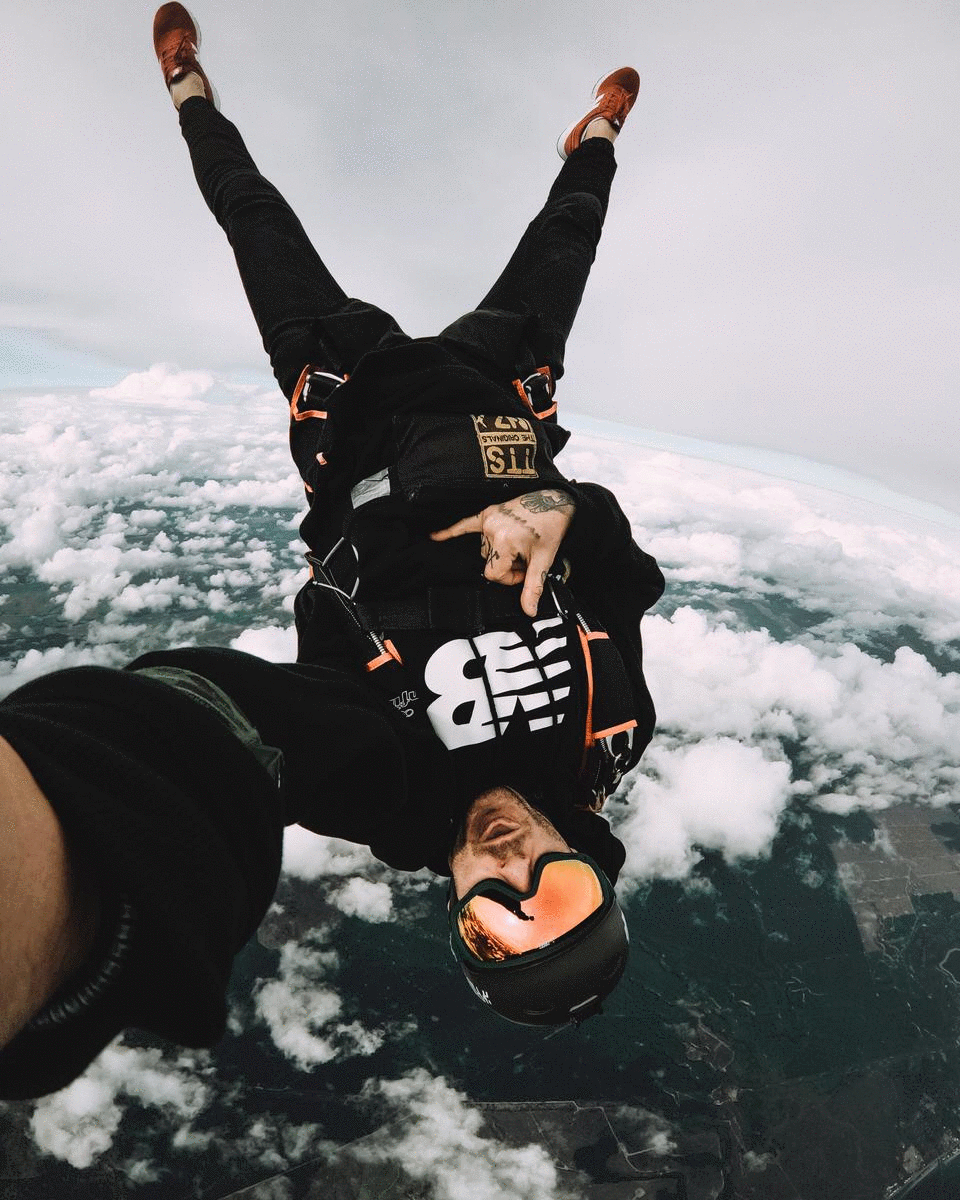 5 Adventure Spots In New Zealand To Add To Your Bucket List
In The Air
Taupo Tandem skydiving is hands down the best place in New Zealand to jump. It's an 18,000ft skydive, the highest in New Zealand, and on a clear day you can see the East and West Coast. It's truly magical.
On Land
Downhill mountain biking in Rotorua is a must. Get some practise in there and then hit up The Pioneer in Queenstown to compete.
On Water
The locals will kill me for saying this, but the Coromandel is my favourite place to surf, especially when the swell is big. Kai Iwi Lakes in the far north is a must-do for wakeboarding.
Under Water
My favourite place to freedive and spearfish is up in the Bay of Islands, you are generally always greeted by dolphins. If you want to dive with Great White Sharks, they hang out at the bottom of the South Island.
Up A Mountain
You can't beat Wanaka for hiking, cliff jumping, beautiful waterfalls and rapids.
Tackle your own adrenaline adventure in the new Mercedes-Benz X-Class. This workhorse ute is made for loading up your gear, tackling the road and getting you there in comfort.
Editor's note: This article is proudly sponsored by Mercedes-Benz and endorsed by The Urban List. Thank you for supporting the sponsors who make The Urban List possible. Click here for more information on our editorial policy.