When you're in need of a little R&R there's no better place to go than Bali's cultural capital, Ubud—you know, where Julia Roberts learned to love in Eat, Pray, Love!
Filled with rice fields, lush, leafy rainforests, amazing food, yogis and some of the best masseuses, you'll likely never want to leave this wonderful place. But, if you've only got 48 hours up your sleeve and need a little downtime, Ubud is just what the doctor ordered.

5PM
Skip work on Friday and hop on an early flight to Bali. It's around an hour and a half drive (depending on traffic) to the heart of Ubud from Denpasar airport, and with only 48 hours up your sleeve, you definitely don't have time to dilly dally. Once you clear customs, make your way through the winding, scooter-filled streets of Bali to Ubud ready to check in to your accommodation before your tummy begins to rumble for dinner. Top tip: Chat to a friend who's been to Bali before and get the number of a reputable driver to pick you up from the airport or arrange to have someone from your resort pick you up.
7PM
Once you've freshened up, make your way to Hujan Locale to get the party in your mouth started. From the same crew that brought us Bali faves Mamasan and Sarong, the menu at Hujan Locale features mouth-wateringly good Indonesian food made with produce from local farmers. You cannot leave without trying the salted cod kroket, crispy squid with chilli jam, beef rendang and slow braised Sumatran lamb curry served with roti canai (best roti ever!). Their cocktails are a must as well.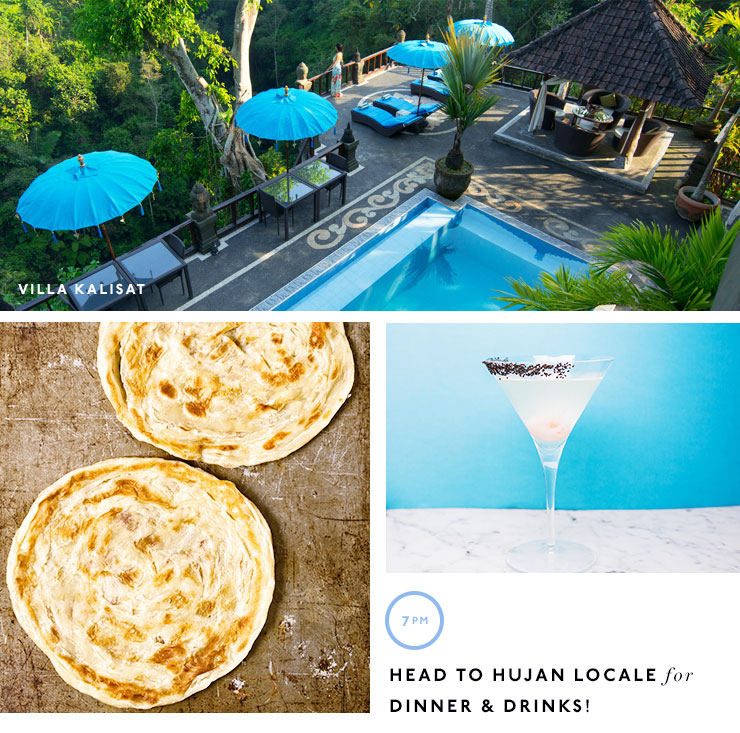 9PM
Keep the good vibes going and drag your full belly over to The Night Rooster cocktail bar by Locavore. Our favourite cocktails to sip on are the Lohloh 2.0, made with ginger, turmeric, mint, rum and pickled ginger, and the Jack & Gin, Jackfruit infused gin, vermouth, star anise, cardamom, jasmine bitter and mangosteen. Remember to keep it respectable, you've only got 44 hours left in paradise and you don't want to go wasting it with a hangover.
11PM
Stumble back to your accommodation, trying not to disturb the sleeping dogs on the side of the road.

8AM
Dig in to the breakfast that is most likely provided as part of your accommodation, but don't eat too much as you've got a hot ticket to pamper town this morning.
Take a post-brekkie stroll through the Monkey Forest, but keep hold of your valuables as these primates are nifty little buggers. You can buy a bag of bananas at the entry, but be warned, this will encourage them to jump on your shoulders. If you want to avoid any Outbreak-type events, it's best to just watch them from a distance.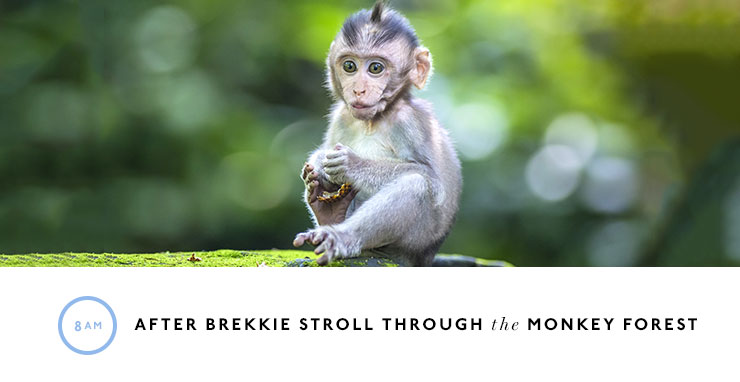 10AM
Arrive at Karsa Spa in the village of Bangkiang Sidem (around a 30-minute drive from Ubud central) and check in for your spa package. The two-hour Ayurvedic Healing package is legit—kick off with a one-hour Balinese massage, followed by a salt scrub and yoghurt body polish before sinking into a steaming flower bath (after washing the salty, yoghurty gunk off, of course). You'll want to come back tomorrow as well, and we say go for it!
1PM
After a couple of hours of bliss, head back towards Ubud, making a pit stop at Alchemy for lunch. Tonight, you'll be dining degustation-style, so it's best to opt for something light which is easy at this vegan cafe. Don't forget to grab some raw chocolate to munch on back in your room.
3PM
It's time to make use of that glorious swimming pool at your accommodation and perhaps order a few pool-side tipples. It wouldn't be a trip to Bali without some cocktails by the pool now, would it?
4PM
Go for a stroll along Monkey Forest Road and pick up something to wear to dinner tonight (make sure it's baggy). Stop by IKAT Batik to marvel at their beautiful indigo batik textiles—they're fairly pricey compared to what you can get from the markets, but oh so beautiful.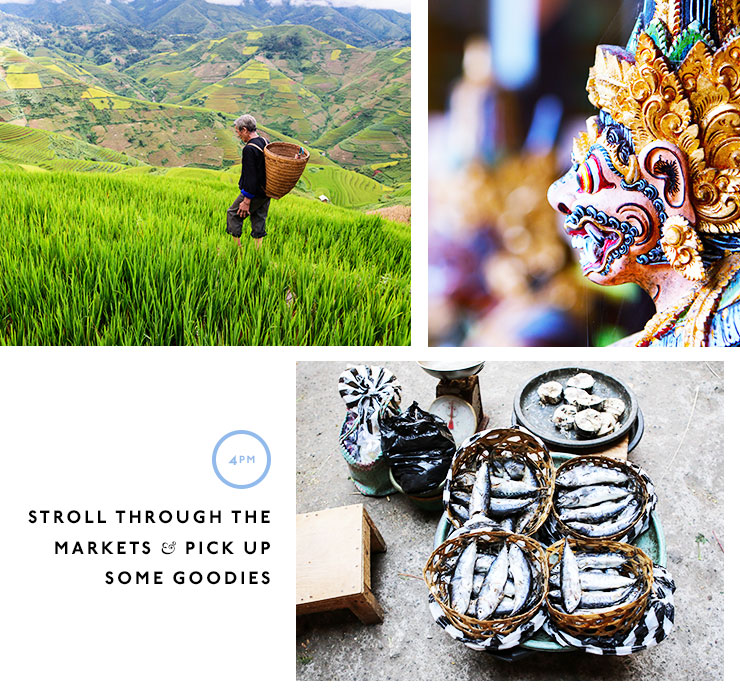 6PM
Freshen up before dinner and then head to Locavore for the best degustation of your life.
7PM
Time to feast at one of the hottest restaurants in Bali, Locavore. Serving some of the most creative dishes we've had the pleasure of tasting, Locavore source their seasonal ingredients from all over Indonesia. Hint: You'll need to book well in advance of your trip to avoid disappointment.
Opt for the seven course Locavore (meat) or Herbivore (veggie) menu, because you'll want to taste absolutely everything there is to offer, and it's likely to be one of the most affordable degustations you'll ever enjoy—when the night is done and dusted you will have devoured 22 courses including the amuse bouche, palate cleansers and petit fours.
10PM
After filling your belly to the extreme there is no better place to go than bed. Enjoy your slumber!

8AM
Rise and shine, it's time to work off last night's 22-course feast at the world famous Yoga Barn. This place is a yogi institution, so don't be surprised to see mats squished in wall-to-wall and people practicing crow pose on arrival. Namaste!
10AM
Enjoy a late breakfast at Lazy Cats Cafe. Another healthy hangout, Lazy Cats menu features smoothie bowls and avo on toast, as well as some tasty pancakes if you really want to feel like you're on holidays.
11AM
Take a stroll to the main part of town, stop by the Ubud Palace and wander through the Ubud Art Market. Bring some cash and if you see anything that takes your fancy remember to barter, there will likely be another store a few steps away selling the same thing for less!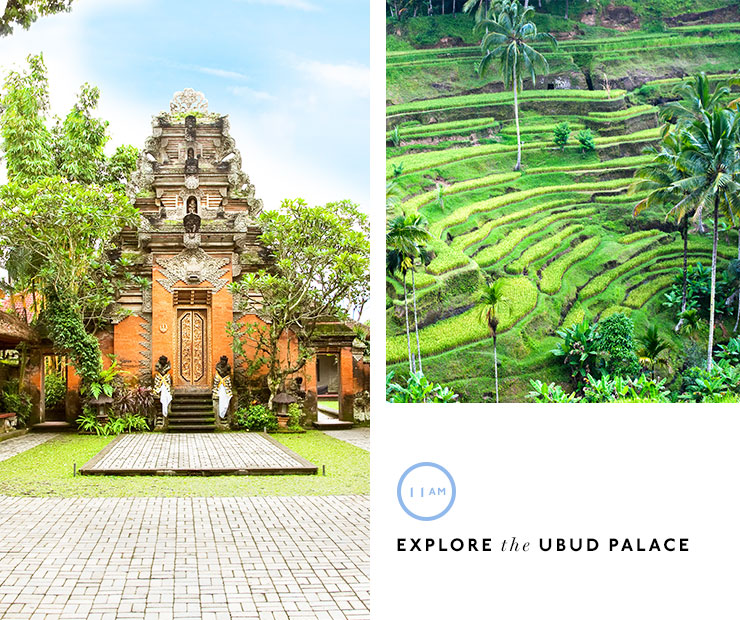 12PM
With only a couple of hours left in Ubud it's time to enjoy some free time. You can dive back into your resort's pool, grab another massage or perhaps opt for something a little more adventurous—White Water Rafting, anyone? Our preference would be stopping by Hujan Locale for a few tapas (it's seriously worth the second visit) before getting one last massage at one of the cheaper spots in town, but it's your free time so you decide!
5PM
Go for an early dinner at Nusantara by, you guessed it, Locavore (mmm young papaya soup) before heading back to the airport and catching your flight home.

If You Want To Be In The Heart Of It All
Offering stunning views over a tropical rainforest, the Komaneka At Bisma is a short stroll from the centre of town. The rooms feature traditional, yet luxurious fittings, so be sure to bags one with a view. And DEFINITELY check out the infinity pool, it's spectacular! If you can't get in here (it can be tricky at peak season), stroll over to Komaneka At Monkey Forest for all of the Komaneka hospitality, right in the centre of town.
If You Want A Secluded Stay With A View
The perfect location if you're after more of a quiet getaway, Komaneka at Tanggayuda is a seven-kilometre drive out of town and, in our opinion, it's one of Ubud's best-kept secrets. Nab a Valley Pool Villa and you'll get to enjoy amazing forest views from your secluded infinity plunge pool, a comfy king bed, volcanic stone bathtub and outdoor cabana. If you get tired of your room (as if) you can choose to swim at one of the three resort pools or jump on the free shuttle for a jaunt into town. Have you booked yet?

Sitting right on the equator, Ubud offers tropical, warm, humid weather year-round. Most people prefer to visit in the dry season, but the afternoon showers in the rainy season offer respite from the heat if you don't do well in warmer climes.
Dry Season
April, May, June, July, August, September = 31
Wet Season
October, November, December, January, March, April, May = 33

Book in at Locavore and Hujan Locale at least a month prior to your visit, you don't want to miss out on dining at these spots.
There are no taxis in Ubud, just freelance drivers which means you need to barter your fare. Your trip from Denpasar to Ubud should cost around 350,000 rupiah.
Don't pat the dogs. No matter how adorable they are.
Pack a few pairs of bathers, as the humidity makes it hard for things to dry out overnight.
Wear tropical strength mosquito repellent at all times, mosquitos that carry Dengue Fever are prevalent in Ubud.

Get at least one massage.
Drink cocktails during Happy Hour.
Eat nasi goreng from a warung.
Buy a penis-shaped bottle opener for one of your friends.
Watch the sun set over rice paddies or the forest.
Barter with a local.
Head out to the Hanging Gardens to check out one of the most beautiful pools in the world (and see how the other half live).

Image credit: Ariana Gillrie and Adobe Stock / Design credit: Gabby Stjernqvist