Whilst we love a far away destination holiday (hello, sipping cocktails on the beach), we really don't love the process involved with getting there. Hours spent waiting around in boring airports, the ridiculous costs of flights and not to mention the havoc flying plays with our skin. No thanks.
How we'd love to fly without the nasty side effects like impromptu breakouts and dehydrated skin. We're pretty sure you guys feel us too, so with that in mind we've rounded up the beauty essentials we can't live without when we jet off on holiday.
But first, we spoke to Salon Owner and Senior Beauty Therapist, Edel Featherstone of La Bella Beauty Retreat in the Gold Coast about her long-haul flight beauty tips.
Top Tips When Up, Up And Away
Drink lots of water and avoid alcohol (we know, but alcohol is dehydrating).
Remove your makeup and apply a nourishing face mask, followed by eye cream and a good moisturiser with vitamins, antioxidants and peptides if possible.
Pack a facial spritzer in your carry on. Be prepared to spritz every hour, and reapply moisturiser every three hours.
8 Of The Best In Flight Moisturisers
#1 Kiehl's Midnight Recovery Serum
Massage this serum into skin pre-moisturising to keep skin smooth overnight. With Evening Primrose Oil being the star ingredient alongside Omega-6 Fatty Acids and Essential Oils including Lavender, the formula penetrates the surface of your skin, replenishing and moisturising.
Kiehl's Midnight Recovery Serum is avaliable directly from their website.
#2 Mesoestetic Radiance DNA Hand Cream
Whilst it is super important to use face moisturiser throughout your flight, don't forget about your hands. Specifically designed to be anti-ageing, this super cream moisturises deep into your skin and is rapidly absorbed. So, even though we told you not too, this means no greasy hands when you're trying to unscrew your second mini bottle of wine mid flight, we know you too well.
Mesoestetic Radiance DNA Hand Cream is avaliable from Skin Care Store.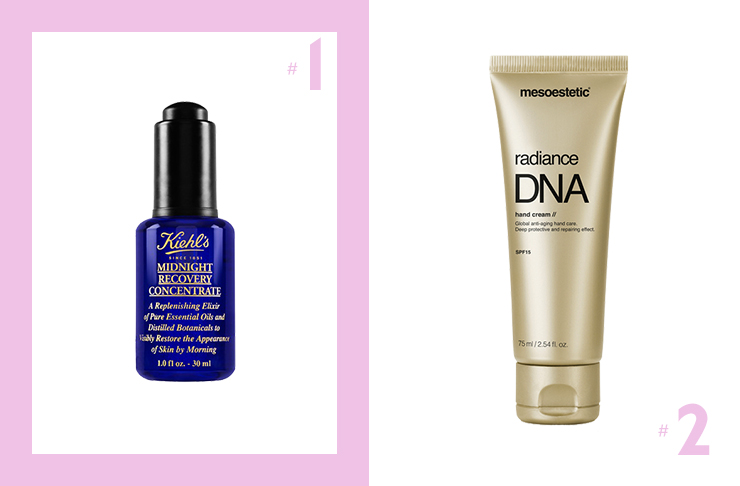 #3 Lycogel Breathable Tint
If the thought of going sans makeup on your flight brings you out in hives, then opt for this breathable tint that will provide light coverage without clogging your pores. Bonus: It's SPF 30, so you can wear it once you land as well.
Lycogel Breathable Tint is avaliable online here.
#4 Beauty Essentials Inflight Mini Wipes
Obviously you've rocked up to the airport with a full face of makeup, hoping to get upgraded to first class (we've all been there). But now you're on board, in cattle class like the rest of us, so you must take off that face. These handy little wipes will do just the job in the most moisturizing way possible.
Beauty Essentials Inflight Mini Wipes are avaliable from Mecca.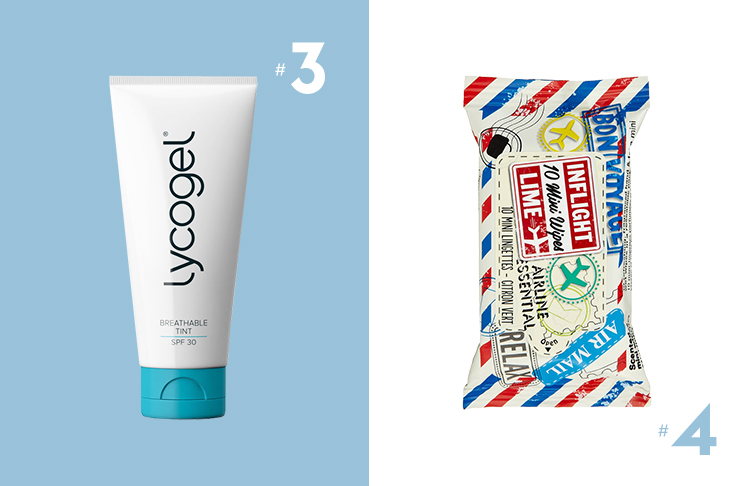 #5 The Jojoba Company Antioxidant Hydrating Mist
A refreshing mist is just what you need mid flight when the cabin's stuffy and you're stuck inbetween two people who don't like to share the armrest. Mist over your face to refresh, cool down and whisk you away (mentally) to a happier place. You can also use this to cool down poolside once you arrive too.
The Jojoba Company Antioxidant Hydrating Mist is avaliable from their online store.
#6 Origins Drink Up Intensive Overnight Mask
If you're planning on getting some shut-eye on the flight, this one's for you. With gorgeous ingredients including Apricot Kernel Oil, Avocado and Japanese Seaweed, simply massage onto your skin before you nod off and wake up with nourished skin. It's all too easy really.
Origins Drink Up Intensive Overnight Mask is avaliable from Mecca.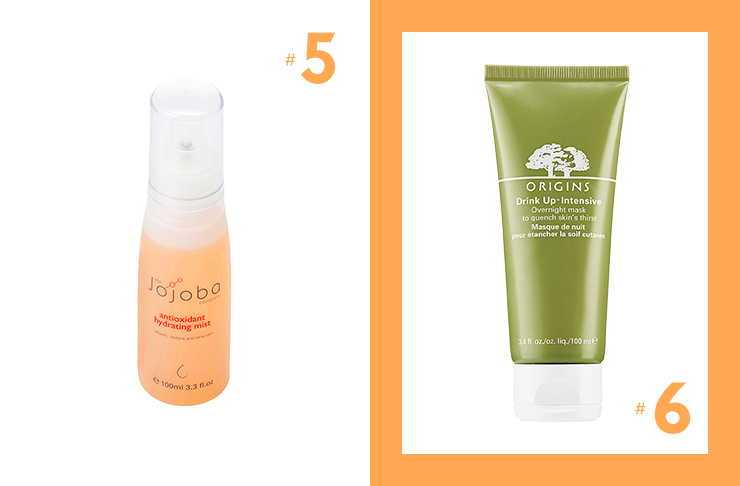 #7 Skinstitut Moisture Defence Ultra Dry
An intense and hydrating moisturiser, apply this gem as much as you like throughout your flight to hop off with skin that will rival Miranda Kerrs (Hey, a girl can dream). Packed with Olive fruit oil, Green tea and Oat extract, this one's a goodie. It also promises to improve the appearance of fine lines and improve elasticity, which sounds like a winner to us.
Skinstitut Moisture Defence Ultra Dry is avaliable online at adorebeauty.
#8 Jurlique Nutri-Define Restorative Hydrating Emulsion
A lightweight daily moisturiser, this nifty little product is infused with Biosome5 technology, which basically hydrates, softens and restores your skin during a flight, without making it oily. An absolute win in our books and just perfect for when the lack of oxygen in the plane cabins starts to take its toll.
Jurlique Nutri-Define Restorative Hydrating Emulsion is avaliable from Jurlique.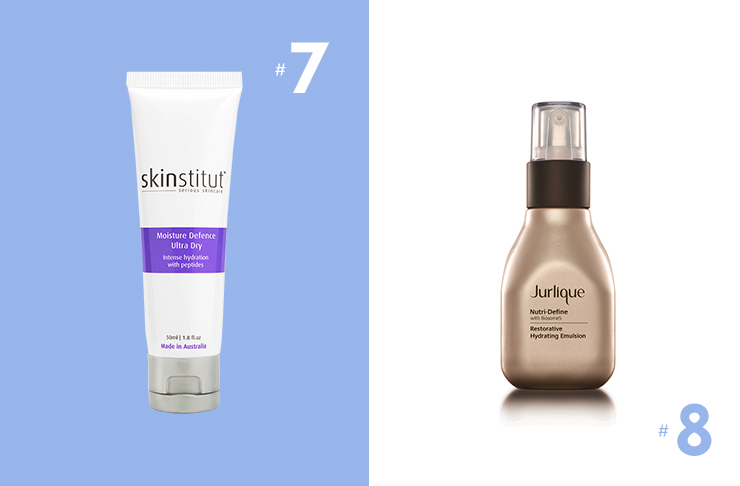 For more beauty tips and advice, click here.