In case you've been living under a rock, we're living in the age of the side hustle. Everywhere you look, someone is launching a new online store, some amazing new app or even just doing a bit of babysitting for some quick cash on the side.
We're willing to bet you've had plenty of million dollar ideas, but the problem with million dollar ideas is that they won't get you very far unless you actually do something with them. Go figure, right?
So, if you need a bit of a kick in the butt to get your side hustle off the ground, we've found the perfect retreat that will get you a 10 day holiday in Bali in a luxe villa while you learn how to code (aka how to build the website that's going to make you millions**) thanks to the legends at Institute of Code.
I know what you're thinking; this is not a holiday, it's basically school. And okay, you're kind of right. There's a whole lot of learning (which will make you feel all sorts of accomplished at the end of it), but there's also daily yoga, friggin' amazing chef cooked meals, cocktails by the pool and plenty of time to explore Canggu with about 10 other like-minded people who will be on the retreat with you. Seriously, just take a look at the campus and tell me that's not a holiday.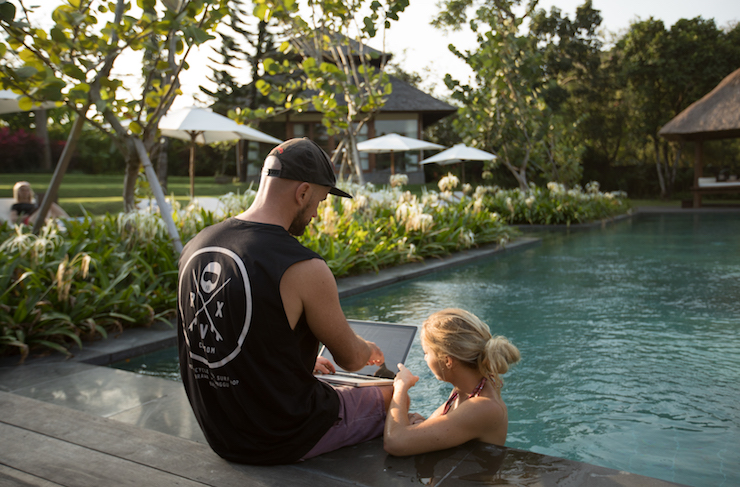 If you're thinking you're not 'techy' enough to do a coding course, think again. This is a 'zero-to-hero' program so if you have enough tech-savvy to check your emails or post a status on Facebook, the guys at Institue of Code will have you coding in no time. By the end of the 10 days, you won't just have new skills but will have built yourself a totally custom LIVE website—so consider that side hustle launched.
Plus, coding is the language of the future, and knowing the basics will help you in just about any job (and even if you can't convince your work to pay for it, it's a 10-day holiday in Bali that will be totally tax deductible. Win!)
The next retreat runs from 10 to 19 June, and if you can't make that, there's another one in November this year, so you're in luck.
If coding really scares you, these guys also run a social media bootcamp where you'll learn everything you need to know about blogging, Facebook, Instagram, photography, search engine optimisation and so. Much. More. The next one starts on 26 May so you'll want to book your spot quick smart!
These guys are so darn generous they're offering $250 off the price of the retreat if you use our super secret code word—SIDEHUSTLE—when you book.
**maybe
Really interested in upping your career game? Check out these conferences.
Image credit: Institute of Code