Confession time: It is actually pretty embarrassing how many times The Urban List Perth office has indulged in Mack Daddy's New York Slice slice pizza since we announced they were opening back in July. But no #pizzashame please because we are not the only ones who are obsessed.
In fact, for the past three months, Mack Daddy's has been run off its feet serving up some of Perth's best pizza to the Perth masses.
Size does matter is the motto at this Mount Lawley pizza joint and after digging into one of their 22-inch pizzas, you would be mad to disagree.
While Perth certainly has its fair share of amazing pizza, proper NYC-style pizza has been sadly absent. Until Mack Daddy's burst on to the Perth dining scene that is.
Maybe it's because this clan of over-zealous pizza-maker extraordinaires are passionate about what they do, or perhaps it's because of the fresh ingredients or the incredible thin bases or the fact that the base is crisp yet soft and pliable enough to be folded in half to eat, but trust us when we say this is one-of-a-kind pizza.
While I find it hard to ever go past the amazing simplicity of Big Tony's Pepperoni—a perfect combination of hot and smokey pepperoni with grande mozzarella—The Baller (Italian sausage, mama's meatballs, onion, chilli, mozzarella and tomato sauce) is also amazing and I will always have a soft spot for The Big Cheese, oozing with mozzarella, ricotta, blue cheese and romano.
You can also get your hands on plenty of other fried and cheesy goodness at Mack Daddy's like fries, mozzarella sticks and Cajun shrimp and if you're not ridiculously full after your pizza, the crew here offer a NYC-style cheesecake and a peanut butter brownie to really send you on your way.
In a pizza mood but not super hungry? Pop in for a slice! Heading there with your SO or a group of mates? The 16-inch or mammoth 22-inch (these bad boys are ginormous!) will be your best bets. Grab your pizza to go or park yourself at a table under the graffiti-lined walls with a bottle of vino (it's BYO) and have the best night ever.
What are you waiting for? Go forth and pizza party!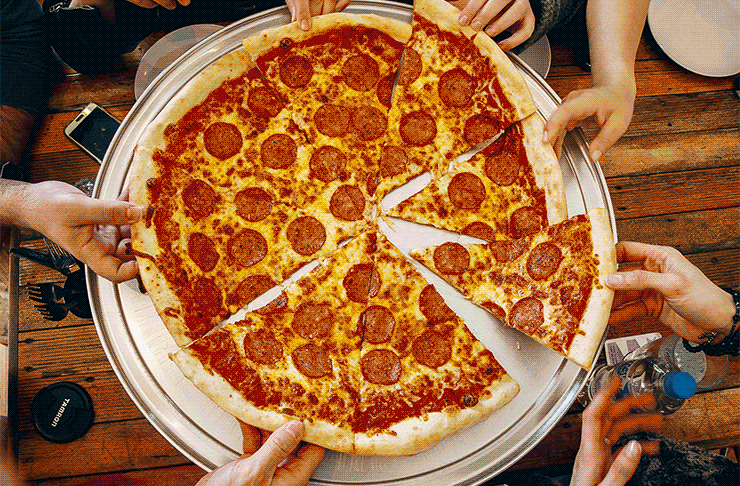 Want to know the location, opening hours and all the details? Find Mack Daddy's New York Slice on The Directory.
Image credit: Nancy Hanna