The Perth CBD Gods have answered all of our big city prayers with the new Raine Square redevelopment. A late night retail, dining and entertainment precinct smack bang in the middle of the city that's open seven days a week is something we can really get on board with.
The revamped Raine Square will be welcoming locals, workers, shoppers, tourists, foodies and moviegoers to enjoy its 25 specialty retail stores, restaurants and, of course, the new Palace cinema.
Officially opening its doors on Monday 17 September, there will be venues opening throughout the week and even into October—all the more reason to go back again and again.
We're finding it hard to contain our excitement, so here are 7 reasons we think you'll love the new and improved Raine Square.
1. Tim Ho Wan
Tim Ho Wan, a Michelin star dim sum restaurant, is opening it's first WA restaurant and that's already enough to get excited about. This is set to be Perth's hottest new foodie hangout thanks to their impeccably plump and snowy skinned dumplings. Tim Ho Wan is opening its doors at Raine Square on Thursday 20 September and if you still aren't convinced, they will be giving away their famous BBQ Pork Buns to the first 1000 customers!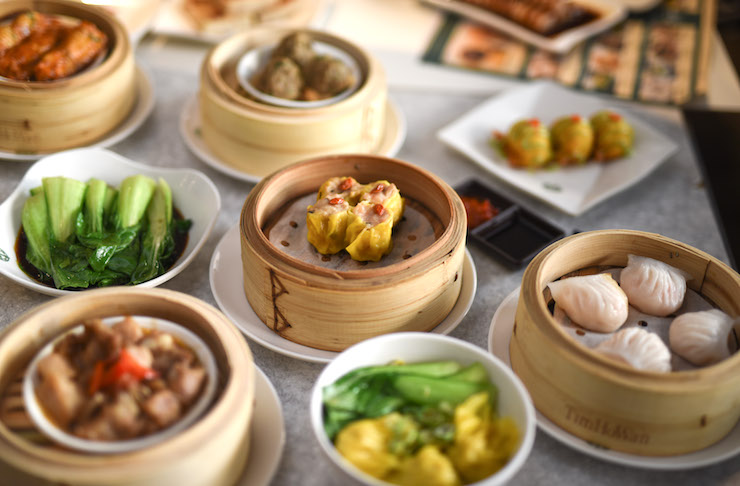 2. Palace Raine Square Cinemas
Lights. Camera. Action. Palace Cinemas are bringing luxury to Perth CBD after five years sans cinema. Think nine traditional cinemas and four Palace Platinum boutique cinemas with a private bar and lounge, reclining seating and personalised in-cinema wait service. To celebrate the opening, they'll be offering $10 tickets all week with bottomless popcorn and $5 Prosecco available at the bar. Need we say more?! Palace Raine Square Cinemas will open on Tuesday 18 September so don't miss out!
3. Chicken Rice Corner
Everyone's favourite Perth chicken rice shop is opening its doors in Raine Square! Chicken Rice Corner delivers legendary chicken rice just how they like it in Singapore. Some other favourites include the Hainanese chicken, crispy chicken and curry laksa which are all under $10! Tasty and affordable—just try and beat us there!
4. Hunter and Barrel
Hunter and Barrel is opening a second Perth store—can we get a 'woop woop'? This menu is all about hearty favourites like soups, Hunter pies, boards, meats, the signature coal and spit rotisserie and their barrel-aged beverages. This new location oozes sophistication with the coal pits, leather interior and roaring fireplaces so grab your mates and get down there. Hunter and Barrel will be opening in Raine Square in October, but we reckon it will be worth the wait.
5. Greenhorns
Greenhorns is opening at Raine Square and beware… this isn't your average burger joint. Burgers dipped in cheese gravy, fried chicken in a cone, and cheeseburger spring rolls are just some of the items found on their menu. But don't be fooled, Greenhorns caters for vegan, gluten-free and vegetarian diets too—winning! And just to top it off, they're all about supporting local WA produce and they're partnering with Feral Brewing Co to bring you Aussie craft beers with your mouth-watering burger.
6. Brezel Brothers
There will never be enough pretzels in the world, so Brezel Brothers are helping Perth pretzel lovers with their brand new Swiss pretzel (brezel) bar. The pretzels, sandwich breads and buttery pastries are all baked in house throughout the day. Order a brezel with some fresh salami or Swiss cheese for a perfect snack on your way home from work.
7. Cocolat
You can't say no to a dessert that is just as beautiful as it is delicious. For a sweet treat after dinner or a perfect movie debrief location head to Cocolat in Raine Square where you can take your pick from the decadent tarts, crepes, and cakes, award-winning gelato, or a cheeky box of chocolates and truffles. Cocolat is opening on Saturday 29 September, so let your sweet tooth dreams begin.
Until Raine Square opens, why not work your way through Hibernian Place?
Chicken Rice Corner | Image credit: Elle Borgward, Nancy Hanna, Tim Ho Wan and Greenhorns