We're prouder than spiked punch to say RÜFÜS DU SOL is headed to Australia and New Zealand - just in time for festival season. The trio dropped their third LP, Solace, after a stint in the ol' US of A, and while it's only been out and about for a hot minute, we feel it's pretty safe to say Underwater and Treat You Better will be serious summer jams.
We had a chat with RÜFÜS DU SOL's Jon George who told us about their upcoming shows, where to get reliably good coffee in Venice Beach and the benefits of having a shaman in the studio (no, really).
WHY DID YOU MOVE LOS ANGELES AND HOW HAS IT INFLUENCED YOUR WORK?
We'd been on the road for a fair bit over the last five years and just sort of decided to move to LA to write this new record. We set up shop but it didn't really matter where we were, we were just excited to write after a few years of touring. It wasn't until a little later in the process that we started to make it (Venice Beach) a home for ourselves.
We took a few trips out to Joshua Tree National Park and that sort of landscape inspired us. It all felt like another planet. Those sort of broad, sprawling landscapes open up in the record quite a bit.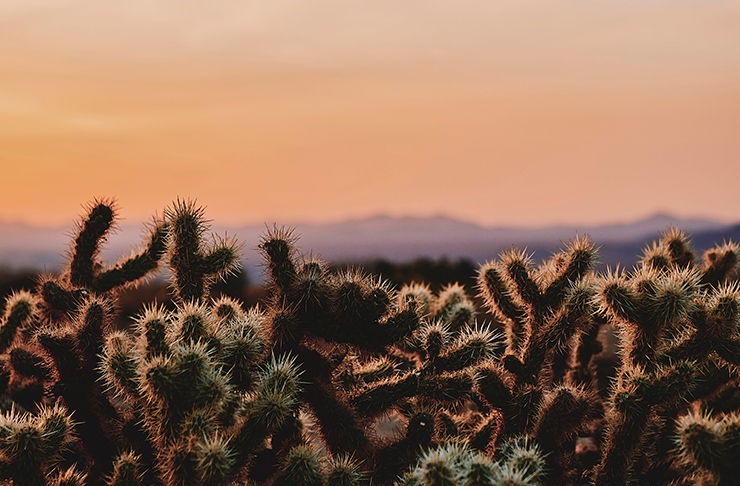 WE HEARD YOU HAD A SHAMAN IN THE STUDIO FOR THIS ALBUM, WHAT WAS THIS LIKE AND HOW DID IT impact YOUR MUSIC?
Yeah! He was a friend of a friend actually. He came over for a housewarming party initially and he brought – I guess he just travels with it all the time – a notepad and pen. Halfway through the party we noticed he was walking around taking notes and pulling out a compass.
He came up with this plan and we were like, 'go for it'. He set up all his materials (in our studio) and made these different worlds. So on one wall there would be a desert with branches from Joshua Tree and sand and he had seashells in another corner for an underwater world. It was a bit crazy. It wasn't really 'us' and it wasn't what we really expected but it turned out to be really cool! Every time you entered the studio you felt like you'd entered a whole new world and could forget about the rest of existence for a while and focus on the music.
YOU'VE MENTIONED JOSHUA TREE A FEW TIMES NOW, IS THAT A PARTICULARLY SPECIAL PLACE FOR YOU?
Yeah, we had a couple of really cool experiences and wrote Lost In My Mind out there. We spent a couple days trying to write lyrics towards the end of the whole process and brought some synthesisers with us. We ended up writing it (Lost In My Mind) within a day or two. That song kind of reflected on our experiences being out there. You can really lose yourself in the desert and find yourself alone. That's what that song is about: the 'desert walker' having a trip of his own.
YOU'VE GOT A STRING OF FESTIVALS COMING UP, WHAT CAN AUDIENCES EXPECT FOR THESE PERFORMANCES?
Since finishing the record we've been working on the live show, which is a different beast in itself. We attack it with performances in mind, like who is going to play what, 'cause we all write the songs together in the studio then divvy them up. So, who's going to have the most fun? What's the most entertaining way for us to perform it and for it to be watched? We spend a lot of time working that out.
We've created some cool jams and moments and taken songs further; songs we have an abbreviated version of on the record, we've been able to explore more in the live arena. We've also been working with our lighting director really heavily, curating a cool lighting experience that's brand new. We're testing it out in America at the moment. It's been spectacular to witness.
YOU'RE FRESH FROM A WORLD TOUR INCLUDING SOME PRETTY BIG FESTIVALS; DO YOU HAVE A FAVOURITE FESTIVAL EXPERIENCE?
Coachella is amazing. I went as an audience member before I went as an artist and I'd looked up to it so to play at it was a dream come true. Festivals in America are pretty clean as well. They keep all their drinking sections compartmentalised so you have these big lush fields without much rubbish.
There's one festival called The Osheaga Music and Arts Festival in Montreal that I love. We played there a couple years ago and they have amazing catering. They have these Michelin chefs who come and create a culinary experience backstage. That festival was such a good day. We ended up watching Radiohead from the sound desk, just us, Woody Harrelson and his family.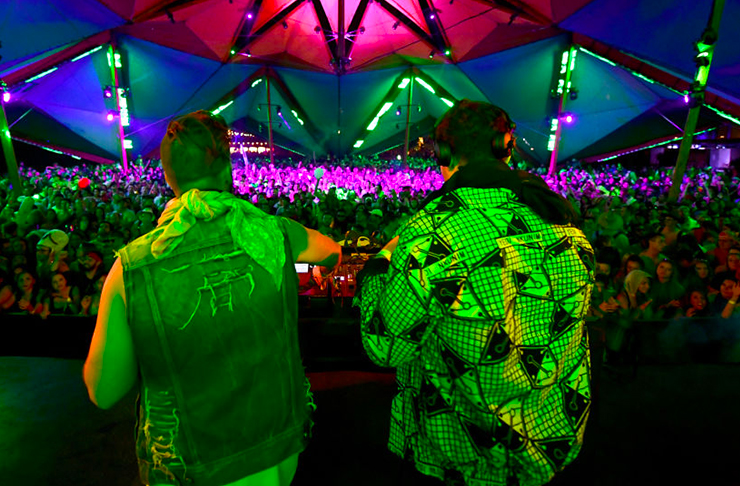 WHAT Has BEEN ONE OF YOUR BIGGEST 'PINCH ME' MOMENTS SINCE MOVING TO LA?
We just finished playing three shows in LA that ended up being 15,000 people. That's my freshest (pinch me) memory and it was definitely awesome.
DO YOU HAVE ANY KILLER FOOD AND DRINK RECS FOR US IN LA?
We lived in Venice Beach and there was a coffee place just down the road from us called Groundwork Coffee Co. It's a chain so if you see 'Groundwork', it's pretty reliable coffee! Blue Bottle is another favourite.
There are also some pretty good vegetarian options – which none of us are but there's a lot of heavy food so it's good to find some lighter feeds like at The Butcher's Daughter. There's also a place called Wabi Sabi who have good share plates.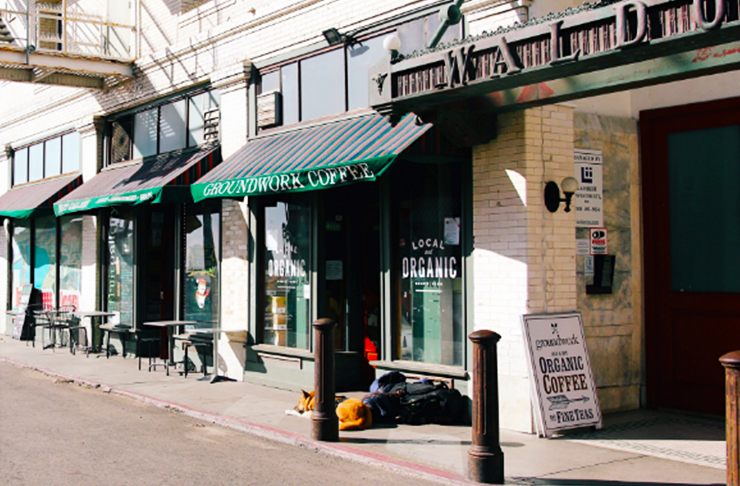 YOU WERE IN AUSTRALIA FOR THE FIRST ALBUM, BERLIN FOR THE SECOND, THIRD IN LA, WHAT'S NEXT?
I don't know. It's kind of been out of circumstance that we've written in different places and have kept trying to isolate ourselves from distraction. I guess we're pretty open. It was snowing by the time we left Berlin so it was nice to have warm weather the whole time in LA.
We're also really pushing ourselves as musicians especially on stage. We'll keep doing that around the world for the next year then get back to the studio at some point.
RÜFÜS DU SOL's highly anticipated new album Solace is out now and you can find out more about their Australian tour right here and their New Zealand tour right here.
Image credit: RÜFÜS DU SOL | Unsplash | Getty Images | Groundwork Coffe