Work, gym, eat, sleep, repeat—the daily grind is brutal and we're always holding out for the next long weekend. But between holiday traffic jams and unpredictable weather, we're thinking of ditching Australia altogether and taking up this island paradise for our next three-day vacay.
Wanderlusters, meet Lombok—a secluded island all about leisure and taking things slow. From white sandy beaches with turquoise oceans to impressive waterfalls and scenery, this is where we're choosing to switch off this Summer. Turn on your out of office and find out why you should send Lombok to the top of your wander-list with our curated three-day itinerary—prepare for an epic 72 hours.
What You Need To Know
Getting There
The best part about a Lombok long weekend is that it's closer than you think. Get there in less than four hours on a direct flight from Perth with AirAsia—hello, paradise.
Where To Stay
Like most island paradises, Lombok has no shortage of accommodation—from luxury resorts to boutique hotels and affordable bungalows, you're well and truly covered. For easy access to stunning beaches, delicious eats and electric nightlife, book in at Senggigi. If you're after something slightly more off the grid, try Kuta on the south coast or Gili Trawangan.
How To Get Around
Make the most of your Lombok vacation by hiring a car and enjoy a road trip around the island. It's the easiest way to tick off these activities in three days, because really, who has time to be waiting for a bus? Alternatively, sit back and relax by booking a private car and driver. Prices range from $80–$140 per day depending on your preferences and can be cheaper when split with friends.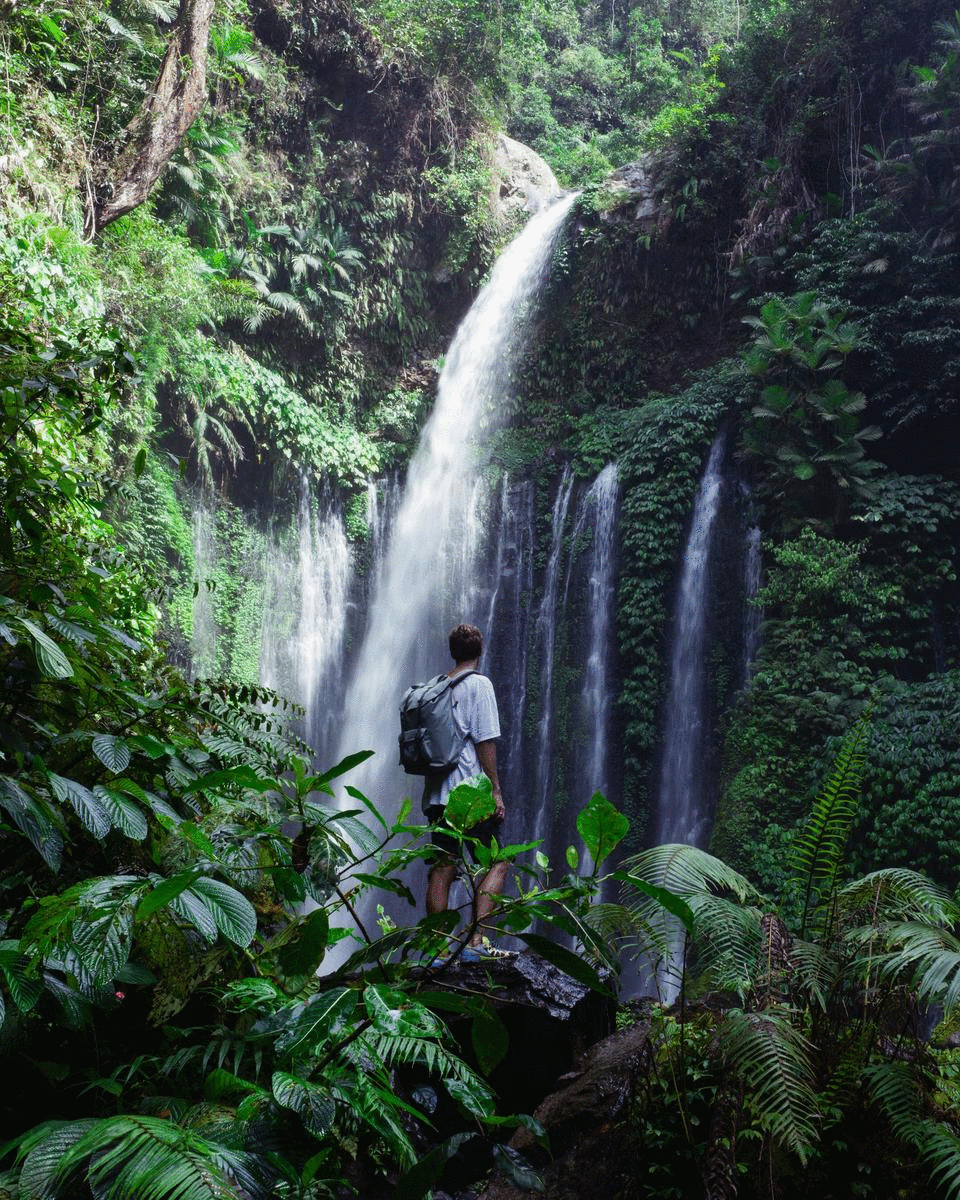 Day 1 | Fly High And Chase Waterfalls
Mount Rinjani Volcano
Indonesia's second-highest volcano is simply a must when in Lombok. Known for its vast crater, stunning lakes, hot springs, waterfalls and jaw-dropping views, we can confirm it won't disappoint. Typically accessed on foot, it takes between two and four days to hike the 3,726–meter high volcano—although climbing to the top is closed right now, there are plenty of other treks to explore like the walk to the viewing point, which takes 8–9 hours. But when you're short on time, why not splash out on a helicopter trip and tick off the sights? In just two-and-a-half hours you'll witness panoramic vistas, dramatic landscapes and lush rainforests.
Northern Waterfalls
Senaru in Northern Lombok is not only the base for many people embarking on Mount Rinjani treks but it's also home to two impressive waterfalls. Tiu Kelep is the most well-known waterfall. Standing 42-metres high, surrounded by lush greenery and crystal clear lagoons, it's a prime example of Lombok's natural beauty. En-route to Tiu Kelep, a short 30-minute walk, you'll also discover Sendang Gile Waterfall—an equally beautiful spot serving as the ideal backdrop to a picnic lunch.
Bukit Selong Rice Field Viewpoint
You know the one—that picturesque patchwork of rice fields flanked by dramatic mountain ranges, best seen from a star-shaped wooden viewing platform. It's been on your 'Gram and now it's time to check it out in real life. You'll find this must-do an hour out of Senaru and for a small donation, you can access multiple viewing platforms that are only a 10-minute walk from the car park.
Clifftop Dining In Senggigi
After a packed day of exploring, it's time to unwind with breathtaking views and fresh eats at The Kliff Restaurant. Perfect for a romantic and relaxing evening, upon sunset the space transforms with candyfloss skylines and flickering candles. Tuck into an array of succulent grilled meat, super-fresh seafood and delicious sweet treats featuring Italian and Asian influences.
Day 2 | Day Trip 'Round The Gili Islands
Next to the word 'paradise' in the dictionary, you'll find a picture of the Gili Islands. White sandy beaches are dotted with palm trees and lapped by bright blue oceans, making a day trip to the three islands—Gili Trawangan, Gili Air, and Gili Meno—a must-do when in Lombok.
Getting There From Lombok
The only way to get to the Gili Islands is obviously by sea, so depending on what your day trip looks like, you can choose to opt for a public speed boat or even charter a local private boat, which will allow you to hop between the three islands easily at your own leisure.
Snorkel The Gili Islands
If your main goal is spotting fish rather than boat travel, opt for an all-inclusive tour that will take you across all three islands. With hundreds of colourful little fish at your fingertips, each Island's bays offer something unique. Trawangan boasts a breathtaking underground statue, Meno offers turtles while Air is home to a stunning fish garden. Consider yourself sorted with an expert local guide giving you all the inside tips on this tropical paradise.
Explore Gili Trawangan
The largest of the three islands, if you can only make it to one opt for Trawangan, which offers a plethora of activities to suit every wanderluster. Throw on a wetsuit and learn to dive (it's one of the safest places in the world to do so), or lace-up and hike the sandy coastline in two hours. Water-lovers will be well catered for with activities like stand up paddling, surfing and snorkelling on offer. We also recommend catching the sunset at the southern viewpoint, which showcases stellar views of Mount Rinjani in Lombok.
Get Among The Nightlife
For a small island, Trawangan's nightlife sure does pack a punch. Start by feeding your belly (and your soul) at the night markets, which take over the square near the boat pier daily from 6pm onwards. Chow down on fresh seafood, noodle dishes, grilled meats or get your hands on Nasi Campur, a local rice dish stuffed with fresh, local produce and flavour. Most nights of the week you'll also find a local bar popping with live music and a party well underway—all that's left to do is to book your overnight accommodation.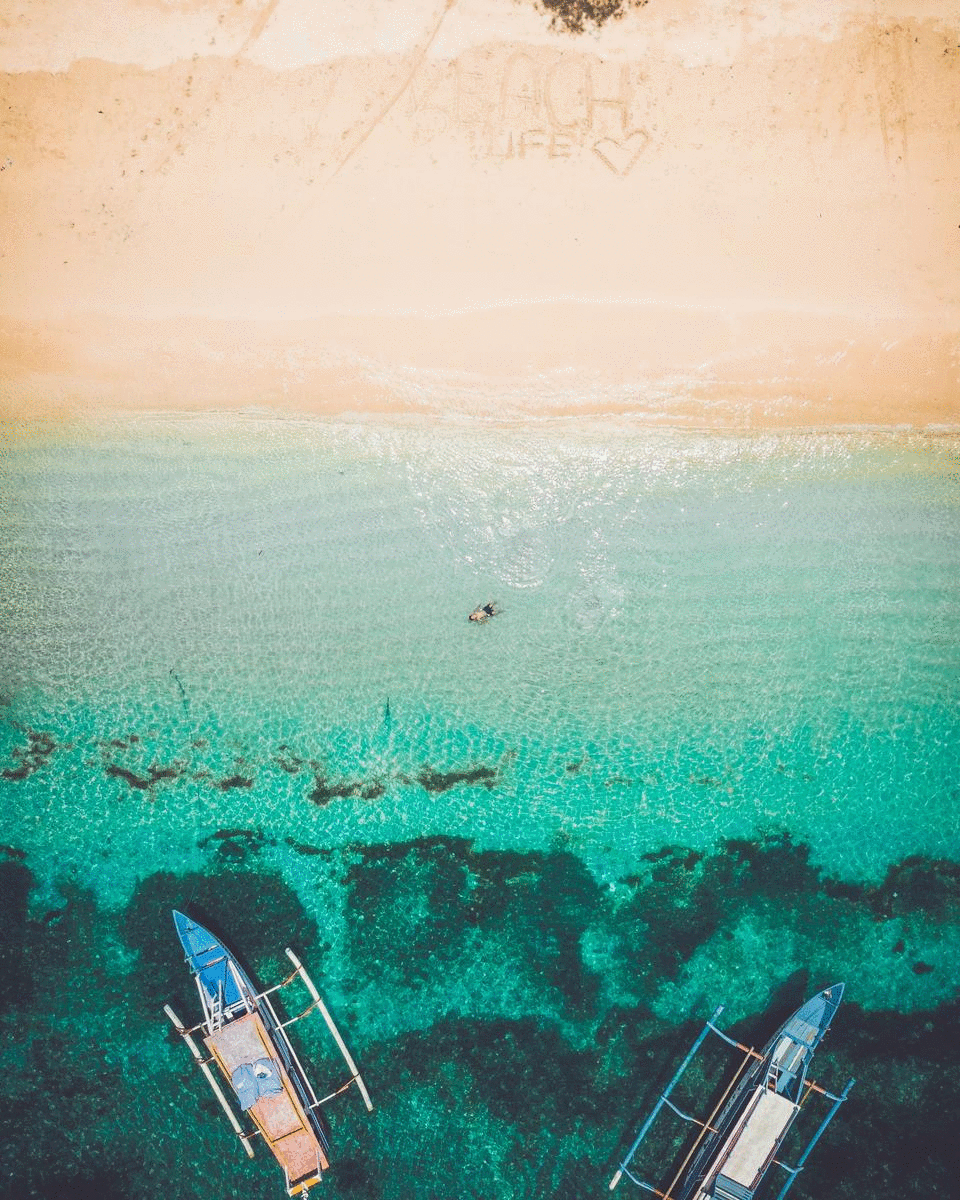 Day 3 | Beach Hop Down South
Pink Beach
Make your way south to one of the most vibrant, unique beaches in the entire world—Tangsi Beach. More affectionately known as Pink Beach, what makes this one special is pretty self-explanatory. Located on Ekas Peninsula, this beach is truly off-the-beaten-path and boasts dusty pink sand and vibrant turquoise waters—it's every Instagramer's dream. The pink sand is coloured by tiny pieces of red coral shell is best viewed mid-morning but one could easily spend a day here picnicking, wallowing in the water and trekking to the lookout.
Kuta Beaches
The southern coastline is a beach-hoppers paradise, with vast stretches of white sand and secluded swimming holes at every turn. As they're all relatively close to Kuta, it makes them within easy reach of one of Lombok's most thriving towns. Stop by Selong Belanak Beach for far-stretching shorelines, warm waters and a fresh coconut while you're at it. Also on our southern beach radar are Mandalika Beach, which offers day-lounges for the ultimate day of relaxation and Tanjung Aan, home to the iconic swings serving you the perfect backdrop for your next 'Gram.
Panoramic Views And Eats In Kuta
Once you've wrapped your day of sun, surf and sand, don't stray far from Kuta for your next memorable meal. Horizon Restaurant at Ashtari is perched on top of a nearby hill and overlooks lush forestry and the stunning southern coastline. We recommend timing your dinner with the sunset and pulling up a chair on their lavish outdoor deck because cocktails and views go hand in hand. The venue offers a relaxed yet refined beach club-style menu of sharing plates showcasing both Western and Indonesian influence. We're drooling at the sound of nasi goreng and beef rendang paired with a frozen margarita. Heaven does exist.
Dreaming of blissful beach days, rejuvenating nature excursions and flavourful local eats? Same. Sort your next long weekend stat with AirAsia, who offer direct flights to and from Perth—getting you to the gorgeous shores of Lombok in under four hours.
Editor's note: This article is sponsored by AirAsia and proudly endorsed by The Urban List. To find out more about who we work with and why read our editorial policy here.