Penang might not be the first place you think of when you're dreaming up your travel bucket list, but when you hear that a spot has been named one of Asia's top street food destinations, you listen. Well, I do anyway.
This fact, paired with some cheap airfares, is how I found myself in Penang a few weeks ago, and all I can say is I wish I had gone sooner!
George Town is where it's at for foodies, and while this Unesco World Heritage Zone might not have been on your radar until now, it's got colonial charm for miles, plenty of culture and more food than you'll ever be able to eat.

---


When it comes to food and transport, Penang is cheap as chips (we're talking less than $5 for a meal for two) so go ahead and splurge on your accommodation. If you plan on sticking around in George Town, there's not really a whole lot to do apart from eat, so you're going to have bulk pool time—and Eastern & Oriental in George Town has one of the best pools in town.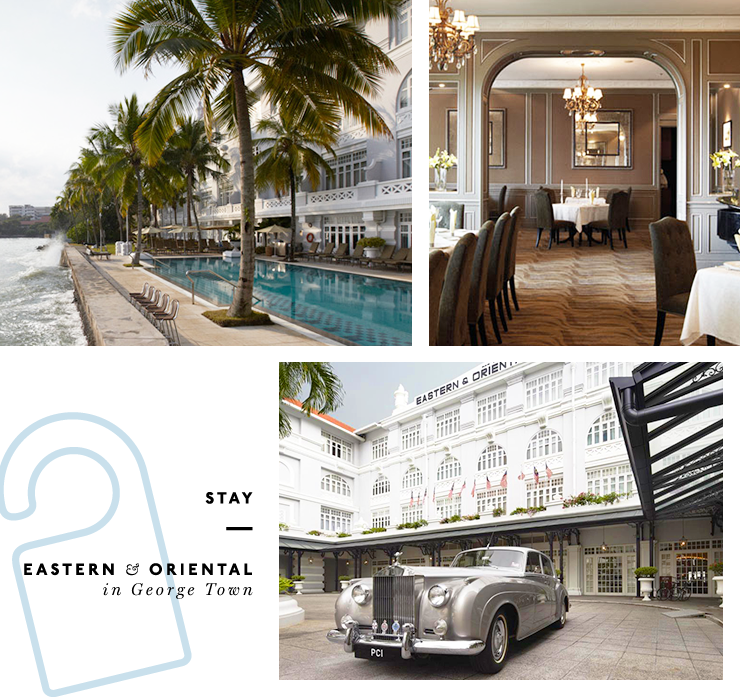 The Heritage Wing of the hotel was built back in 1885 and the suites are uber traditional, right down to the light switches. The Victory Annexe was added in 2013 and is a little more modern but no less charming. If you can manage to nab a corner suite in the Victory Annexe, you'll probably never leave your room. But, the studio suites are still plenty luxe (double vanity and free-standing bathtub anyone?) plus you might actually consider stepping outside so you can make the most of the pool, not to mention cocktail hour every day from 5pm to 6pm and the incredible international breakfast buffet. You could honestly spend a long weekend here and never leave the hotel, but let's not be one of those travellers.

---


The Heritage On A Plate Tour
The number one thing you need to do when you get to Penang is the Heritage on a Plate tour, so you can find out all the best things to eat, because priorities. We did the dinner hop which started at 6pm and included about nine different dishes, so go hungry! They also do a lunch and breakfast hop, so you've got plenty of options. You'll get a bit of a history lesson while you're walking and plenty of tips, so it's the perfect way to start your time in George Town.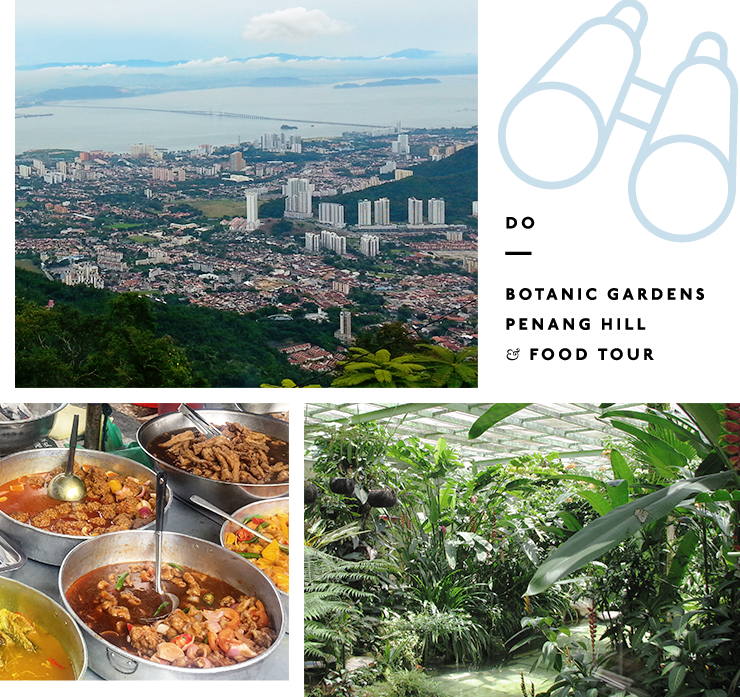 The Penang Botanical Gardens
If you need to get away from the hustle and bustle of the city, go for a stroll through the botanical gardens. Entry is free and even though it's about a 25-minute drive from the heart of George Town, Ubers are so cheap it will only set you back about $4-5. Don't be alarmed if you're greeted by a few long-tailed macaques out the front, once you're in they are few and far between and won't bother you.
Penang Hill
If you want to test your fitness (and your relationship with the person you're with) try and walk up Penang Hill after you're done at the Botanic Gardens. It's a 5km walk to get 735m high, so let's just say it's not for the faint-hearted. The view from the top is absolutely incredible though. If you're not keen on walking, there is a funicular you can catch to the top, but that's cheating. If you do walk it, take solace in the fact that the first kilometre is the hardest and it does get better after that.
Check Out The Street Art
In 2012, Penang's council commissioned artist Ernest Zacharevic to brighten up the streets of George Town and his artworks are famous throughout Penang. You can find a map and details of the most famous paintings here.

---


There are hawkers everywhere, and most of them have been making their one specialty dish for decades so it's hard to go wrong, but here are some tips on where to get the best food in Penang.
International Breakfast At Eastern & Oriential's Sarkies
If you're staying at Eastern & Oriental, you'll be enjoying the world's best breakfast every morning. The roti is cooked fresh in front of your eyes and the curries are delectable. You can also make your own nasi lemak or order some noodles, but if you're more into a western breakfast, hit up the eggs, pancakes, waffles, freshly squeezed juices, fruit, pastries or even some boring ol' cereal.
Double Fried Pork At Tek Sen
The double-roasted pork at Tek Sen is famous and for good reason. It's sweet and sticky and completely delicious—if you're a fan of marmite chicken, you'll like this. Compared to the rest of the food you'll eat, it's expensive, but we're talking about $5 for a main so I think you can probably afford it. You might have to line up but you won't wait long, and it's 100% worth it.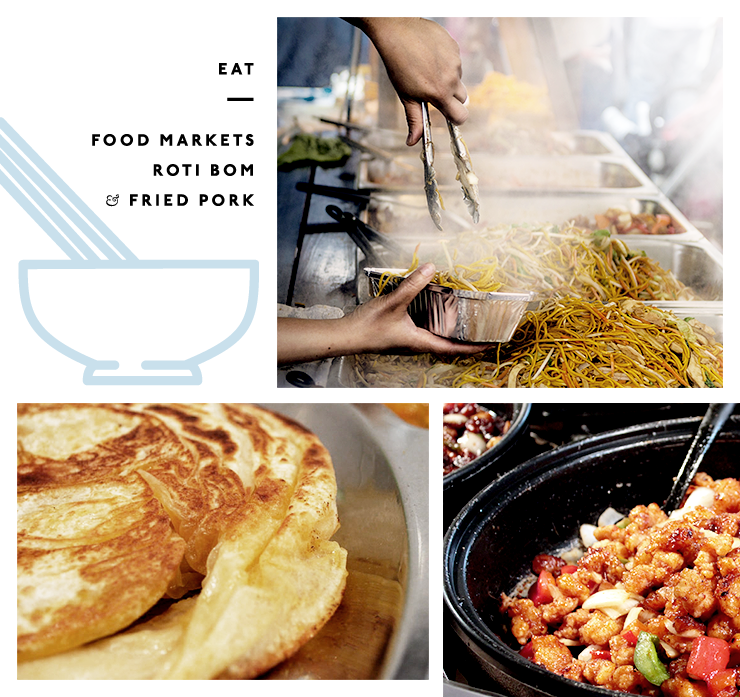 Pohpia At Uncle Lim Pohpia
A pohpia skin is a fresh spring roll skin, but at Uncle Lim's you can get them wrapped around a peanut barley biscuit and it's incredible. Uncle Lim is the best in the business and people travel far and wide to get his pohpia skins.
Roti Bom At Sri Subham
You've all heard of roti cannai (and you should eat lots of it while you're in Penang) but have you heard of roti bom? At Sri Subham, it's basically roti filled with ghee and sugar which sort of explodes when you cut into it, hence the name roti bom. Not great for your general health, but fantastic for your mental health.
Murtabak At Sup Hameed
Sup Hameed is meant to be famous for its soups, but try the murtabak and you won't be disappointed. No idea what murtabak is? Think fried roti stuffed with a filling such as lamb, chicken or vegetables. Just remember, as with most Indian Malay restaurants, they only serve rice at lunch time so go for dinner.
Char Kway Teow (And Everything Else) At Kimberley Street Night Food Markets
Kimberley Street is one of the main streets in George Town and the night food markets here are famous. You can get a huge variety of dishes and the char kway teow is amazing. You can usually take a seat in one of the drink shops or dessert restaurants and bring food from all the stalls in—as long as you've bought a drink or dessert.
Assam Laksa At Joo Hooi
Assam laksa is not your typical Malaysian laksa with coconut milk. It's much lighter and a bit sour, but delicious all the same. Joo Hooi does a great one, and the char kway teow here is also excellent.
Ko Cha Bi Pan Cake
If you're into pancakes and peanuts, you'll want to get around this deliciousness. Even if you're not, you should go and watch the guy making these because it's a great performance. He has almost zero online presence—because he is old-school cool—and I was starting to wonder if I completely made him up until I found this video. You can find him on the corner of Kimberley and Cintra Streets, right about here.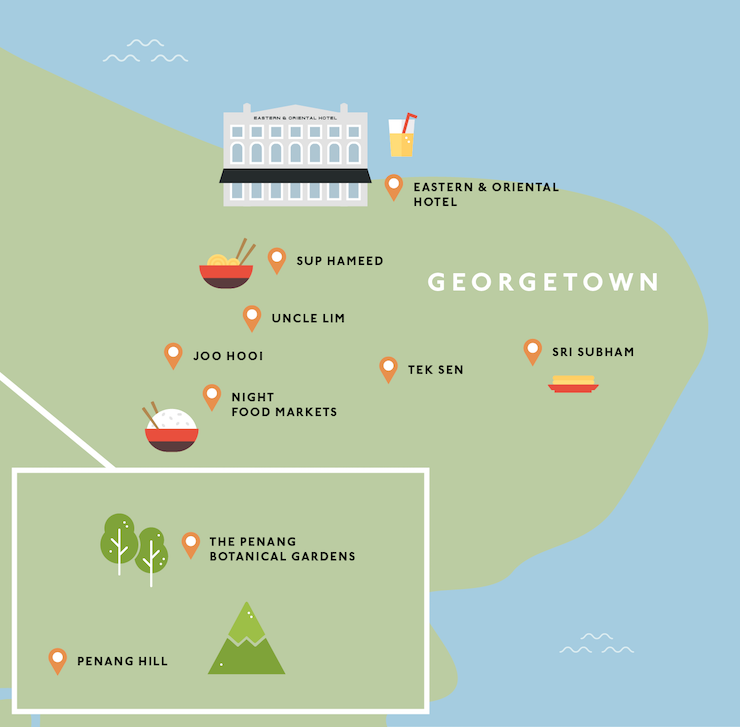 Want more Island goodness? Why not head to El Nido next?
Design credit: Irene Diaz